One of our favorite non-traditional media offerings is ad balloons. They're a great, disruptive medium – how often do you see massive colorful balloons? These 7 foot balloons can cut through advertising clutter to be seen above the crowd and are a great way to enhance a street level activation. In partnership with Delta Media, we activated three ad balloons staffed with brand ambassadors in Dallas, Texas on June 16th for North Texas Tollway Authority (NTTA) and TollTag.
The ad balloons were either held by a brand ambassador or anchored down. The three brand ambassadors invited Dallas residents over to the NTTA/TollTag tent to take a pictures with former Dallas Cowboy Drew Pearson and grab a free snow cone. The snow cones were a perfect offering on that Friday as it was a classic Texas summer day – hot! Upon receiving a picture or snow cone, people were invited by NTTA/TollTag staff to sign up for a TollTag, which allows them to save money, earn TollPerks rewards and save time with convenient billing options.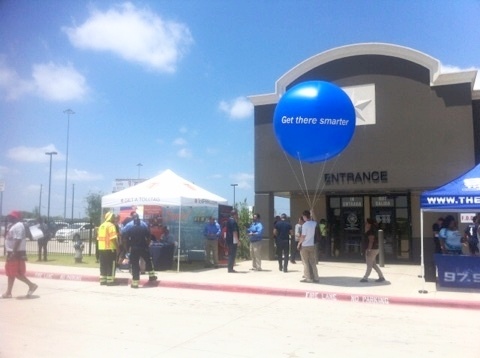 The ad balloons were a great success – being a large format ad medium drew a lot of attention and interest, driving a good number of people to the NTTA/TollTag tent to grab a free snow cone, take a picture with Drew Pearson, and purchase a TollTag.
Looking to share your brand message through a non-traditional media form? Contact Moderne here for more information