Pop Up Shops are one of the biggest trends in today's marketing world. They allow you to test market your products and a new revenue stream, engage consumers offline, tap into "massclusivity" and create "get it while it lasts" urgency, drive brand awareness and unload old inventory. All of these benefits are great, but the there is one that many people overlook or don't think about. The greatest and most important benefit is that they create valuable impressions. How's that? Here's a short list we've prepared for you:
1. They allow you to educate new and existing customers.
Pop Ups allow you to share information about your product with not only new customers, but with existing customers that could have questions about the product.
2. A new location creates buzz.
Having a Pop Up location for your business is a novelty and an opportunity to share exciting news for your business. Whether you are bringing your product offline or to a new location, the new shop will attract the attention of both existing customers who will go out of their way to visit and new customers who may have just walked by and stopped in to explore.
3. They allow you to showcase not only product, but also good customer service.
While most Pop Ups focus on the opportunity to showcase product, they also provide the opportunity to showcase your business's great customer service! In addition to educating customers, sales associates or brand ambassadors will be able to show customers that your business cares and is willing to work with them when they need help.
4. Physical stores are great for social media.
Having a fun, exciting, and visually pleasing environment for people to shop in begs people to instagram, tweet, or facebook their experience. Give your customers bragging rights for discovering your shop or being part of a unique experience. They want people to know they're at this cool place, and you want them to share it with everyone they know. Its a win-win!
5. Marketing around holiday/season/event.
Pop Ups centered around seasons, events, and especially holidays are great because they not only pull in existing customers, but also holiday shoppers. Holiday pop ups leave impressions for not just the time they're open, but for the following years when people reflect on their previous shopping process.
6. Limited time offers generate excitement and a sense of urgency.
When customers know the experience is scarce and may not be around much longer, they are more than likely to make a purchase and feel a source of exclusivity when doing so.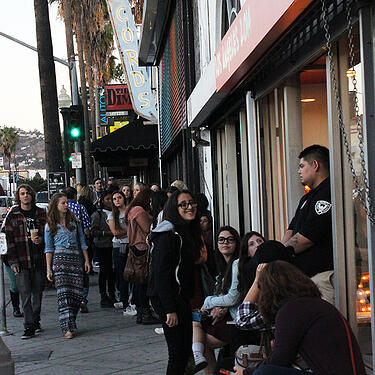 It's evident Pop Ups will leave valuable impressions. If you're interested in exploring a Pop Up for your business, Moderne would love to help! To check out some of our past Pop uUs, click here, and to contact us about opening your own Pop Up, clickhere.