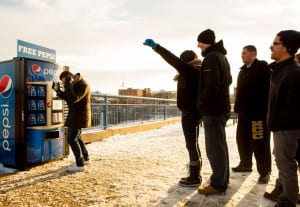 Live events as TV ads? It's happening, and there's no brand more prolific in the space than Pepsi, whose Get Hyped for Halftime campaign this year brought its event marketing literally to the millions through a blend of content running on TV and digital sites, including its own and those of its partners, all to promote its sponsorship of the Super Bowl Halftime Show.
"We really wanted to own our sponsorship of the Super Bowl Halftime Show and be associated with that iconic moment in American pop culture well before anyone else was thinking about it. We have a singular message and wanted to drive that excitement across the country," says Jayanthi Raja Segaran, director of Pepsi productions. "Events are one great way to do that, then we take that message and amplify it, we put it on TV and digital and it is a great win for us."
The campaign last year surprised the residents of Milligan, NE, with a concert by country singer Lee Brice. Footage from the activation was uploaded onto YouTube, where it ranked among the most shared for weeks.
This year, it upped the ante, pushing out 48 pieces of content between October and Jan. 18 when it sponsored a concert headlined by musical duo Nico & Vinz in Rochester, NY, which days earlier it had crowned the most "hyped" hometown in America. More than 7,500 people showed up for the concert, which took place on a cold January evening.
The 2015 Hyped for Halftime campaign began with a Blake Shelton concert on board the USS Lexington, a decommissioned aircraft carrier in Corpus Christi, Texas, for 3,000 veterans and their families. Samuel Bayer, who directs music videos, commercials and feature films, and a crew of 140 captured the entire event on film. The result: a 60-second TV commercial that ran during a Thanksgiving football game between the Seattle Seahawks and the San Francisco 49ers. The spot also teased the Hype Your Hometown effort, inviting fans to visit pepsi.com/halftime and share how they and their friends get hyped for a chance to win the ultimate halftime experience in their hometown, which Rochester ultimately won. Earlier in January, the brand surprised diners at a Buffalo Wild Wings in Oakdale, MN, with a halftime-themed in-store performance by former Def Jam singer Montell Jordan singing his hit song "This Is How We Do It," which it filmed and ran online.
"It is important for us to drive sales, we wouldn't be good marketers if we didn't," Raja Segaran says. "But the way we look at our content strategy, we drive sales when we are building authentic connections with our brand. That strategy, along with all 48 pieces of content build up to owning that halftime experience." Agency: Motive, Denver.