When Sperry-Topsider headed to six West Coast university campuses this past spring with the Vacationland College Tour, the primary objective wasn't to sell its boat shoes to the college crowd. It was to make a feel-good connection with the students. And given the mindset of college kids today, that was no doubt the bigger challenge of the two. But solid, strategic thinking behind the tour led to success on all counts, as evidenced by increases in Facebook fans and Instagram and Twitter followers for the brand. Here's how Sperry did it, along with some tips for smooth sailing when it comes to connecting with your target audience, no matter what their age: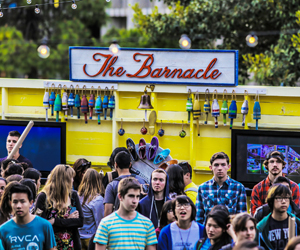 1. Make it immersive: "We brought Vacationland to life, so the kids could touch it, feel it, immerse themselves in the experience and make it their own," says Karen Dana, senior marketing manager at Sperry.
In keeping with the Vacationland theme, the experience offered a fun, playful atmosphere that resonated with the college crowd. It featured a social bar called The Barnacle where students engaged through social media and photo booths, and played lawn games such as croquet, Kan Jam and bean bag toss. An evening performance at each stop showcased talent such as Vacationer, Gold Fields, Capital Cities and other up-and-coming groups. And we all know how immersed in music these kids can be.
2. Add subtle tie-ins: Vacationland's 60-foot by 60-foot footprint was roped off with pilings for a nautical atmosphere that related to Sperry's brand identity. Students got to spin a prize wheel made of 18 Sperry classic topsider shoes, all in different colors. Brand ambassadors wore the shoes and Sperry t-shirts with subtle logos. Even the giveaways were relevant and usable items such as quality t-shirts, hats and beach towels. And everyone got a tour poster to hang in their room.
3. Do your research: Sperry knew that it wanted to reach a variety of schools on the West Coast, but did its due diligence regarding location, size of school, Greek life and other criteria. It also reached out on Facebook and Twitter, asking students if they would like to have Sperry visit their campus.
4. Keep it relevant: Sperry most likely will expand its college marketing to include the East Coast. "We're finding our niche in the experiential space and evolving how the genres of music, food and wine and sports fit in," Dana says. "The Southeast tends to be preppy versus the West Coast's free spirit mentality. They are very different but share a passion for our brand. We can't talk to them in the same way."
5. Skip the sales pitch: Sperry wanted to dip its toes into college-tour marketing without it being about the dollars, for now. Instead of selling, Vacationland offered a big thank you to the college crowd, many of whom are already fans of the brand, and reinforced their brand loyalty. "The energy, excitement and realization that we weren't there to sell them anything was something special," says David Mesicek, senior marketing manager-trend at Sperry.