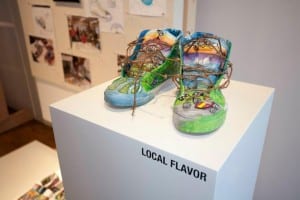 Vans in the New Year is launching for a fourth season its Vans Custom Culture contest, a program that simultaneously honors the brand's heritage as a shoe maker that promotes personal expression among its wearers, while getting thousands of consumers in its target market to create buzz around the product.
Schools across the United States are invited to register, with the first 1,500 selected to participate. Art departments at each school collaborate to create custom shoe designs based around classic Vans styles and themes representing the brand's "lifestyle." As Sarah Crockett, director-consumer marketing at Vans, told Buzz, the brand in the past took notice of the fact that young people, especially, would doodle on their Vans shoes. In fact, the checkerboard Vans shoe line was based on a noticeable trend among doodlers and so was the inspiration behind the contest.
Vans will narrow down the entries to a listing that the public will vote on between April 22 and May 13, 2013. Students are encouraged to promote their school's designs to garner votes. The top five schools will be invited to New York City in June for a showcase event featuring celebrity judges where the winners will be announced. The grand prize-winning school will win $50,000, while four runners-up will win $4,000. Vans' retail partner Journeys will award $10,000 for the best "local flavor" shoe.
"Part of the program is not only to create the best shoes amongst the competition out there, but also to really promote the shoes and drive awareness for your school's participation in the program," says Crockett. "So, each school is really tasked with doing their own p.r. work, and so the visibility of the program at a regional level comes through a variety of media and the students who get their schools on local news, in newspapers, and obviously throughout the digital world."
In March 2014 the designs created by the 2013 winner will be produced and sold at Vans and Journeys stores as well as on the Vans online shop. Americans for the Arts (AFTA) is Vans' charitable partner in the program and $50,000 will be donated to the charity on behalf of those shoes being sold. AFTA will then take the money and, circling back to the contest's overall objective of elevating arts in education, create art education-based promotional materials for art teachers across the country. Agency: In-house.