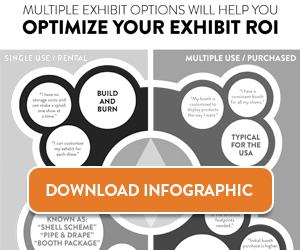 So, you want to take your domestic trade show to an international audience. Or perhaps you're already participating in international trade shows but you want to expand your program to additional cities. Regardless of the stage of your particular program, there is great value in understanding how trade shows operate internationally because it can be very different than in the United States.
There are multiple ways to approach international exhibiting – with advantages and disadvantages for each. But one of the first steps in creating a budget for an international show starts with defining your approach.
Understanding worldwide exhibit approaches will improve your ability to:
Negotiate more favorable rates and terms
Understand your options and the trade-offs
Manage contingencies
Stay within your budget
Ask yourself: do you need single use (rental) or multi use (purchase) options for your booth?
Creating a budget for an international show starts with defining your approach. When evaluating said approach, it is important to take a comprehensive look at the wide variety of options available worldwide:
"Build & Burn": This is a popular option for trade shows held outside of the USA. There is more planning required for each show with this option, but there is no storage or refurbishments necessary. Build & Burn booths allow for increased flexibility and customization for each show. However, there is a higher potential for inconsistency of messaging, look and feel between shows because property is discarded after each show.
System Construction: Using modular, standardized fabrication materials; this option involves the assembly of exhibit property with systems like BeMatrix or Octanorm. These systems are almost always rented, but can be purchased, depending on your needs.
Hybrid Exhibit: A combination of custom and standardized elements is used to fabricate this type of exhibit. Generally, the system components are rented, and the custom components are purchased.