SoBe Skate Tour Promotes a Gravity Games Sponsorship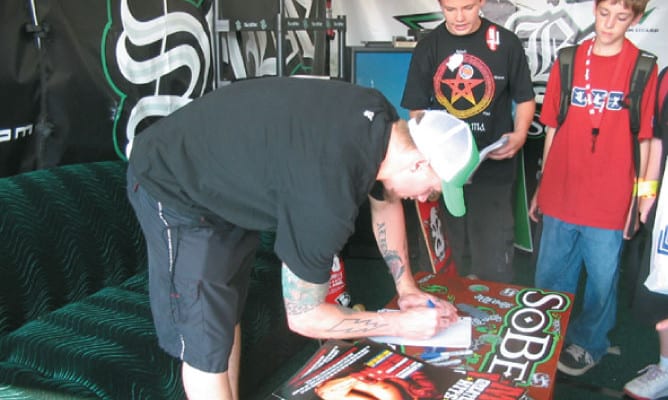 Awards:
EX AWARDS — BEST ACTIVATION OF A SPORTS SPONSORSHIP
SoBe activated its sponsorship of the Gravity Games with an interesting mix of pre-event hype and at-event experiences that used a clear delineation of three distinct brands under one sponsorship umbrella.
Before the event, SoBe got the program humming with a sponsorship of a related amateur skate park tour, tagged regional radio spots focusing on the brand's Gravity involvement, athlete events, and retail overlays. At the event, the brand set up three separate immersions for the flagship SoBe beverage, herbal energy drink Adrenaline Rush, and the no joke No Fear maximum energy punch.
For the namesake brand, a Lizard Lounge was set up inside the Sponsor Village. Custom sofas, shag carpets, and televisions set the scene while staffers slipped sips of the cold stuff into wanting mouths. Stickers were handed out, athlete posters were signed, and meet and greets were staged. The Adrenaline Rush area featured photos, tattoos, sampling, and a DJ. The No Fear immersion served up drinks, premiums, autograph signings, and an edgy music lounge scene.
Traffic to the three areas inched past 163,000 over five days, with 66,500 samples served and sales up more than 15 percent percent in related retail outlets as a result.