Big name brands have always been associated with New York Fashion Week, which this year took place Sept. 10 to 17. There's title sponsor Mercedes-Benz, along with this year's lead partners Lexus, Maybelline New York, TRESemmé, Intel, DHL and more. But smaller, up-and-coming brands can capitalize on the excitement surrounding fashion week, too. Case in point: AMG Naturally, a two-year-old company specializing in all-natural skincare products, which activated a spa launch event in an effort to connect with New York City beauty and fashion editors.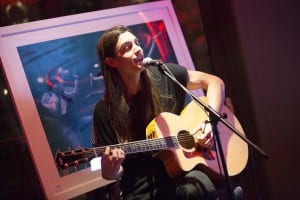 Although not an official sponsor, AMG Naturally activated a Nature Skin Care Escape at one of the city's coolest boutique hotels, the Dream Downtown Guesthouse on W. 16th St., not far from the fashion action. For three days, from Sept. 14 to 16, it offered editors and celebrities 15-minute complimentary spa treatments on the Guesthouse terrace—an on-the-go facial, an anti-aging massage with hot stones or an infra-red light treatment. As part of the launch, Vikram Chatwal, founder of the lifestyle division of Debut Hotel Group, hosted an "Art of Fashion" evening event with Alicran tequila and artwork from photographer Antoine Verglas and Domingo Zapata. Musician Ian Mellenkamp also performed at the Guesthouse.
"I'm talking to editors because they can get articles and good information out there," says Linda Lizotte, founder and president of AMG Naturally. "Everyone wants to be beautiful and look younger but the key to me is education and that is the missing piece. We need to think about what we are rubbing on ourselves. The key is to feel these products, smell them and experience them because they really do smell like plants."
The brand also will participate in Yoga Journal Live events this fall. Agency: Rubenstein, New York City.
 Photo credit: Steven Stuts