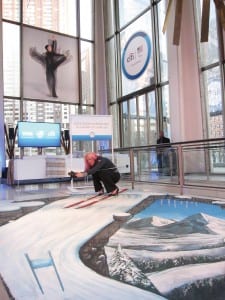 Sponsors traditionally build huge pavilions at the site of the Olympic games, but Citi, the official bank of the U.S. Olympic and Paralympic team, broke that tradition earlier this year when it activated its Team USA sponsorship in New York City instead of Sochi. Travel difficulties, challenges with visas and security issues contributed to the bank's decision to stay stateside, a choice that others may want to consider as they plan their sponsorship strategy for future Olympiads.
Citi's Sochi Experience in Support of Team USA took place over five days and encompassed seven hospitality experiences at Avery Fisher Hall at Lincoln Center. From Feb. 19 to 23, the space became a winter experience with custom installations, scenic elements, floor-to-ceiling signage and digital enhancements inspired by the winter action in Sochi. It was a first for Lincoln Center and the first activation of its kind by a USOC sponsor.
"We do a lot of events with our Private Pass customers, but we have never done anything at this scale over a five-day period at an iconic location like Lincoln Center," says Tina Davis, director-corporate sponsorship and marketing at Citi. "It was a way to engage with some of our important clients and to thank a larger number of clients in a rich and robust way, and to let our employees partake in the celebration" (LeadDog Marketing Group, New York City, handled).
A few highlights of Citi's strategy:
Athlete appearances: Citi leveraged Team Citi athlete Evan Lysacek, who attended every single event. "He was our continuity, and then we brought in other Olympic legends such as Sasha Cohen, Julia Mancuso and others," Davis says. The Olympians posed for photos with attendees and, in some cases, even allowed them to try on their medals.
On-site activities: Performers and guests skated on a 20- by 32-foot synthetic ice rink, took photos at an interactive bobsled display, recorded videos at a flip book photo activation and observed the 3D chalk art installation, which gave the appearance of a mountainside.
Olympic ambiance: A 130-foot LED wall, specifically built for the event, featured custom programming incorporating Citi Team USA imagery and digital content. Dramatic artwork and photography also helped transform the space.
Targeted events: Citi is a full-services financial institution with a wide range of clients, which was reflected in the variety of events it activated. From a seated dinner in an intimate setting for private banking clients to an open house for employees, the event suited the audience. Larger events such as skating clinics were open to Citi card holders; family day events included kids activities such as face-painting.