Hershey's Swag Exchange Woos Millennials at SXSW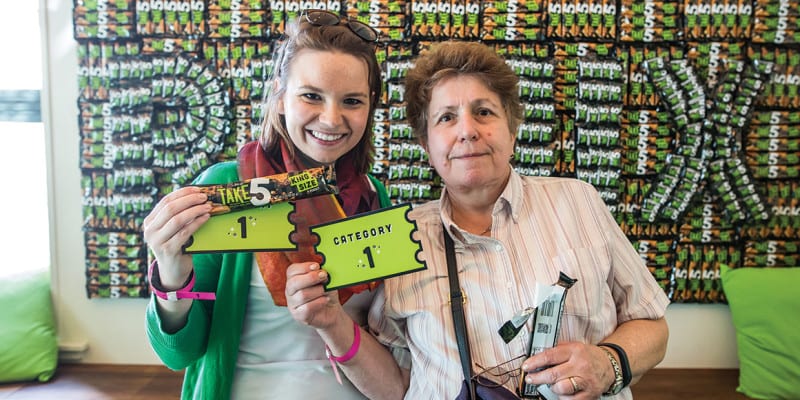 Agency:
MAGNETIC COLLABORATIVE
BARKLEY
Awards:
EX AWARDS — BEST FAIR/FESTIVAL ACTIVATION
Hershey's Take5 Swag Exchange at SXSW was built on one well-known insight: you can never have too much swag… until you do. To engage festivalgoers, who are often inundated with the Koozies, pens, backpacks and chargers that are handed out over the course of the festival, Hershey created an innovative experiential sampling initiative that gave SXSW's largely millennial audience a taste of its Take5 candy bar—and the chance to trade in those unwanted promotional items for prizes such as Bose speakers, Samsung tablets and dinners at the hottest restaurants.
With the goal of attracting millennials to its cult-classic Take5 candy bar, which hit candy counters for the first time in 2004, Hershey relaunched the bar early last year. Knowing millennials covet authenticity and co-creation, Hershey and the Take5 brand partnered with them in the relaunch. Through months of engagement with a panel made exclusively of diverse millennial-aged students, the brand developed a new wrapper and bold green logo co-designed by the group. Fortunately, the candy's salty-sweet, chewy-crunchy taste remained—the result of five classic ingredients: pretzel, caramel, peanut butter, peanuts and, of course, milk chocolate. The new wrapper and identity were just the beginning. Hershey's brought the "re-mixed" version of the original to SXSW, along with an innovative and immersive experience that cut through the clutter of the festival.
Hershey's Take5 Swag Exchange offered attendees the chance to unload their unwanted swag for something they actually wanted based on an algorithm that assigned each item an exchange rate that fluctuated based on intake. The fewer of an item that came in, the higher its value. So instead of going home with flashlights and t-shirts, they walked away with portable iPhone projectors and gift cards. The activation took away a fundamental pain point at SXSW, remixed it, and excited attendees by giving them a fresh take on the things they know and love. The space also gave them a place to customize their items, play games and share the experience. People loved it so much they returned again and again, utilizing the space in their down time between meetings and events.
The Swag Exchange attracted more than 2,500 people and earned 32.7 million social impressions and five million brand engagements. It was ranked the No. 1 experience at SXSW by media company PSFK. Over the course of four days, attendees exchanged more than 5,500 swag items and plowed through 150,000 Take5 bars.