Taco Bell and Forever 21 Host a Saucy Fashion Show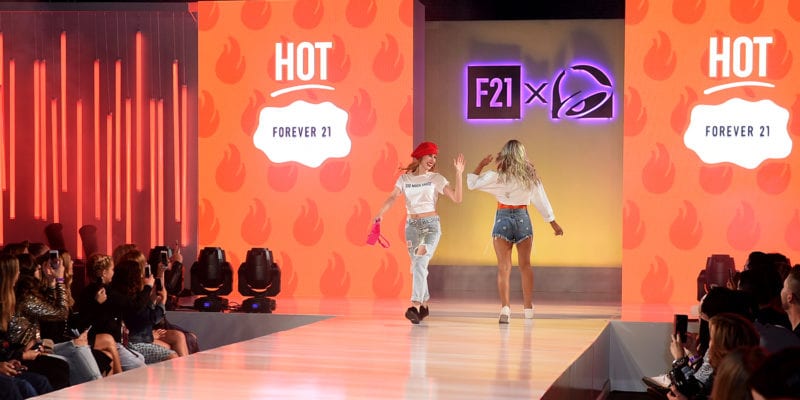 Agency:
UNITED ENTERTAINMENT GROUP
Awards:
EX AWARDS — BEST BUZZ MARKETING/INFLUENCER PROGRAM
Taco Bell, with its millennial-friendly marketing and social media presence, has positioned itself as a pop-culture icon that's attracted a diverse audience willing to engage in its quirky brand moments, from the famous Doritos Locos Tacos to Emojis to Taco Bell sleepovers and weddings. Tasty and innovative, for sure. But Taco Bell wanted to be perceived as a trendsetter, too, so it cooked up a partnership with Forever 21 to launch a superfan-inspired, limited-edition fashion line on social media dubbed Forever 21 x Taco Bell, brought to life with The Forever Taco Bell fashion and food show in downtown L.A.'s fashion district. Think: t-shirts with "Tacos 4 Ever" illustrations, a hoodie with a Taco Bell logo pattern, and a millennial-friendly unitard outfit with the words "Born Saucy" and flames emblazoned on it.
True to form, Taco Bell turned the typical fashion show upside down, enlisting superfans to model the clothing, serving up bites from a Taco Bell taco truck, offering live performances and a pop-up boutique to give fans early access to the collection. The show took place in an open-air venue surrounded by high-rise lofts and sports, concert and entertainment venues, aligning Taco Bell with cultural events. Day and night looks were incorporated into the show, which was set to the "Feed the Beat" playlist, a program Taco Bell created in 2006 to help support artists and discover new talent. Behind the catwalk was a backdrop of captivating LED imagery, content and custom neon-inspired lighting effects that felt '80s-inspired—and highly Instagrammable.
In addition to the show, attendees engaged throughout the night in a custom graffiti-style mural that was curated live on-site by graffiti artists Lefty Out There. The mural brought to life the Taco Bell signature bell logo with colors inspired by the collection, and it was ultimately placed inside a Taco Bell restaurant to live on as a memento of the show. What's a fashion show without an after party, of course, and dj electronic group Cheat Codes made a special appearance on the runway, performing their top songs. Throughout the performance, attendees enjoyed signature confetti bursts and smoke effects.
On top of organic posts by attendees, Taco Bell's digital team was on-site capturing the best moments of the night and sharing them in real time. All of the efforts combined resulted in more than 1.6 billion media impressions. Just two weeks after the collaboration was announced: Bloomberg, Teen Vogue, Los Angeles Times and Cosmopolitan were among the 833 broadcast clips and articles that the fashion show was featured in. An Instagram live stream of the show garnered 40,000 live views and the brand's Snapchat story from the event had a 71 percent completion rate. Those are some spicy results right there.