The sky was the limit for AT&T U-verse at the Austin City Limits Music Festival, where the brand promoted its GigaPower Internet and TV service through a host of engagements that aligned themselves with the event's culture. Over two three-day weekends (Oct. 2-4 and 9-11), the brand offered demos by local artists, a recharge lounge and surprise and delight giveaways, in addition to digital tactics that extended the life of the activation.
The conversation between U-verse and festivalgoers began a few months before the event when the brand was introduced as the title sponsor of the Austin City Limits (ACL) mobile app. Leveraging its GigaPower trivia contest, U-verse rewarded participants with VIP festival passes and tickets to the sold-out event.
U-verse also engaged users with strong social media followings through one-on-one conversations with the brand, ultimately rewarding participants with festival tickets and, in turn, earning money-can't-buy social posts.
Influencers known for their content creation style were also a key part of U-verse's strategy at ACL. Teaming up with bloggers, as well as prominent Vine, Instagram and Snapchat users, the brand let these social media partners tell its story through their own lenses—and it paid off. Vine influencer Frank Danna, for example, integrated the AT&T U-verse activation into four vines that racked up 500,000 loops in a matter of days.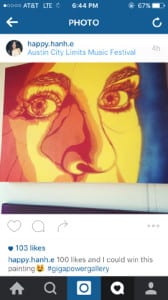 In an effort to stay true to ACL's cultural vibe, U-verse also enlisted a number of artists from a collective in Austin to create graffiti art for the GigaPower Gallery. Artists were on-site for hours at a time creating spray painted masterpieces for all to view, ultimately powering the brand's most popular engagement. A social surprise and delight element gave fans an opportunity to win the artwork for free by posting photos using #gigapowergallery and earning a certain number of likes or shares on Facebook, Instagram or Twitter.
In addition, consumers had the opportunity to receive a free pair of socks or a backpack with one of the artists' renderings printed on it by providing some personal information to U-verse.
For those who wanted to take a break from the festival action, a lounge inside the U-verse footprint offered refuge by providing live streams of festival performances, televised football games and device recharging stations.
Finally, the brand teamed up with ACL and artists like the Foo Fighters, Alabama Shakes and Gary Clark Jr. to create an exclusive festival documentary. Set to debut in February, the film features interviews, performances and a unique look at Austin's culture and will be available only on AT&T and Direct TV platforms.
"This event does really fit in well with Austin… bridging the Austin culture with the AT&T culture in a way that feels really authentic," says Sinda Mitchel, senior marketing manager, competitive marketing at AT&T U-verse. "Once we were there, we felt pretty confident that we were reaching the right folks." Agency: Team Epic, Norwalk, CT.
Related links:
• How Street Art is Inspiring Events and Fostering Consumer Connections