THE CANNES LIONS INTERNATIONAL FESTIVAL OF CREATIVITY RETURNS
Five Activation-Rich Brand Experiences


By Kaylee Hultgren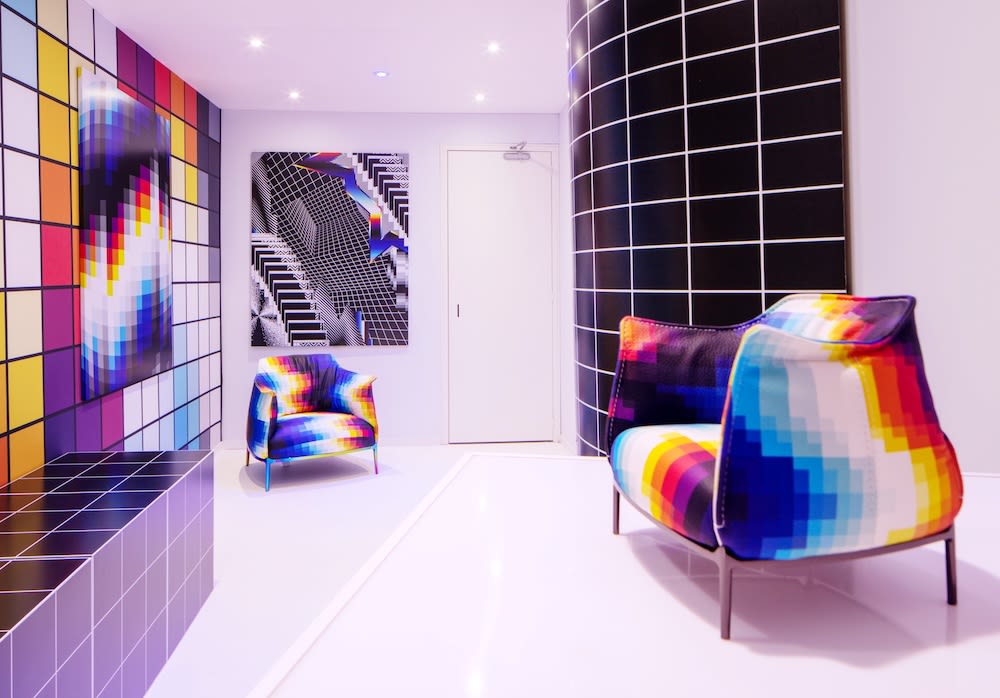 In a normal year (ah, to dream of such things!), the Cannes Lions International Festival of Creativity, which attracts thousands of attendees to the Côte d'Azur each June, might draw criticism for being too much boondoggle and not enough substance.
But in 2022, after a three-year hiatus, the air of celebration pulsing through the event felt well-deserved. "It's a very long time coming," Julie Hogan, vp, global experiential & industry marketing at Meta told EM as we toured the brand's activation. "There's an energy and a desire to gather. It's very optimistic and gracious, and people are just excited to be back in the industry and learning and experiencing."
Meta Beach, for instance, was rich in interactive touchpoints, from a Reels creator lab to a VR-driven beach-themed metaverse designed specifically for the Cannes Lions audience. The design of the layout itself leaned into open spaces for gathering. "The stage is a huge focal point," Hogan told us. "It takes up a good portion of the beach space, and that's very intentional to be able to create that community and bring people closer together."

Indeed, celebration of creativity is the point, as the festival's name indicates. But this year that vibe was reflected—to a heightened degree—in the event's experiential strategies.
Spotify, whose oversized build occupied a sizeable portion of the beach per usual, focused less on closed-door sales meetings than in years' prior. Designing open spaces to hold conversations and congregate together was deliberate, according to Spotify's Keyana Kashfi, global senior director, experiential & content production. And signage with CTAs like "We're Back" and "Let's Play" reinforced the message.
Nowhere was this more evident than Spotify's choice to beef up its entertainment—typically the guestlist to get on—during the evenings. "We doubled down on evening performances and podcast conversations… to celebrate the most creative thing on our platform, which is either podcasts or music," Kashfi says. "How best to bring that to life than an amazing lineup?"
And then there was Pinterest Beach, whose build echoed that positivity, too. The platform brought to life its annual trend report, Pinterest Predicts, through myriad activities, from Nailscape manicures to micro tattoos to aura photography, positioning itself as both a tranquil oasis apart from the hustle and bustle of Cannes and, metaphorically, a welcome reprieve from the anxiety-inducing toxicity of the internet.
So, grab a beach chair and embark on a tour of the most engagement-rich activations EM experienced on the ground as the industry gathered together once again, at long last, to learn, discuss, create, experience and celebrate.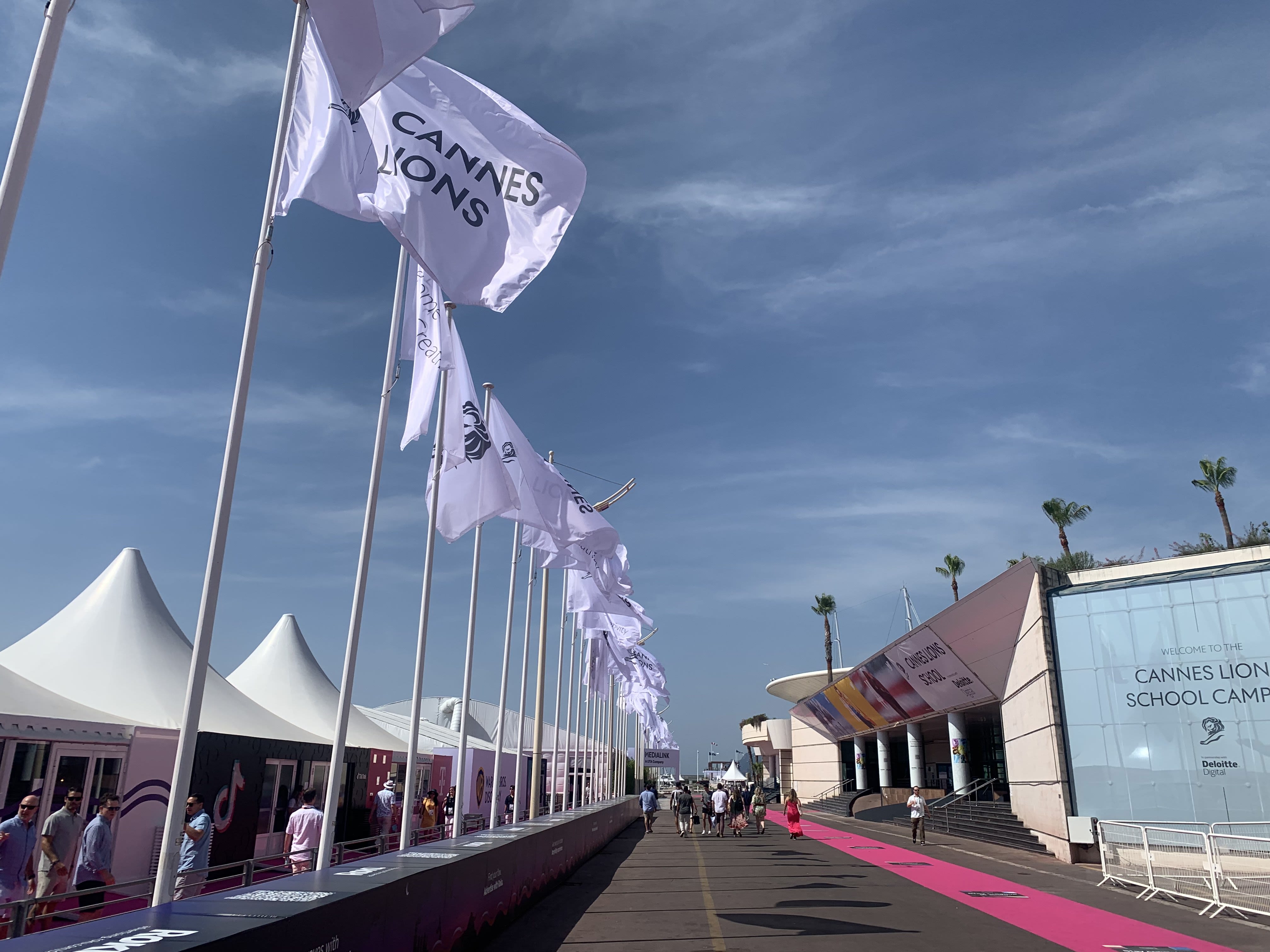 SPOTIFY: ALL ABOUT THE AUDIO CONNECTION
The pitch to festivalgoers at Spotify's massive beach footprint centered around the creativity that audio enables on the platform, from live podcasts to collaborative playlists to video podcasting. Sustainability and inclusivity messaging permeated the activation as well, with biodegradable and recyclable items offered at its café bar, nods to partnerships with nonprofits and scannable Spotify codes (QR-like tags that connect users to content in its app) to minimize waste.
Food and beverage stations were themed, the first of which was a podcast bar produced in partnership with Equal Measures, a UK-based charity organization that invests in elevating underrepresented individuals in the hospitality industry. The bar highlighted the work of three of the group's mixologists, each of whom invented a cocktail based on one of Spotify's most popular podcasts, like "The Unbothered Vernors Highball," named after a podcast from Jemele Hill.
If interested in recreating the experience and making their own cocktails at home, attendees could also access video podcasts of each bartender preparing the drinks by scanning a Spotify code.
Another sizable podcast touchpoint: A standalone podcast studio, featuring the Spotify logo as a porthole, located at the edge of Spotify's pier. It functioned as a meeting room and also a space to make live recordings. Headphones were provided for attendees to listen to content on Spotify Live. Along the pier, pod-like lounge areas with couches and tables offered additional space for open-air meetings.
A large stage showcasing content during the day and musical artists in the evenings was located at the center of the activation. Food and drink options along its perimeter included an ice cream station dubbed The Culture Scoop featuring unusual ice cream flavors, such as burnt sage and honey lavender peach, made live on-site by New York City-based chef Nick Morgenstern, the original creator of charcoal ice cream.
Aside from their unique flavor palettes, each ice cream creation sported a name—like "Nouveau Nostalgia," for instance—reflecting the top five trends in Spotify's "Culture Next" report for the advertising community, an annual insights report covering the latest Gen Z trends. Attendees could pick up a hard copy of the report or scan it to their phones from signage placed throughout the footprint.
Showcasing Spotify's new celebrity Blend playlist feature was its "Blend Bar," offering smoothies, juices and custom coffees made by award-winning barista Victor Delpierre and produced in partnership with the Orang Utan Coffee Project, which aims to produce ecologically-friendly coffee while protecting orangutans in their rainforest habitats. Spotify Blend typically allows users to combine a playlist with a friend's musical taste, but recently it expanded to include blending a playlist with a participating celebrity artist. On-site, attendees could scan a barcode to order a drink and also randomly select an artist to blend a playlist with, then access it through a code printed on the cup. Worth noting: Only sustainable, biodegradable or recyclable items were available at the bar, highlighting the activation's sustainability commitments.
Lastly, tucked away in the corner was a small photo activation for Spotify's "All Ears on You" campaign, which was recognized by the Cannes Lions' shortlist. In the ad, Spotify users cruise around the city while floating inside giant bubbles as they listen to their playlists. The idea is that audio is an immersive, direct experience for consumers. After taking a quick selfie, festivalgoers appeared to be "trapped" inside the bubble themselves, flying across the city of Cannes while listening to their favorite tunes.
Guests visited the "Swag Bar" on their way out, which offered up practical items to assist attendees during the festival, including a power bank, a personalized passport holder, a water bottle and a small fan worn around the neck to keep cool. (Agency: Spotify In-House Global Experiential, Content and Production Team)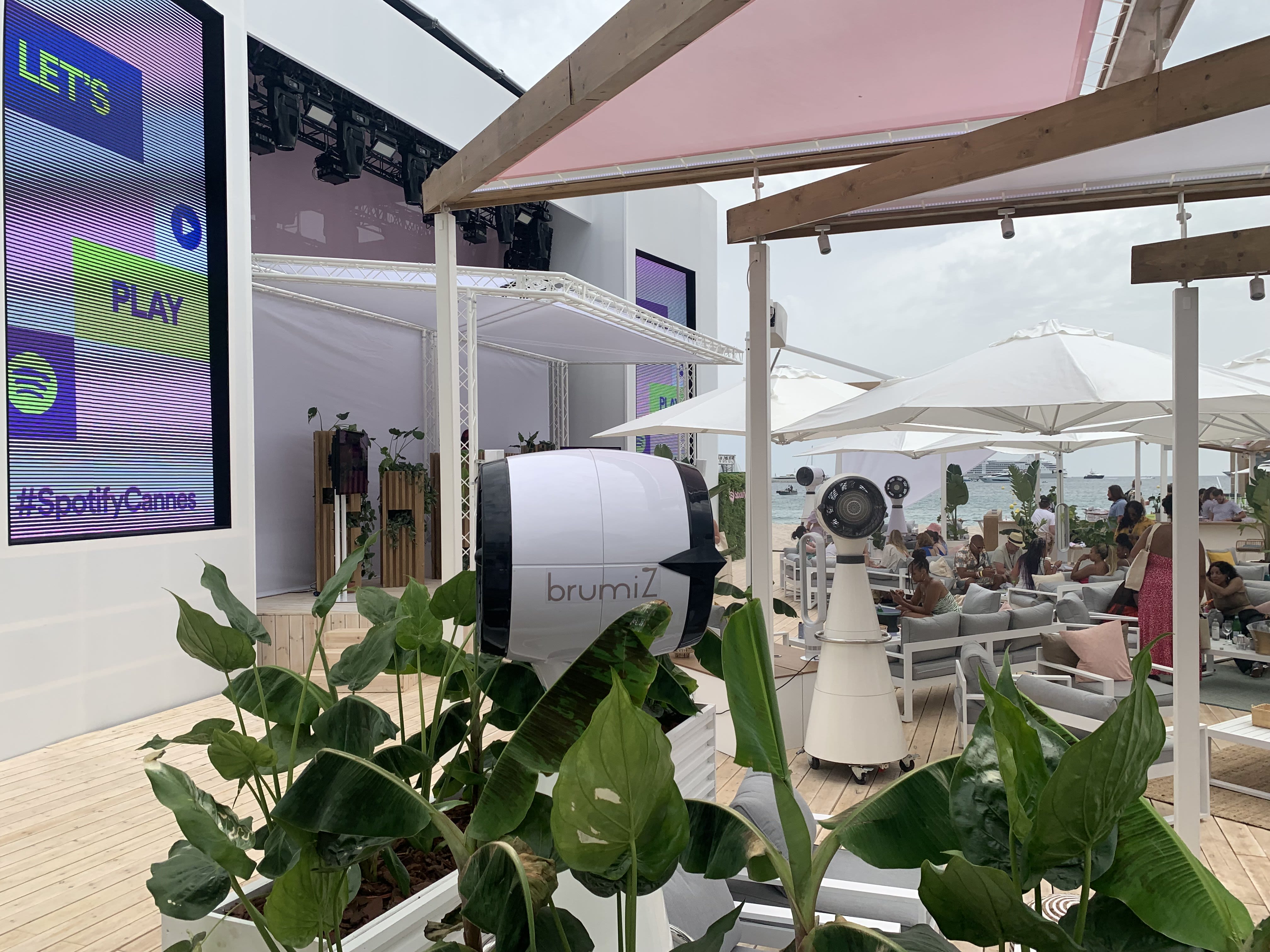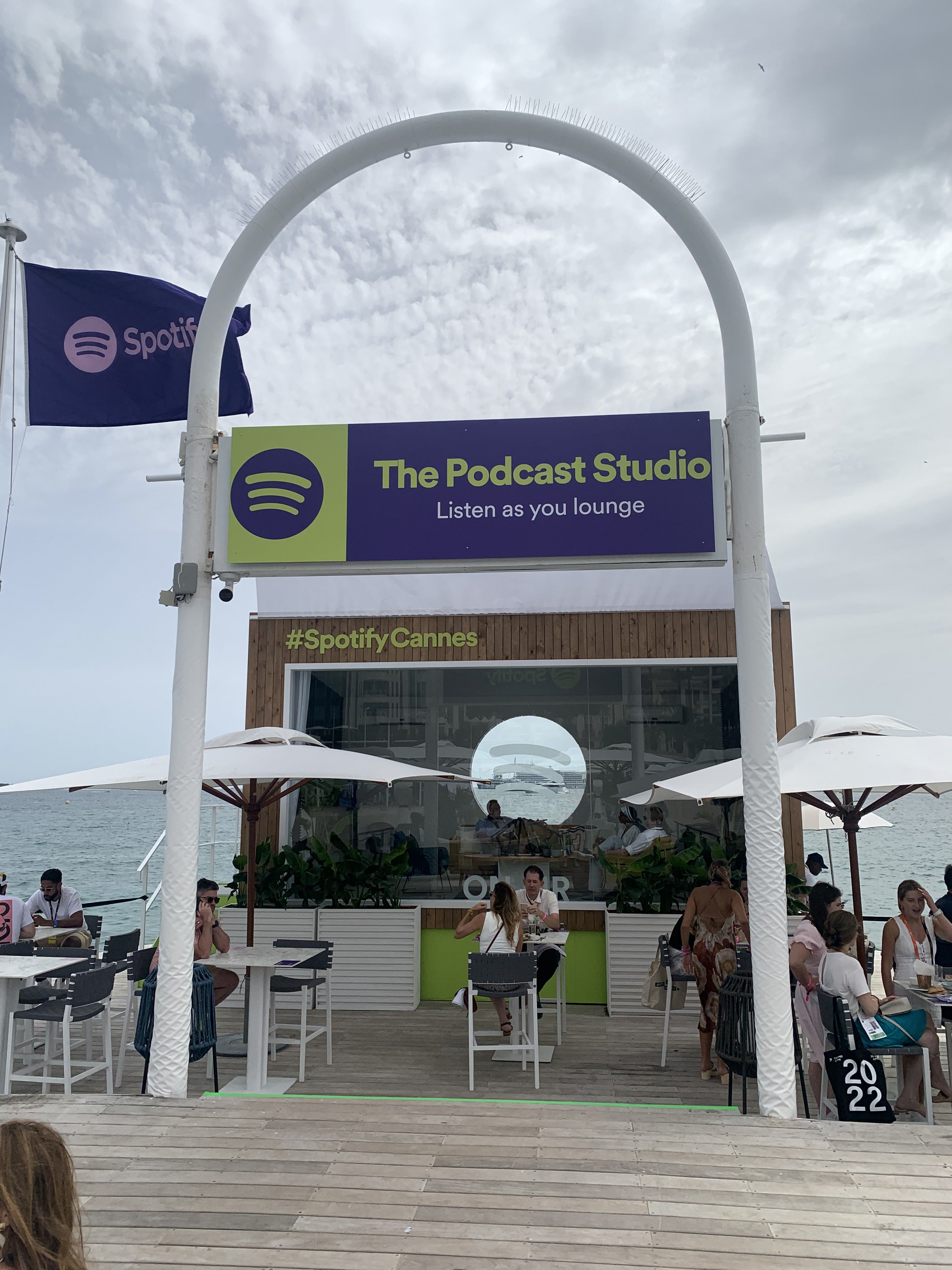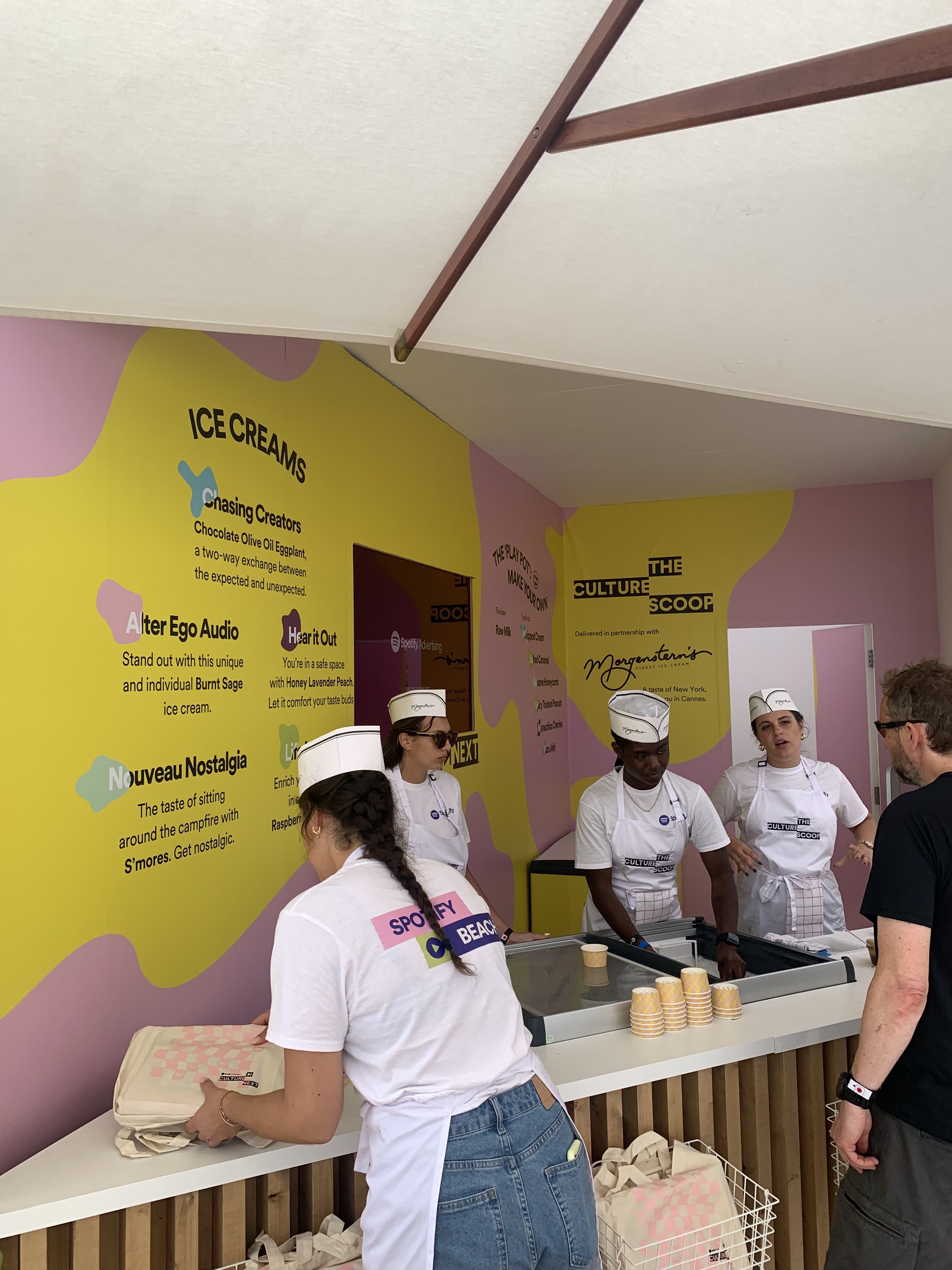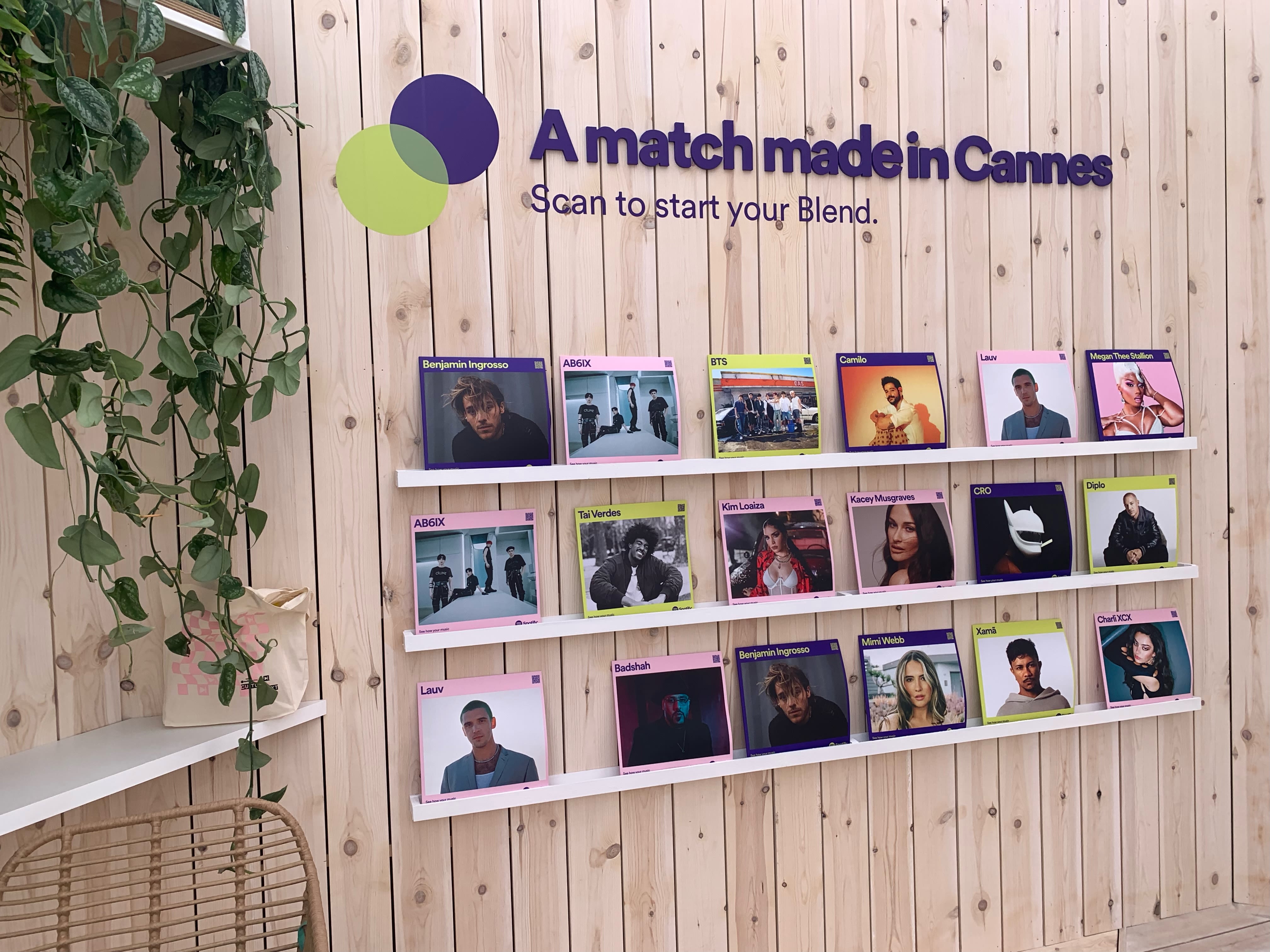 PINTEREST: AN ESCAPE FROM INTERNET-INDUCED ANXIETY
The most activity-rich of the bunch, Pinterest Beach offered a daily rotation of trending looks, idea-generating sessions and new Pinterest ad tools designed to unleash attendees' inner creativity.
Festivalgoers entered the footprint through a portal activation that read "HELLO FROM YOUR INTERNET INDUCED ANXIETY," complete with audio recordings and verbal cues meant to conjure up everyday anxieties that occur from spending too much time online. Inside, Pinterest's oasis of positivity provided a calming contrast to the initial bombardment of sounds and imagery.
The inspiration for the doorway activation came from the platform's annual Pinterest Predicts trend report. It notes, among other things, that 60 percent of people said the Internet is a dark and scary place. However, nine out of 10 respondents categorized Pinterest as "positive" while just three out of 10 said the same about other platforms.
To showcase Pinterest's power as an ad and creator platform, it brought to life what's trending on it. Activities for attendees were organized in a "Pinterest Predicts Parlour" and "Idea Pin Studio." In the former, attendees could book unisex and customizable micro-tattoos in its One by One Tattoo studio; enjoy Nailscape manicures with ocean-inspired designs and statement nail art from a top French salon; and sample hair and makeup styles from Pinterest creators, including bejeweled ponytails, side braids, '90s updos, and other looks.
Meanwhile, the Idea Pin Studio highlighted a new creative tool called idea ads, or video ads for creators on the platform who have a business account. Screen printing, customizing kicks into art, aura reading and photography, blindfolded drawing and other activities were on the schedule. Additional touchpoints included a gifting gallery (per the trend report, nine out of 10 people use Pinterest for gifting), and a bar serving drinks, mocktails, teas and tinctures—also rising in popularity on Pinterest.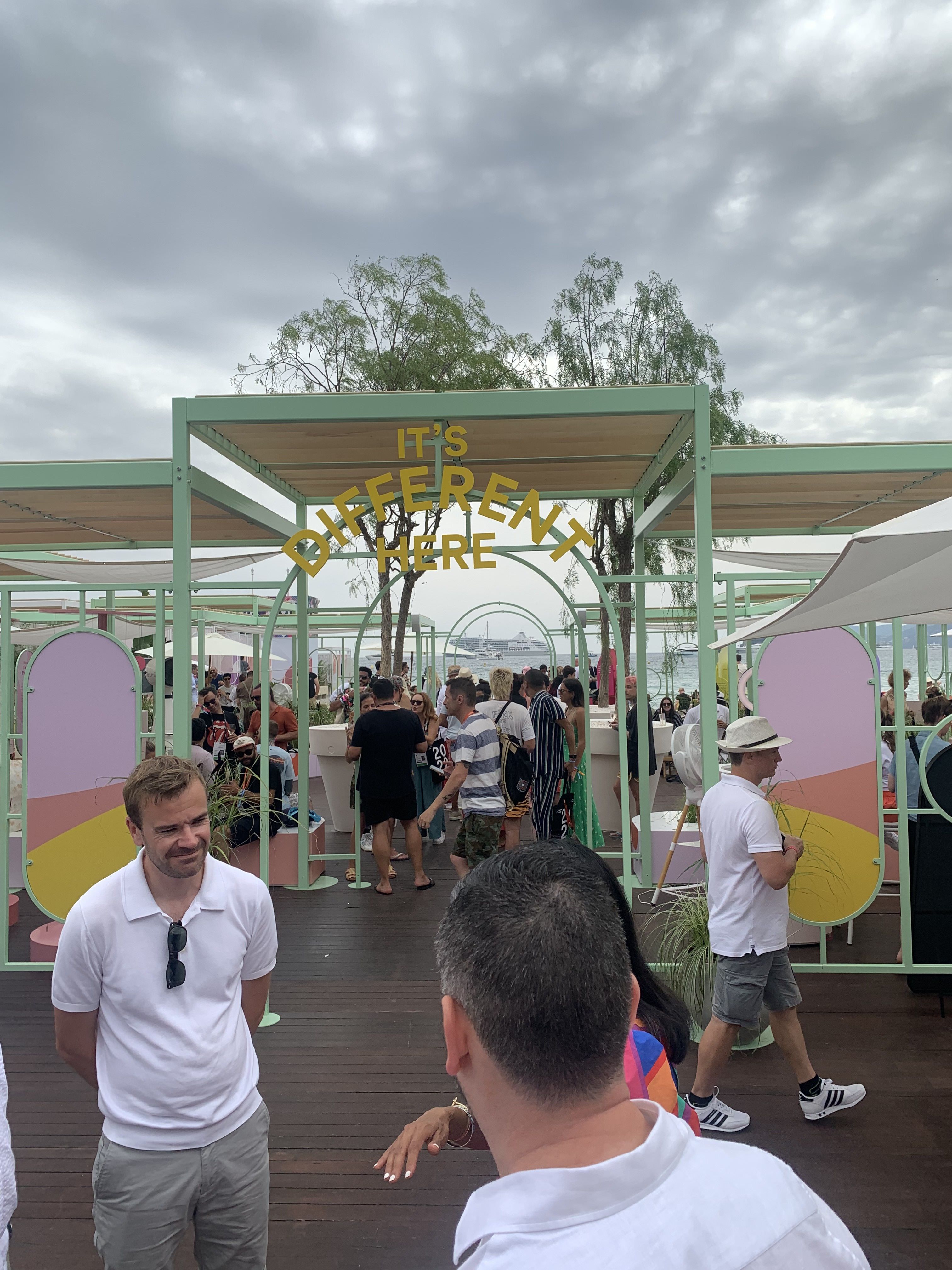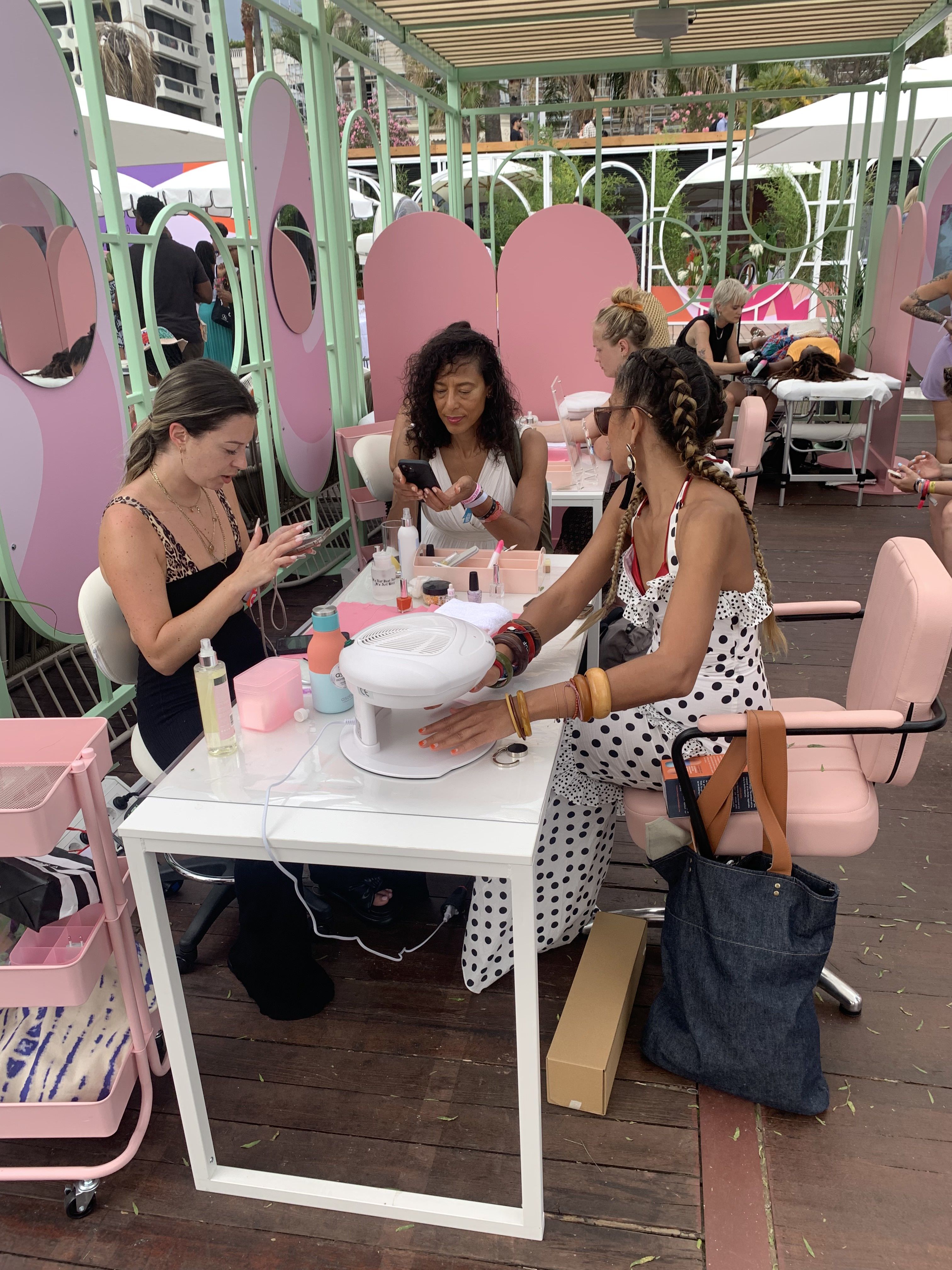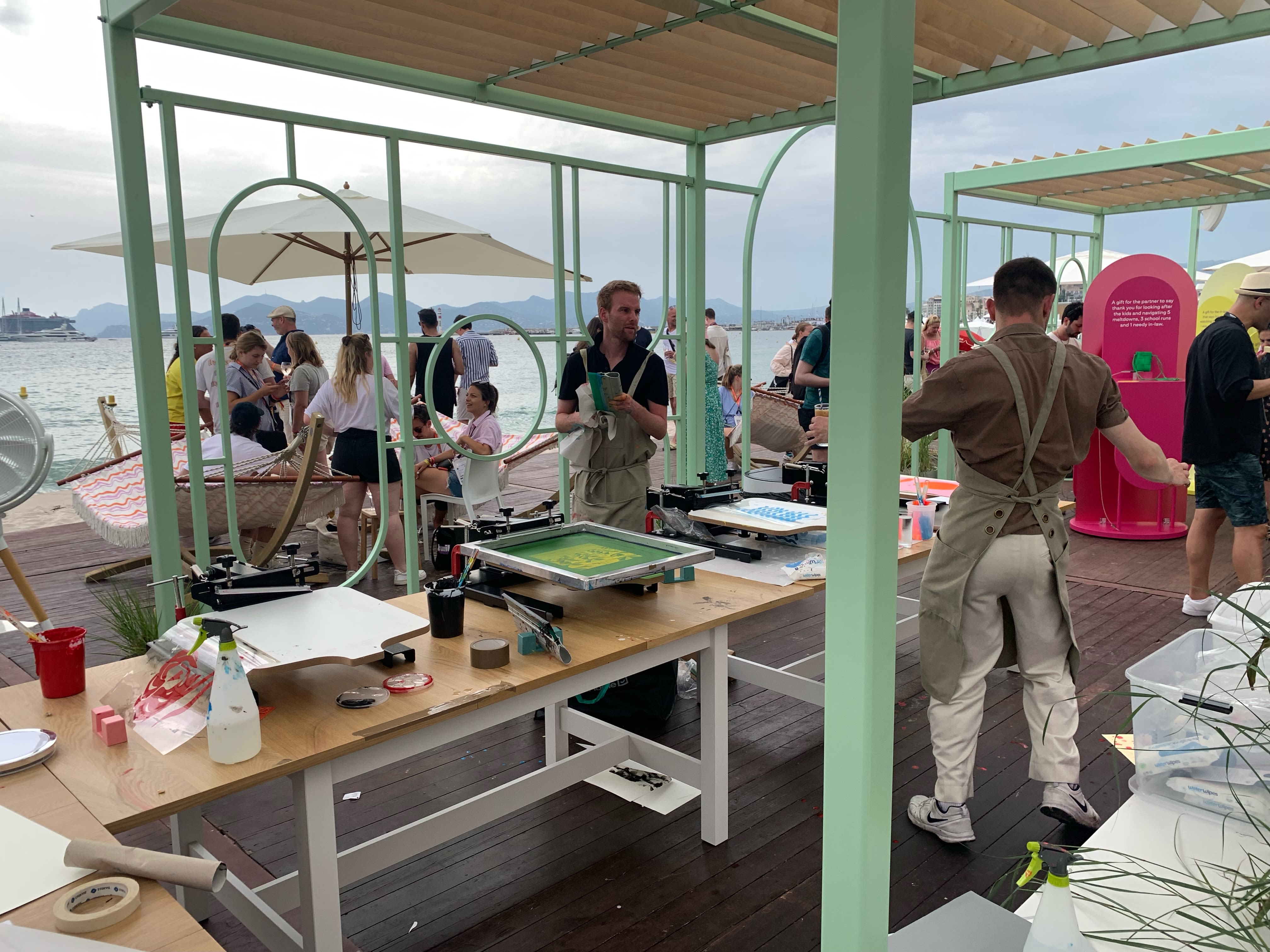 META: CREATOR POWER, SHORT-FORM VIDEO AND BRANDED COLLABS
A standout among the beach builds was Meta's footprint, which offered several immersive, metaverse-inspired activations, including a creator-led Reels SuperStudio, a Horizon Worlds experience via the Meta Quest headset, a fun Ray-Ban Stories demo and a preview of WhatsApp tools for businesses. Check out our full coverage of the Meta space here. (Agencies: Jack Morton; DeYan).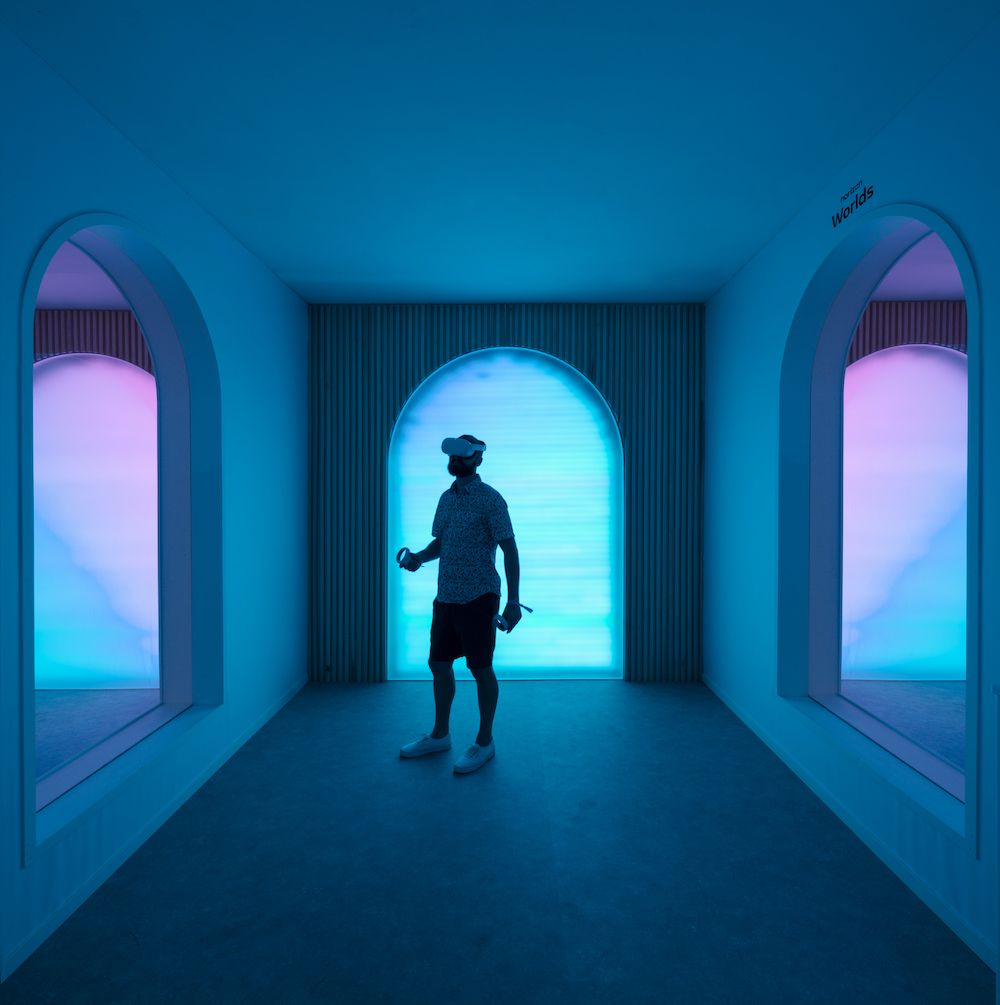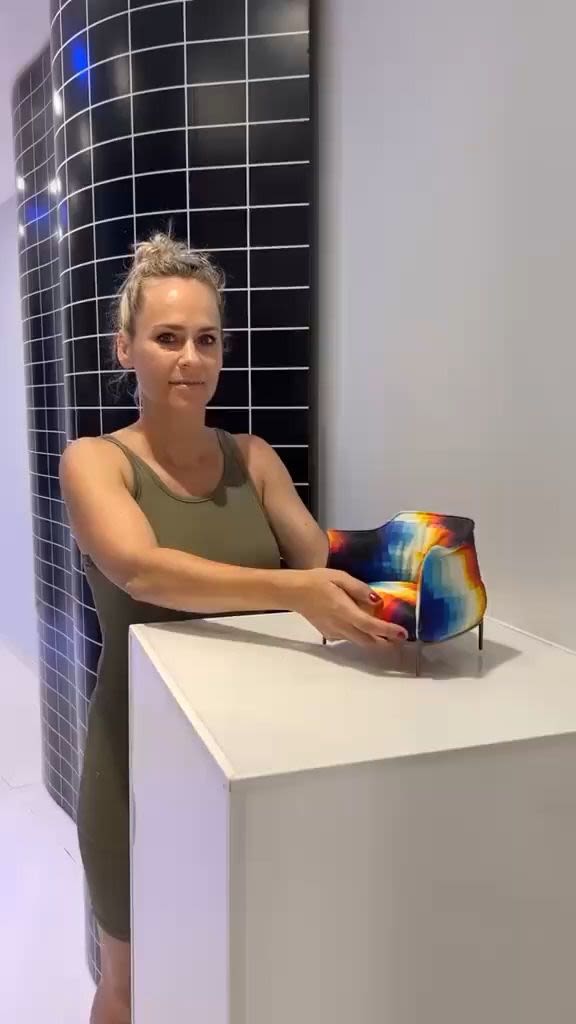 SNAPCHAT X VOGUE: REALITY AUGEMENTED BY HIGH FASHION
Snap once again activated at Cannes' La Malmaison art gallery, as it did in 2019. But this year its exhibit was a high-fashion collab with Vogue that leveraged the interactivity of its augmented reality software to a far greater degree. Dubbed "Redefining the Body" and curated by Edward Enninful OBE, editor-in-chief of British Vogue, the experience highlighted AR's power to enhance the realm of physical high fashion and transform clothing designs through digital experiences.
After opening the Snap app (or downloading it, if need be), attendees embarked on a self-guided tour through several rooms, each containing a pair of mannequins wearing outfits made by a specific designer, including work from Balenciaga, Dior, Gucci, Kenneth Ize, Richard Quinn, Stella McCartney and Versace. Unlike a typical white-walled museum space, the rooms were heavily curated works of art in and of themselves.
The technology was simple and user-friendly, but brand ambassadors were on hand to help. How it worked: Attendees directed their Snap apps toward a placard in each room in order to activate a unique AR filter that transformed the space entirely. The Stella McCartney filter, for instance, revealed a garden-like wonderland with floating toadstools and a flurry of bees. Versace's featured a gold medusa head with slithering snakes. And Gucci's was a distorted perspective of the space and its fashions, funhouse mirror-style.
Perhaps our favorite part, though, was the virtual try-on feature. In each room, we donned designer fashions virtually and then downloaded the new looks straight to our phones. (Agency: DeYan)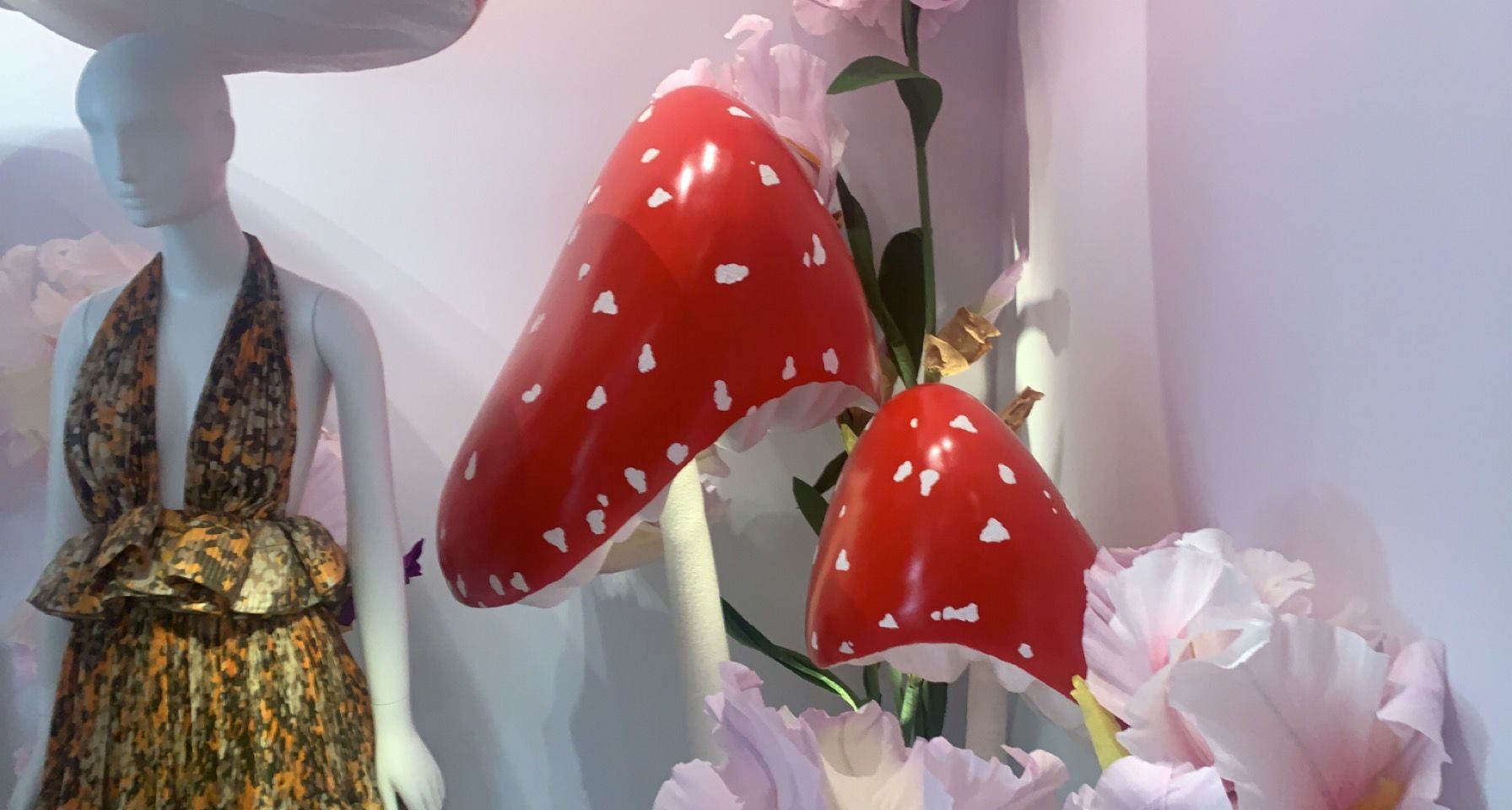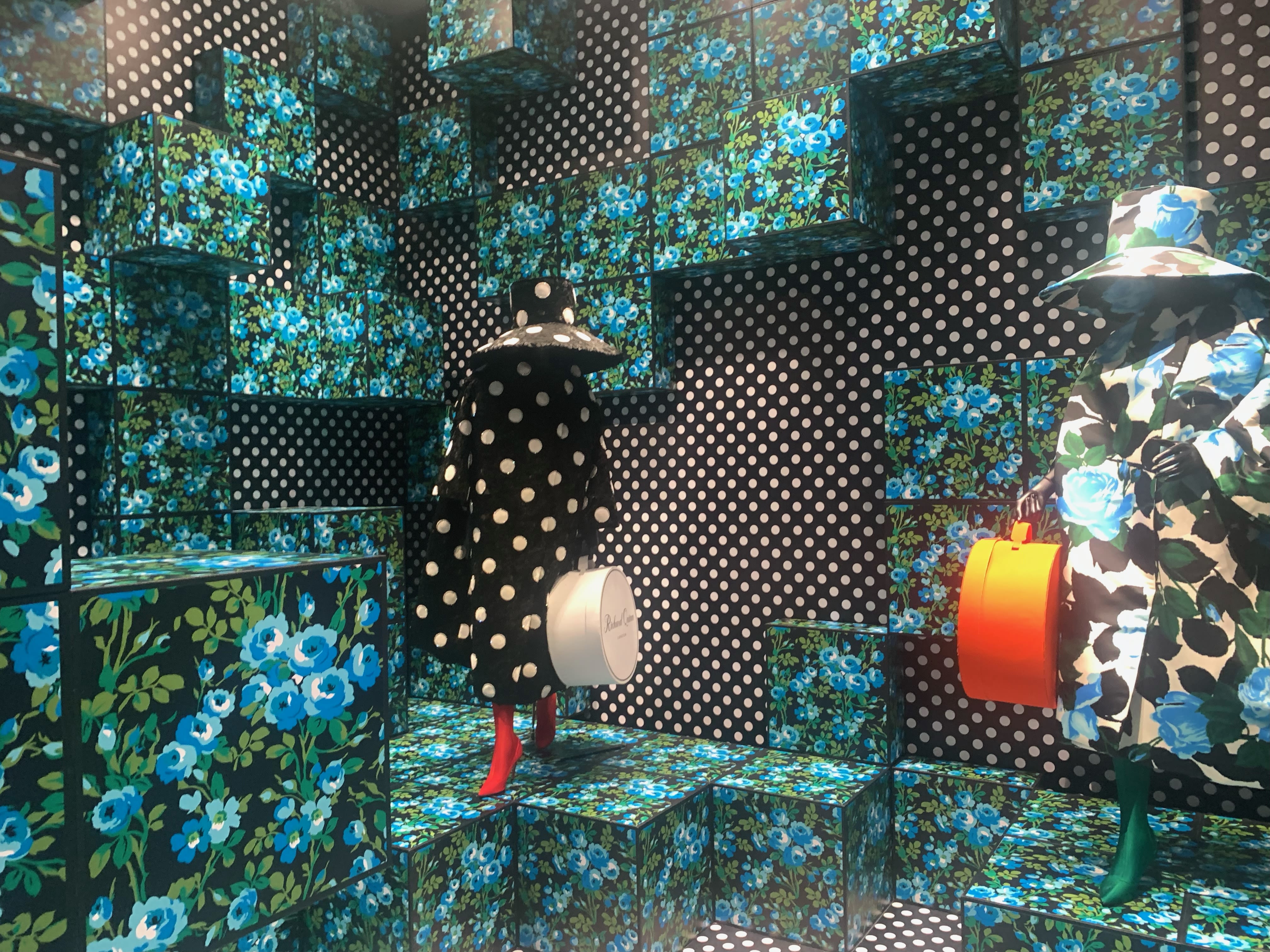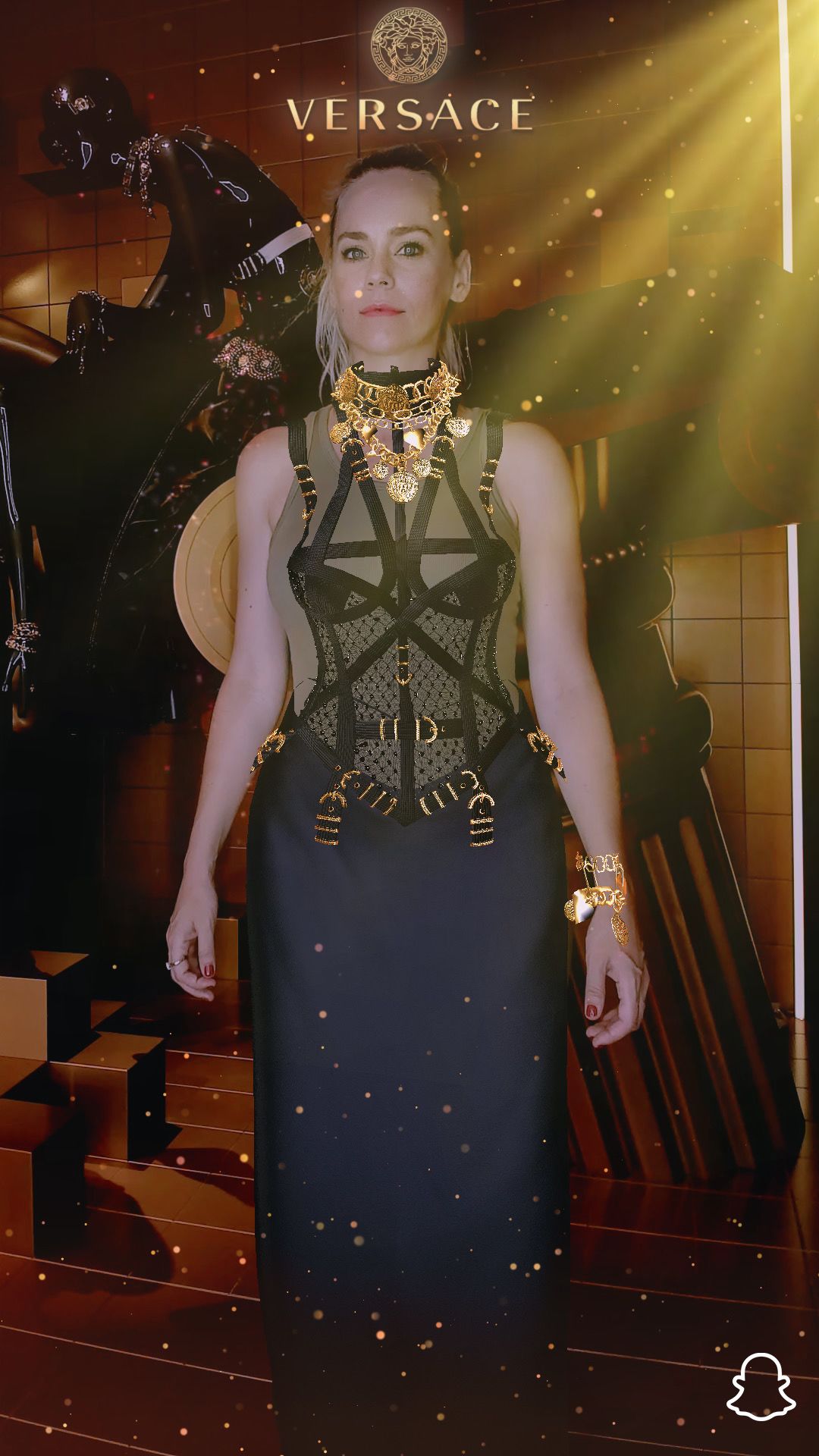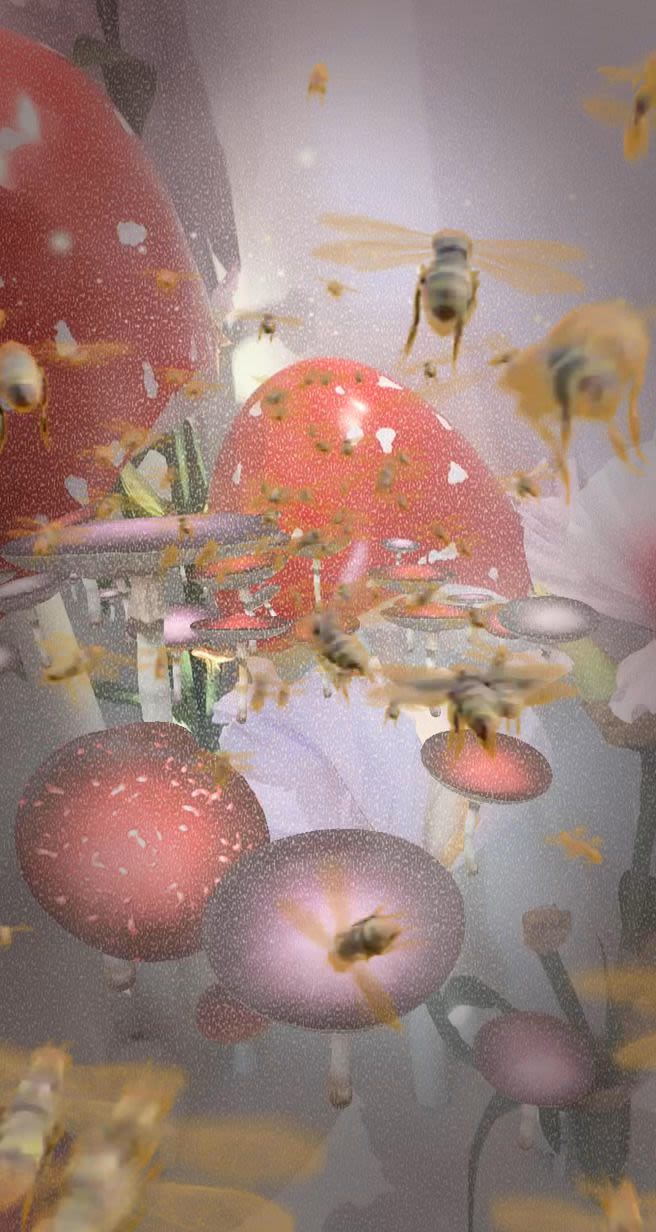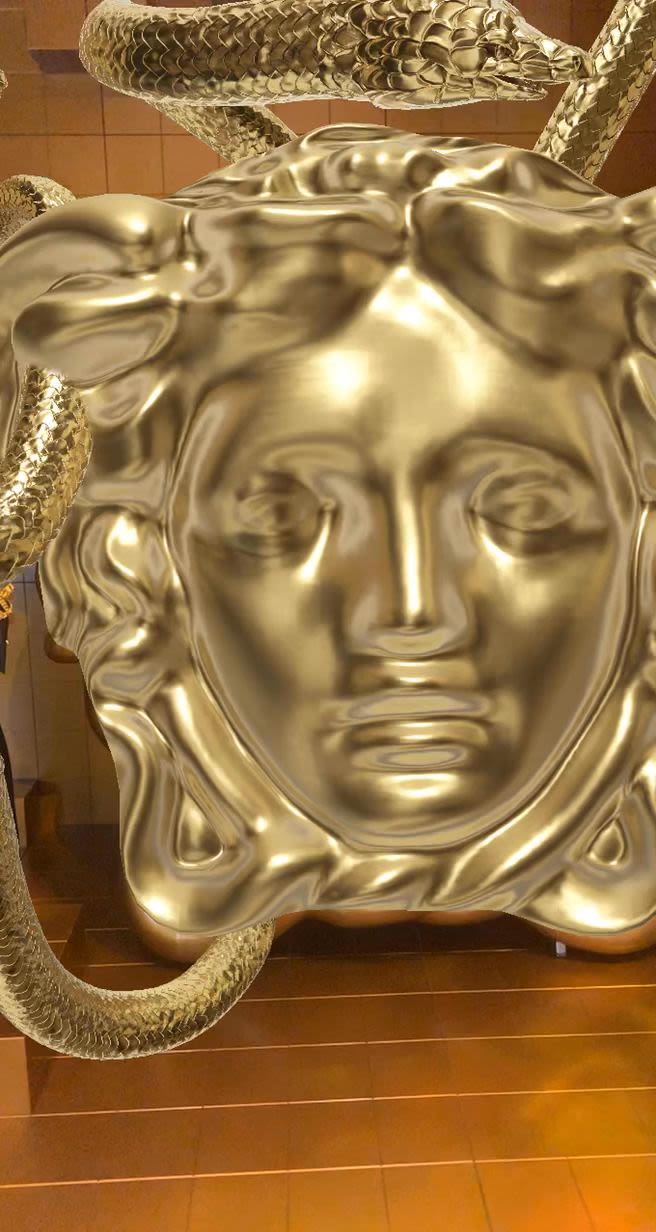 REDDIT'S DEN OF DISCOVERY: AN HOMAGE TO ITS PASSIONATE, CULTURE-FORWARD USERS
For its first-ever activation at Cannes Lions, Reddit's Explorers Club positioned the brand as "the first to major cultural trends," from now-ubiquitous memes like the "Rickroll" and "This is fine" to cryptocurrency to subreddits containing the most niche of topics. Familiarizing potential advertisers with keyword targeting was the end goal, and it did so through crafting a museum-like experience as an homage to its users and culture creators. For all the details, check out our full coverage of Reddit's presence at Cannes here. (Agency: Giant Spoon.)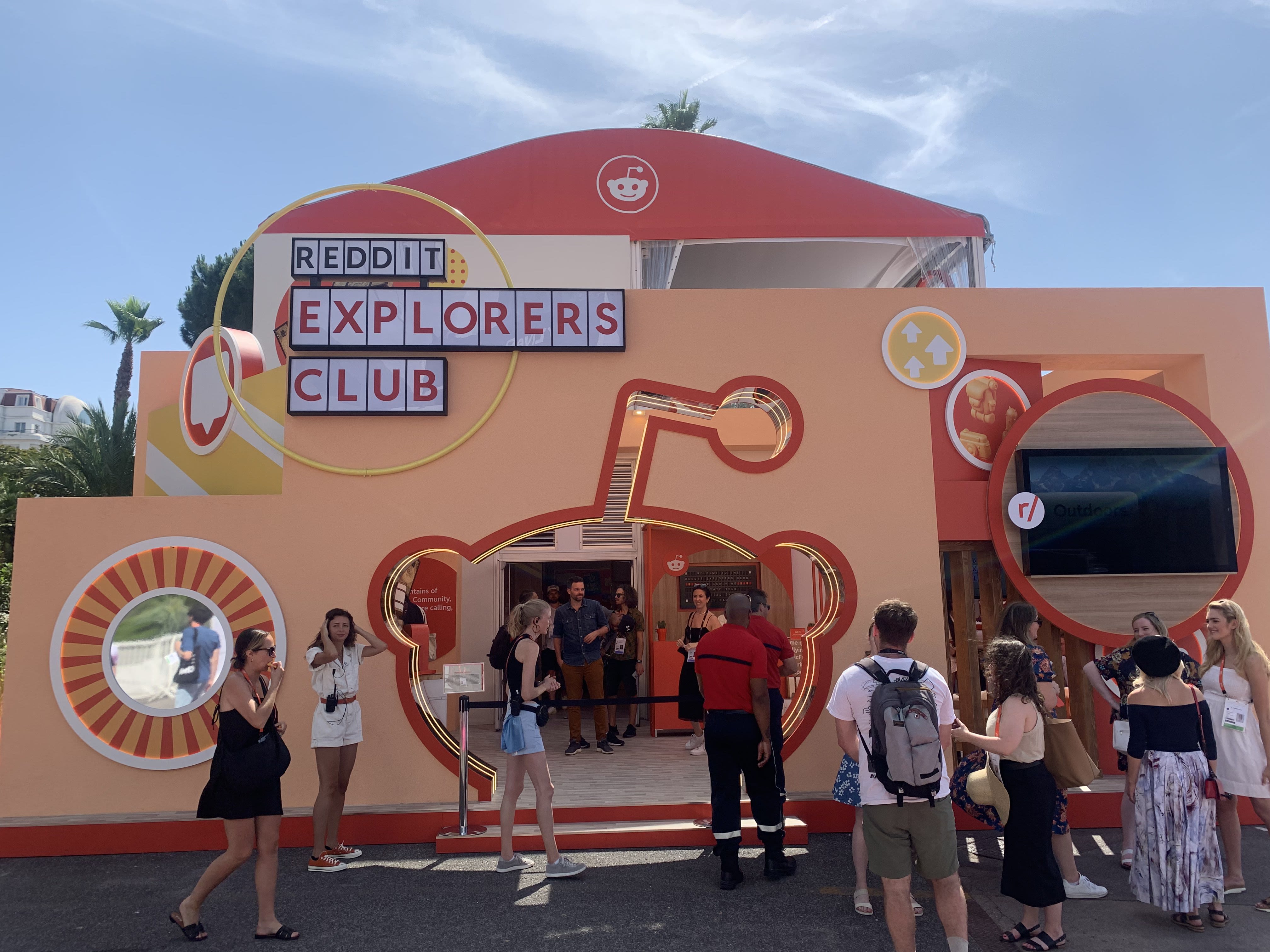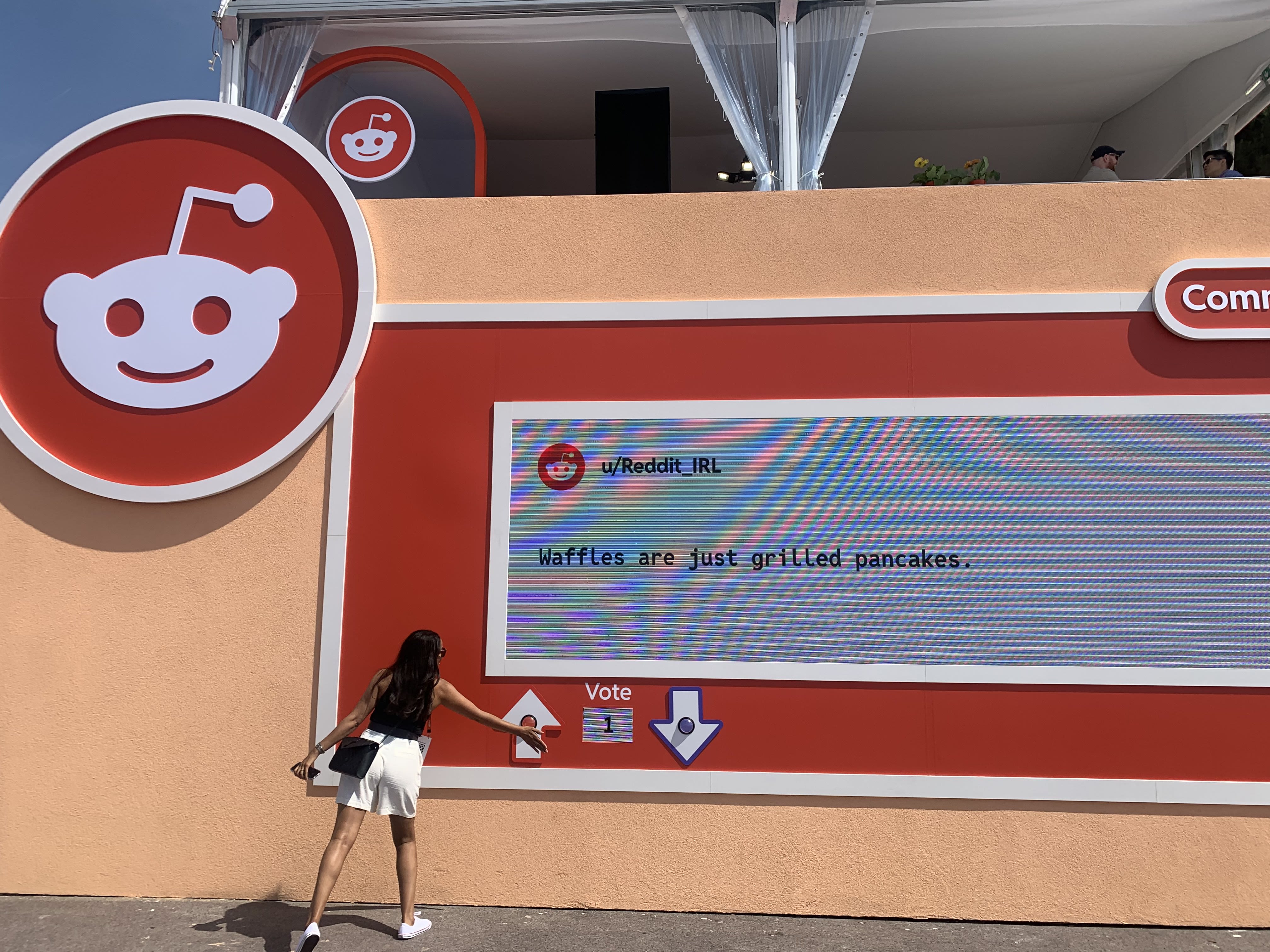 HONORABLE MENTIONS
TIKTOK CABANA
TikTok gets a plug for its three-pronged targeted approach, which presented tools for brands as well as the breadth of its creator database. At the Co-Creation Station, attendees played with branded effects and "duets," a tool that shows different perspectives side-by-side. Our creator helper @kahlilgreene, aka Gen Z Historian, helped us make a duet with a "party" he had filmed previously, so that whatever movement we chose to film earned a roaring reaction from the group.
At the TikTok Creator Marketplace, attendees could peruse the work of creators around the world and choose who to partner with by using search filters, including geographical location and topic, on an interactive screen. And at the TikTok Creative Center, festivalgoers used a sliding wall to explore current trends on TikTok, what posts are popular at the moment and useful data by categories, such as industry and location. (Agency: In-house.)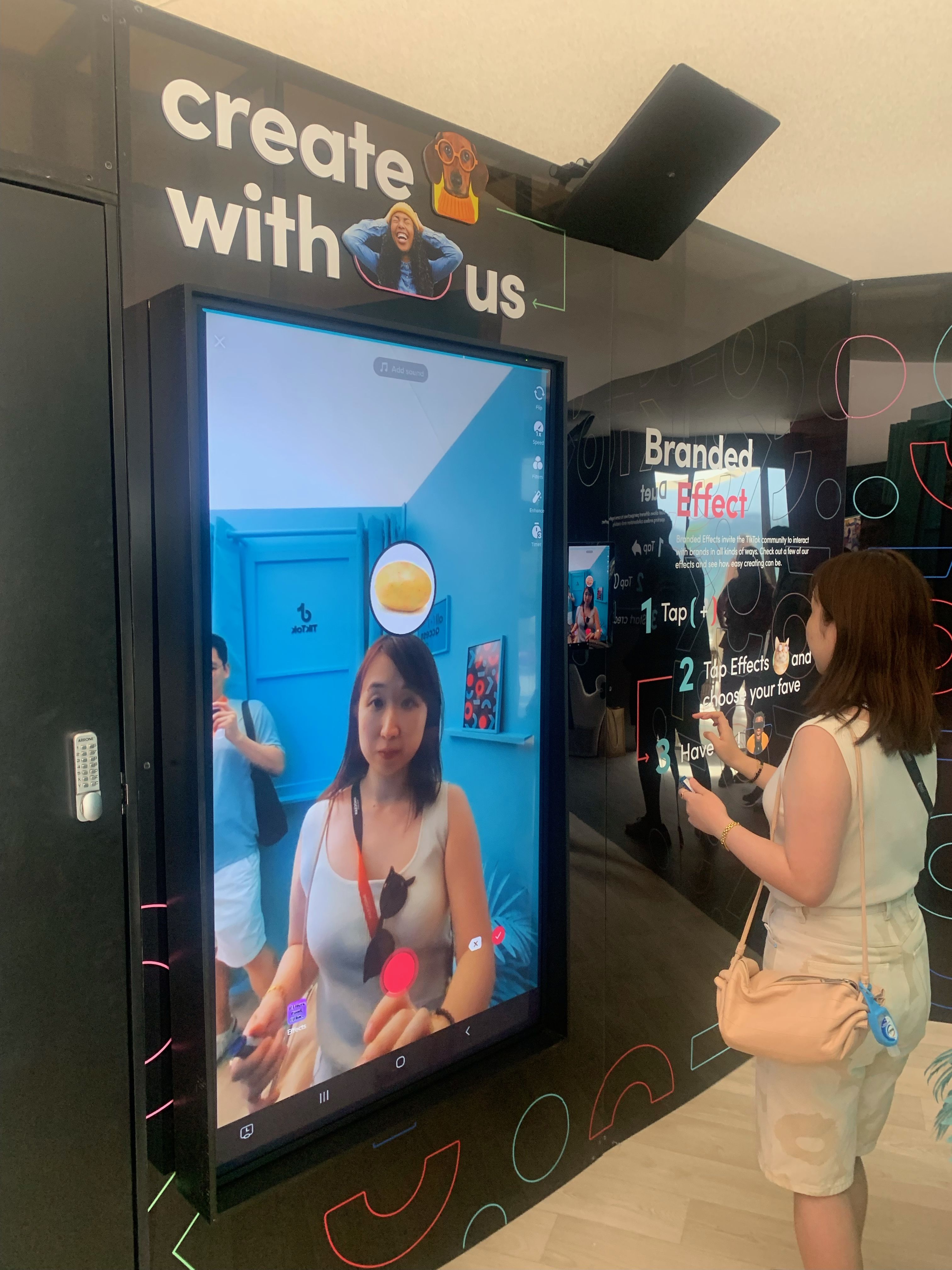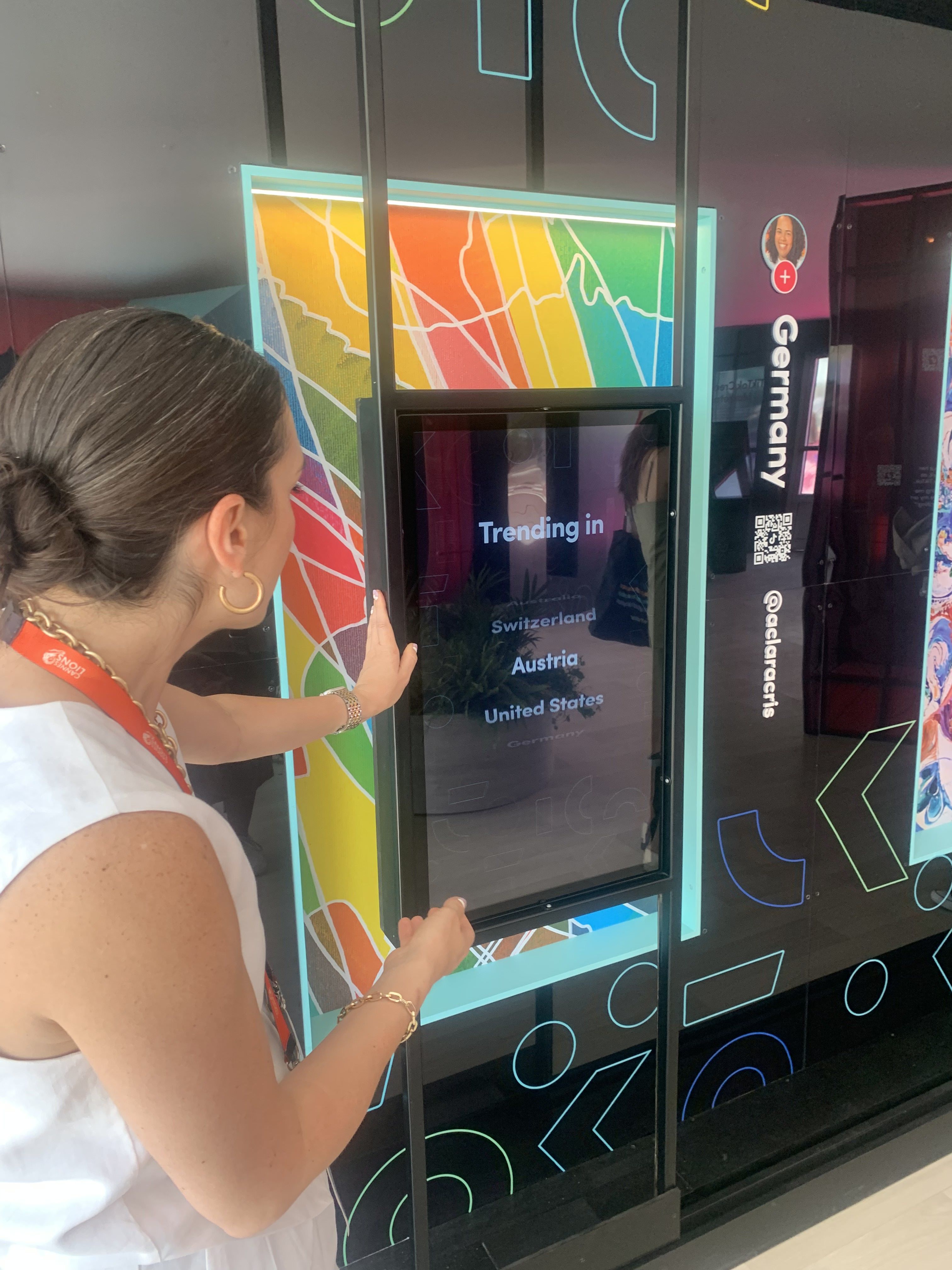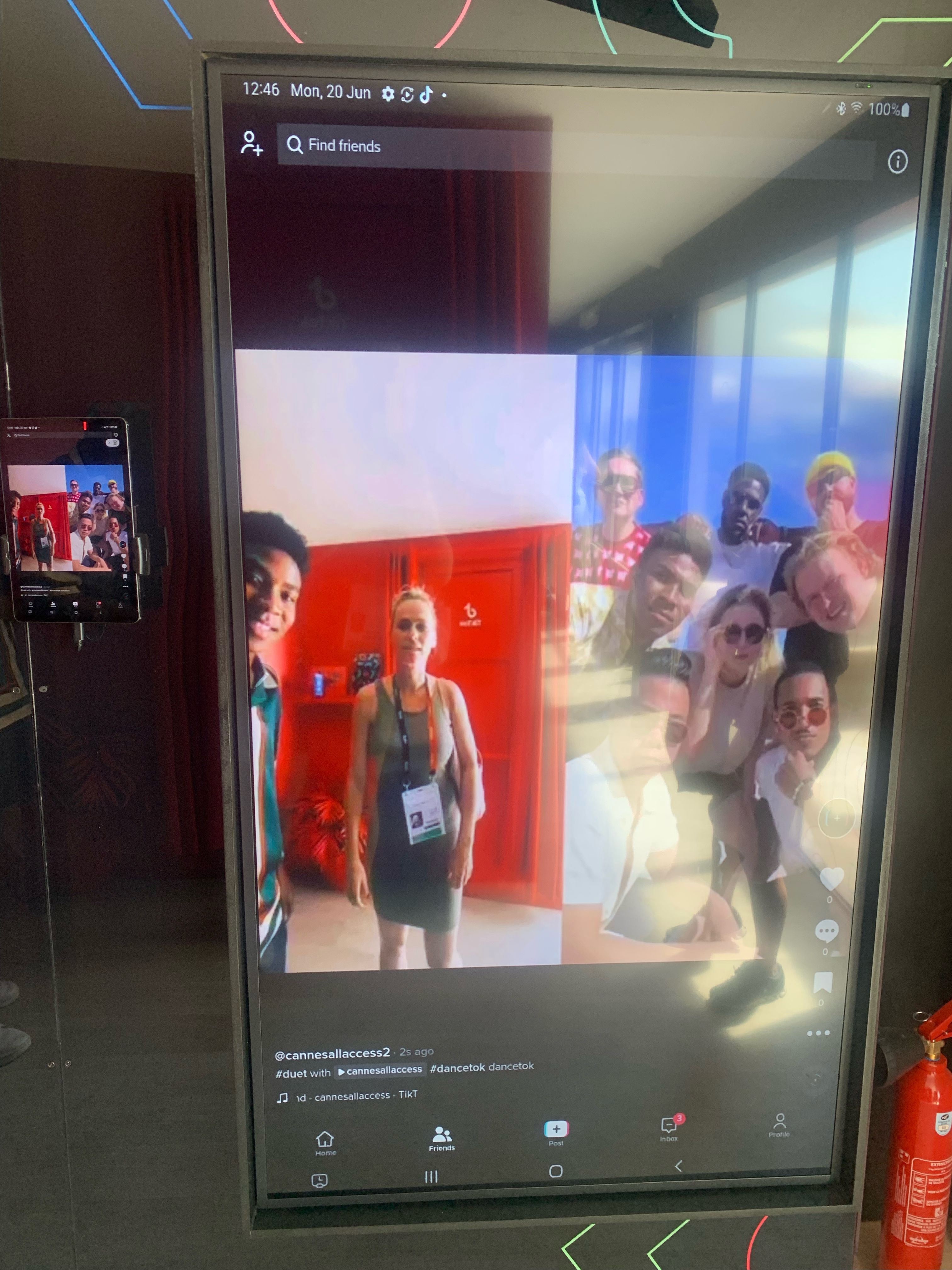 SHUTTERSTOCK'S 3D MARKETPLACE
Shutterstock led with its 3D prowess, firstly with a colorful projection of abstract imagery at the activation's entrance. Once inside, guests could explore an AR showcase and unlock various 3D effects using their phones. The brand also offered up the skills of celebrity photographer David Fisher who took portraits of attendees that were sent to festivalgoers via email after the event. We're told that our very own personal NFT is still in the works and will be delivered to our digital wallets on the MetaMask blockchain… But we're still waiting on that one. (Agency: Civic Entertainment Group.)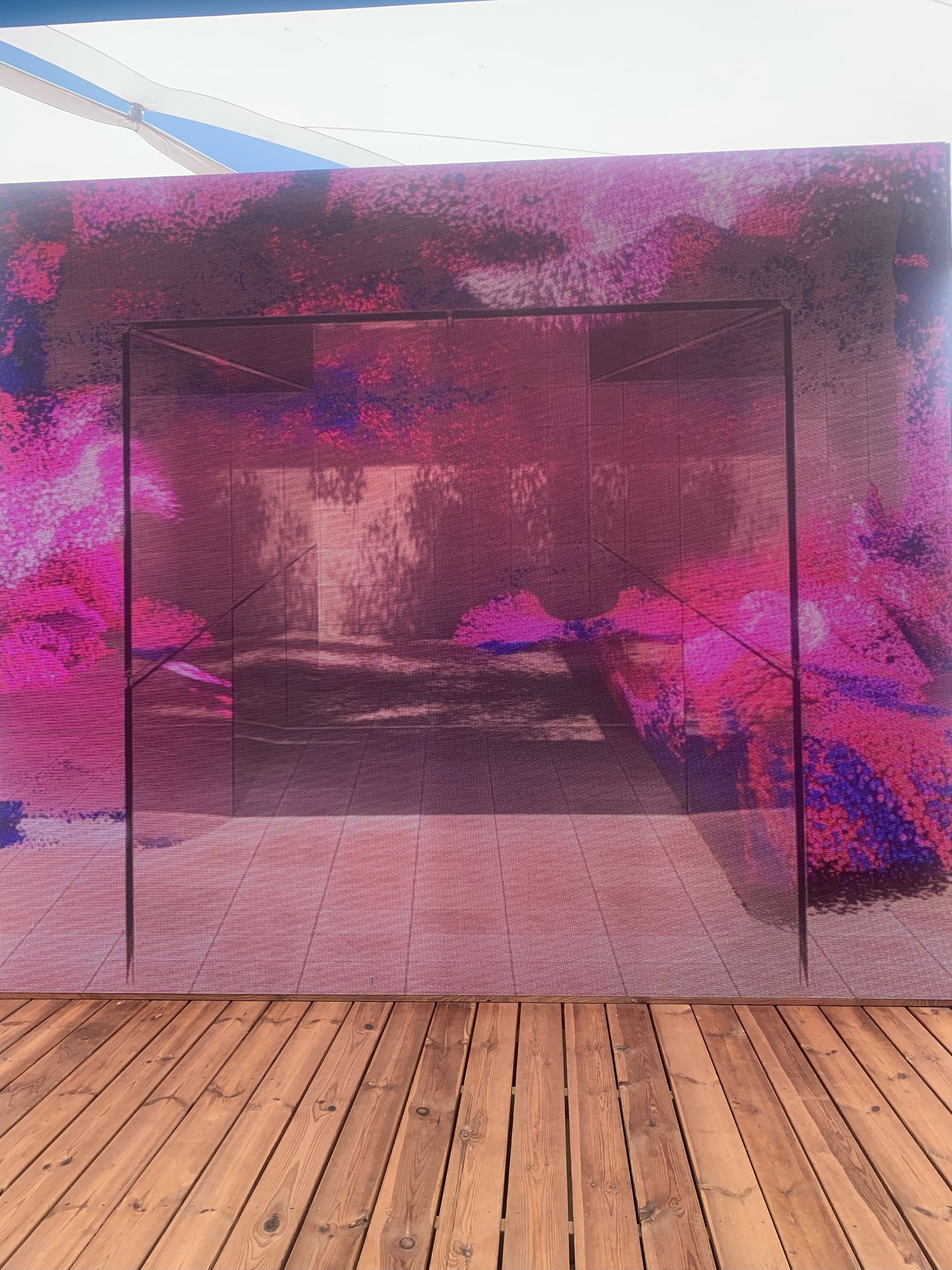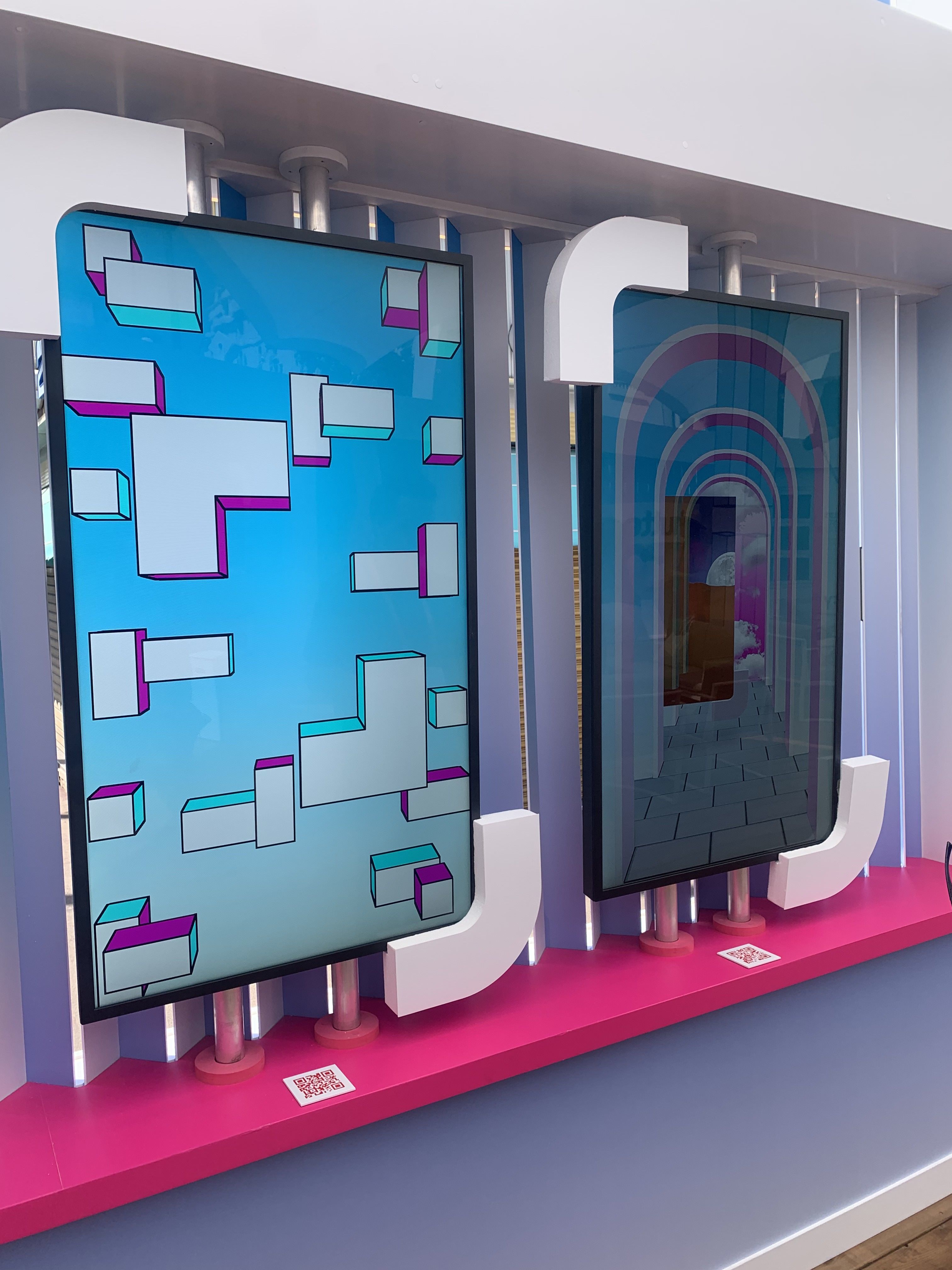 SRMG (SAUDI RESEARCH & MEDIA GROUP)
We're giving this one a nod for its technical prowess, seamless process and expediency. The centerpiece of SRMG's cabana was a gigantic circular structure sporting a massive door that called to mind a bank safe you might find in a Hollywood heist movie. After entering some personal information into an iPad and choosing which 3D environment to place our forthcoming avatars in (an ocean, mountains or desert), we were told to pass through the door and stand still in the center of the circular space, which was covered head to ceiling with cameras. Two quick flashes later and voila, our avatar was born.
Attendees received their avatars by email a few minutes afterward and were given the option of wielding it as a SRMG-branded AR overlay or navigating their chosen 3D environment via a desktop or smartphone. The latter option also included a feature that took a screenshot of the scene and automatically downloaded the pic to your computer.