THINK
PINK
Warner Bros. nets the brand win of the summer with an experiential 'Barbie' campaign as joyful and inclusive as the blockbuster film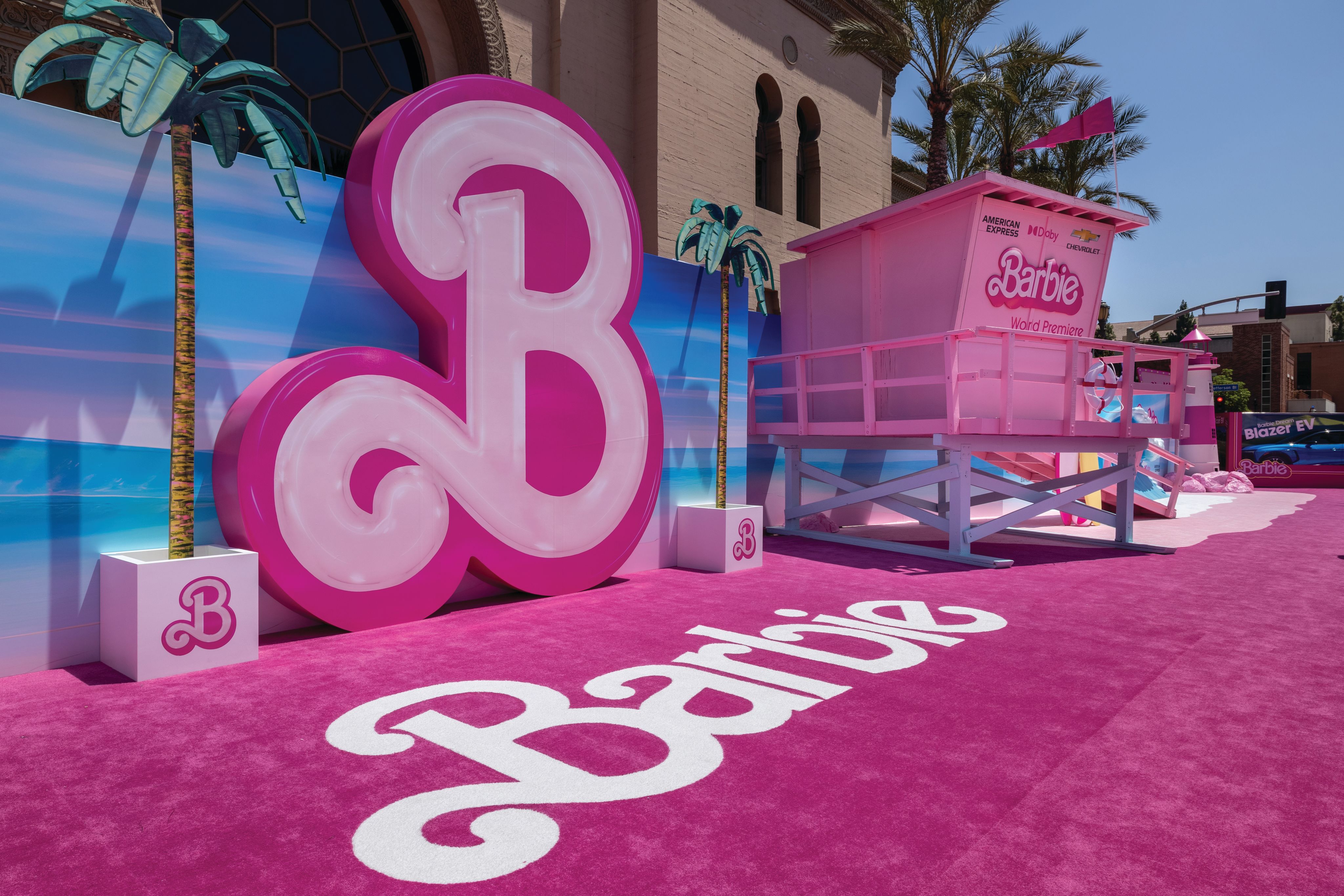 If your cheeks didn't flush with "Barbie" fever this summer, you were in the minority. The Warner Bros. movie took the world by storm even before its July 21 debut, with a slew of brand collaborations and a global premiere event circuit that served as an experiential extension of the blockbuster film. And somewhere along the way, the effort metamorphosized into something much more than a marketing campaign: It became a global pop culture movement.
From the "Barbiecore" fashion phenomenon, to the "Barbie's marketing team" memes, to the viral "Barbie" selfie generator, to songs from the film soundtrack dominating the Billboard 100, to countless activations and events, "Barbie" was unequivocally the story of the summer, and the brand experience story of the summer. Now, the billion-dollar question on every marketer's mind is: What can I learn from Warner Bros.' powerful pink triumph?

The brand's recipe for success has far-reaching, cross-category implications for the experiential marketing industry, but the most important ingredient may have been the laser-focused message of inclusivity. The film's overarching theme that Barbie is everyone and Barbie is for everyone was purposefully brought to life across every experiential touchpoint and collaboration. Even at the official premiere events, typically reserved for talent and press, Warner Bros. invited fans and a wide range of influencers, including those with special accessibility needs, to be part of the action.
For an industry once dominated by exclusive, invite-only-style event strategies aimed at attracting VIPs to build buzz, the "Barbie" movement set a new precedent, demonstrating a poignant lesson on the power of the people. By welcoming all consumers into the "Barbie" brand and celebrating their diversity, Warner Bros. and its army of brand partners captured the attention, and hearts, of people from all walks of life. In turn, consumers' passion for all things "Barbie" took on a life of its own, further amplifying an already explosive campaign.
It's also worth mentioning that, just like the movie, Warner Bros. never took itself too seriously at a time when we could all use a little levity. The brand opted for an "elevated," but decidedly playful, approach to the entire operation. (Really, what other premiere event would inspire serious Hollywood actors to slip down a hot-pink spiral slide?)
So, ready to explore the muscle behind the magic? Join us for an experiential journey through Barbie Land.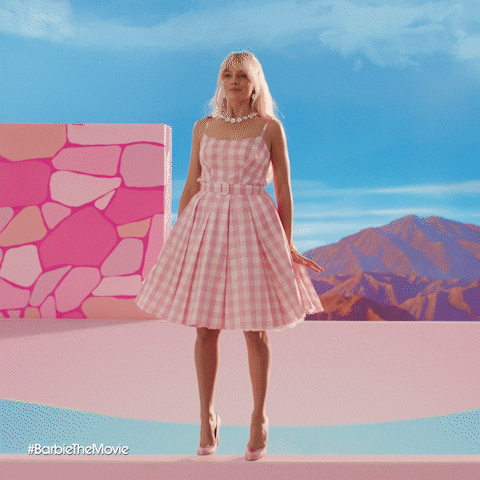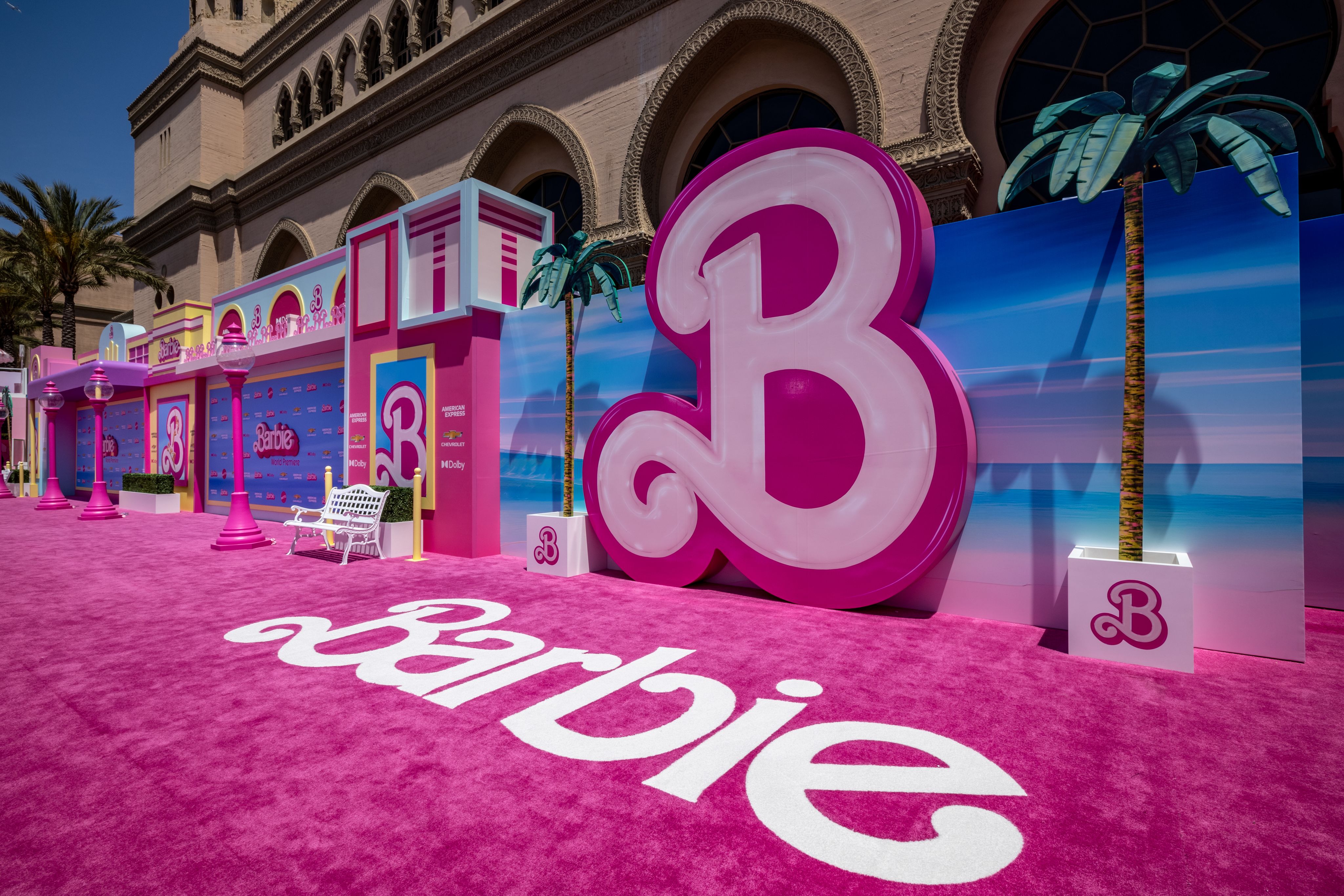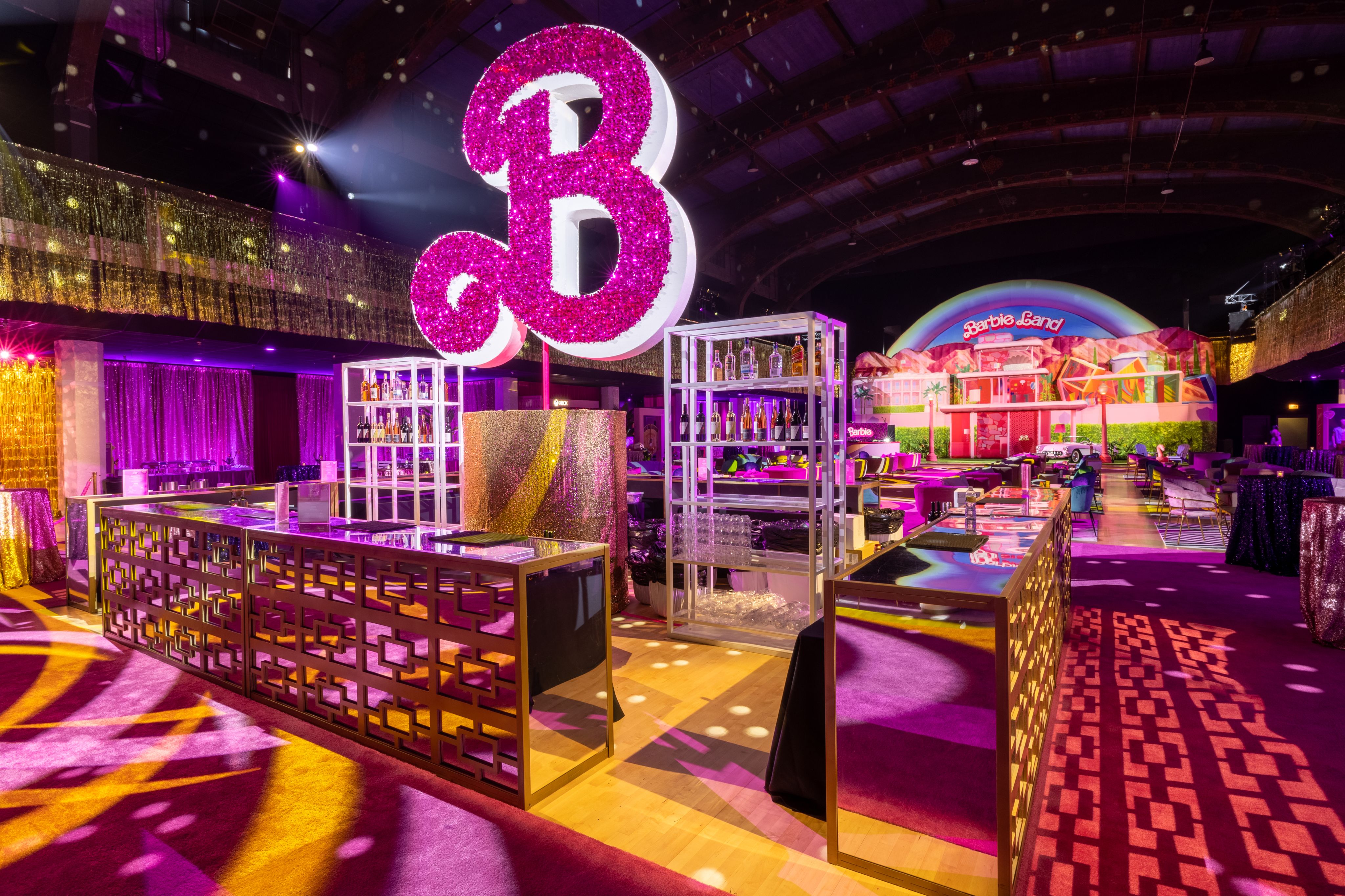 A NEW KIND OF PRESS JUNKET
The "Barbie" premiere event tour launched with an immersive press junket on June 24 that transformed the 14th floor of the Four Seasons Hotel in Beverly Hills into a bona fide Barbie Dream Hotel. From the moment members of the media stepped out of the elevator, they were enveloped in a vivid branded environment that was a far cry from the standard press event.
"Even though we were at our usual 'junket hotel,' we completely changed the entire 14th floor," says Wendy Robino, svp-marketing events and regional publicity at Warner Bros. "When I say 'changed,' I mean we laid pink carpet, we covered the walls with low-tack wallpaper, all with the same aesthetic and PMS paint color that was done for the [Los Angeles] premiere and the party... It was something that was just for press, and the whole plan was to make everything feel extremely special and tailored to this title."
Following the junket in Beverly Hills, talent, media, influencers and fans attended premieres in four other countries. But it was the larger-than-life "pink-carpet" experience, screening and afterparty for 2,400 people at the Shrine in L.A.—Warner Bros.' biggest premiere event to date—that took the cake.
"It was a whole storyline, starting off with that experiential press junket," says Robino. "The talent went to Australia, South Korea, Mexico City and then they finally came to L.A., which was the first time the film was shown to the public. And from there, they went to London. So it was a global storyline with all of these events."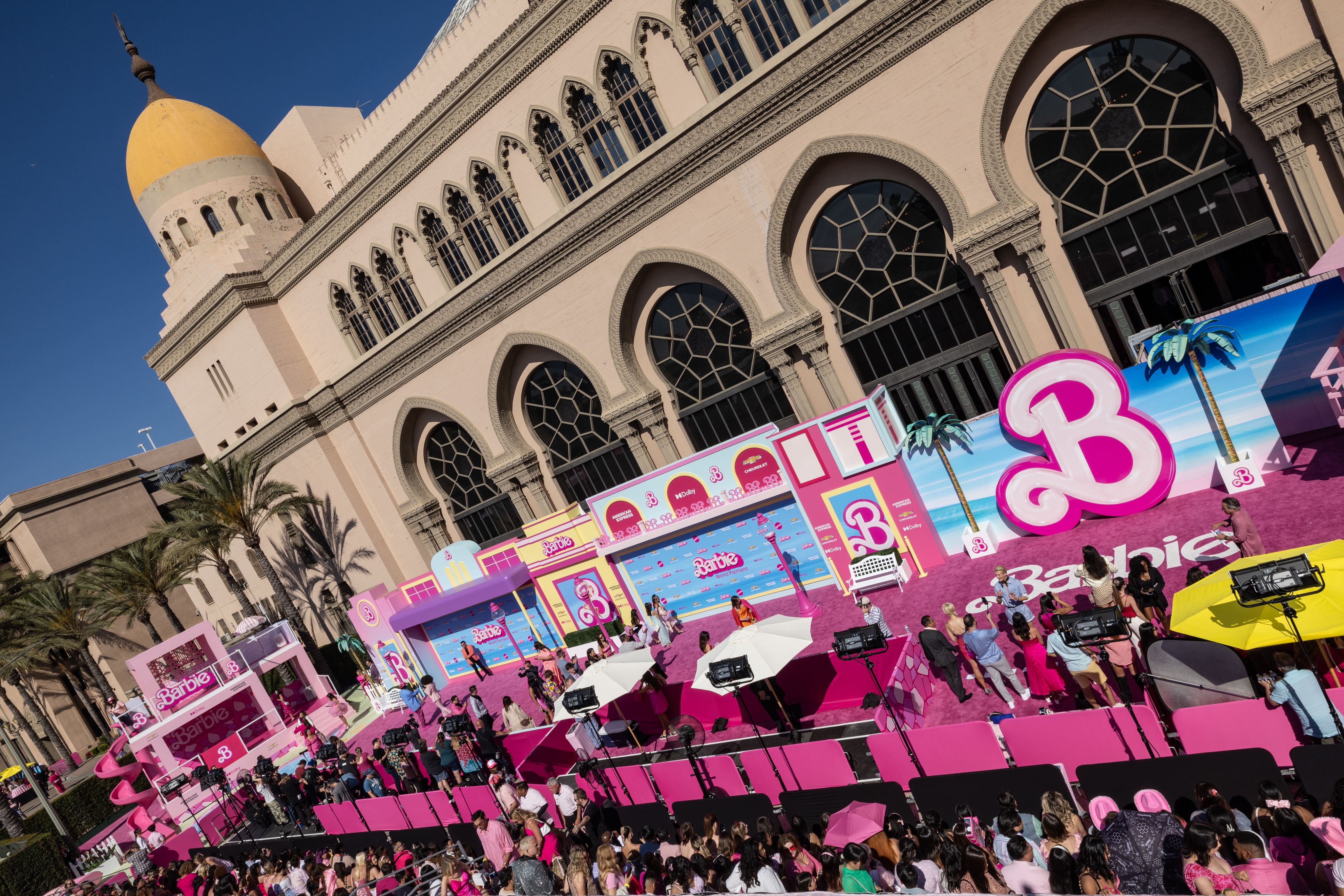 Planning for the July 9 premiere in L.A. began four months out, and like the overarching marketing campaign for the "Barbie" movie, the experience was designed to position Mattel's Barbie brand as fresh and inclusive while paying homage to the themes and aesthetic of the Greta Gerwig-directed film. From soup to nuts, the affair was like Barbie herself: high-energy, glamorous and very, very colorful.
Each segment of the event was meant to cohesively flow into the next. It all kicked off on the branded pink carpet outside the Shrine, where influencers were invited to grab content for two hours before talent appeared, to help amplify the experience. And there were plenty of touchpoints to capture—all expertly designed to mimic key scenes from the movie, and peppered with Easter eggs.
PHOTO-WORTHY FABRICATION
"The biggest challenge we had was just pink," says Craig Waldman, president and chief creative officer at 15|40 Productions (lead partner on this leg of the experience). "There are so many pinks that were used within the film that our paint department was mixing and sending paints over to the [Warner Bros.] team to look through. It was a matter of being able to use pink, but being able to have different tones and use of the same colors where it made sense—so it was pink at its finest."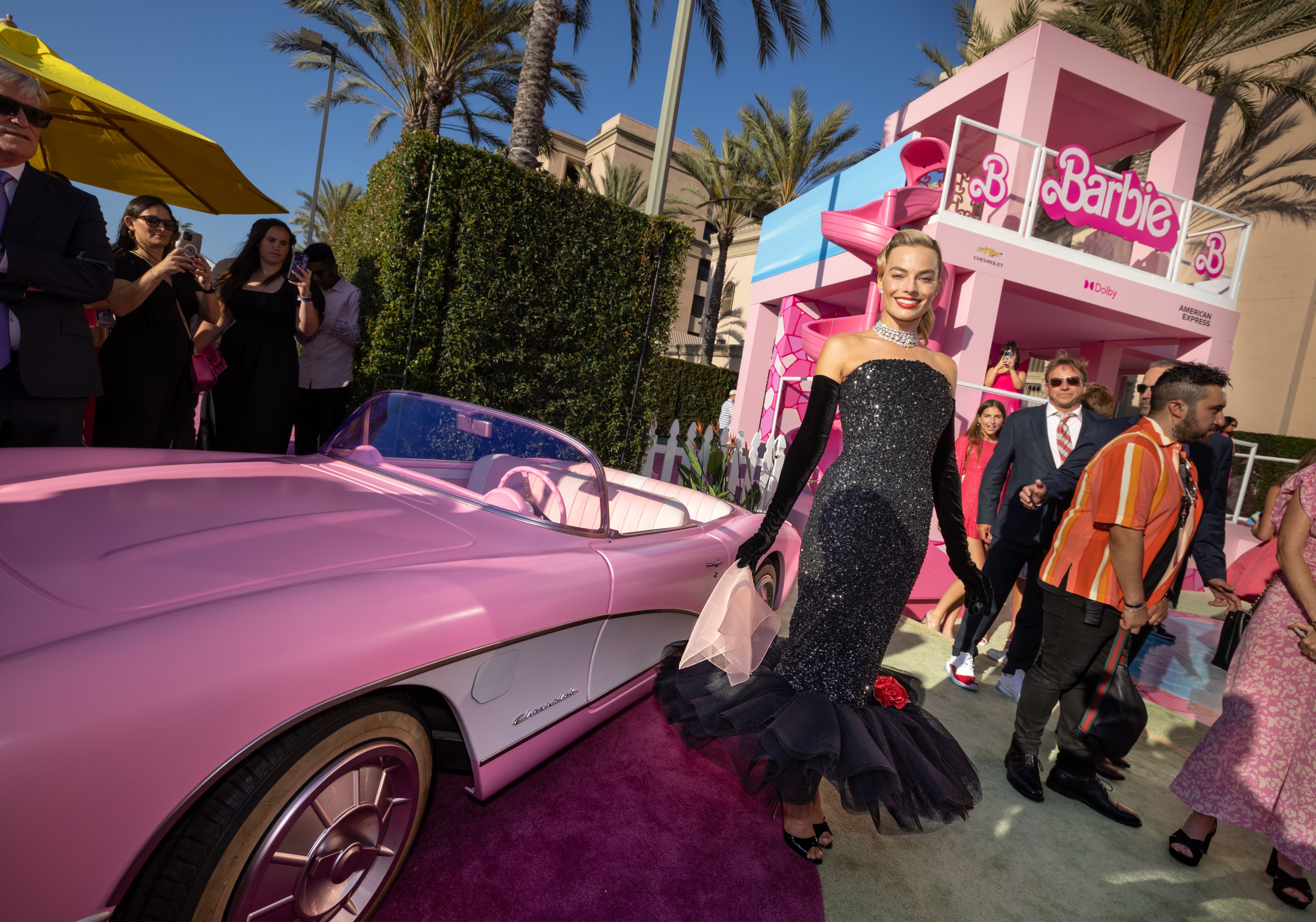 Attendees' first pink-carpet photo moment was next to Barbie's (real) pink Corvette, which was used on the set of the film in the U.K. and brought in from overseas. Then it was on to the fan-favorite: Stars, press and creators alike went wild for an eye-catching, two-level replica of Barbie's Dream House featuring the twirly slide ("We had to have that slide," says Robino.), space for a dj to spin tracks and talent to conduct interviews, and a 2D fabricated pool out front, complete with a pink flamingo float.
From there, attendees strolled by a massive Barbie "B" logo
installation and dreamy cityscape before arriving at the "beach," which encompassed a real-deal lifeguard station, surfboards, faux palm trees and a 3D ocean wave featuring shifting carpet colors that imitated sand. The final stop was at the Chevrolet "Barbie Dream Blazer EV" encased in a classic, oversized Barbie doll box.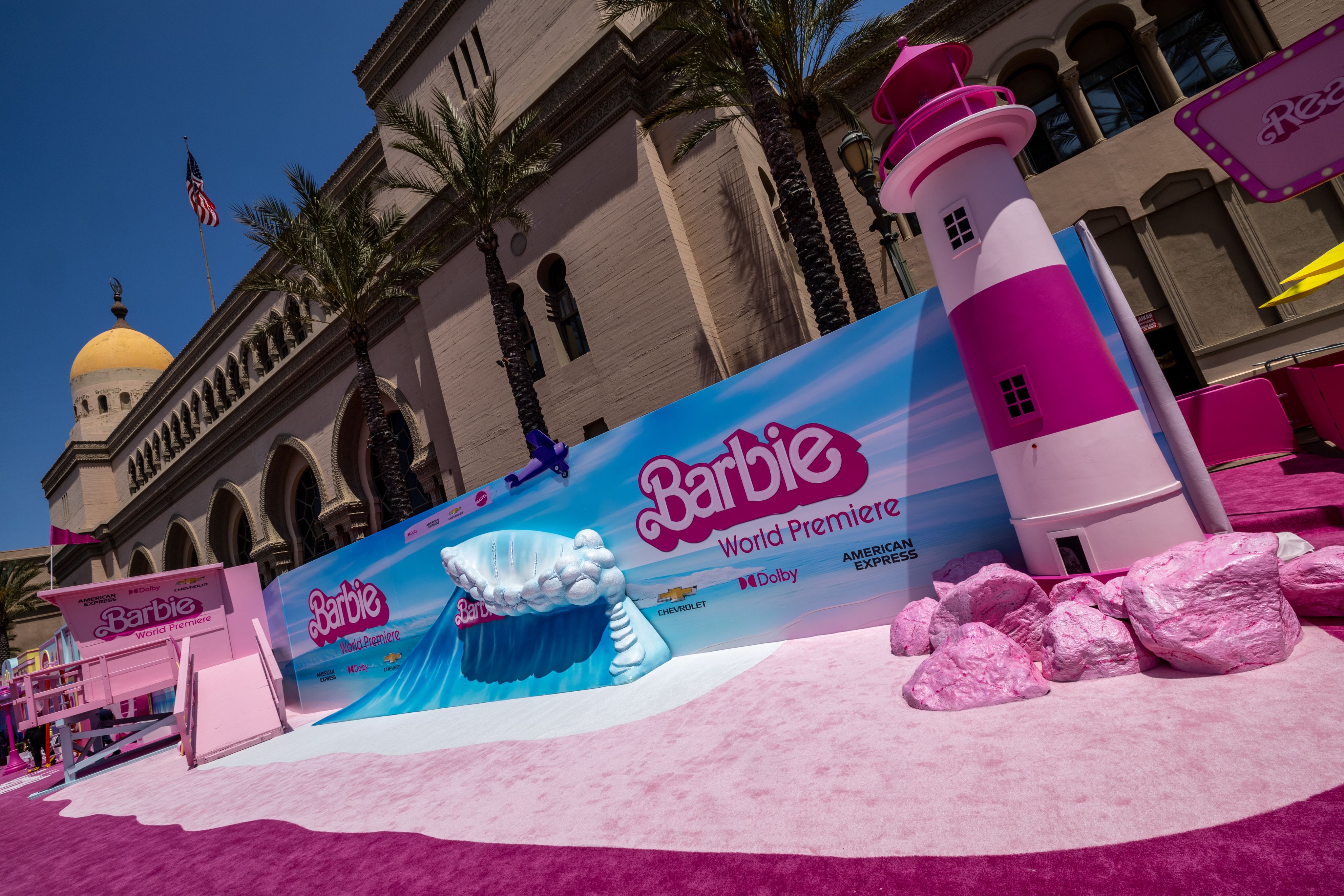 "The 'Barbie' [premiere] was over the top—over-the-top pink explosion, over-the-top builds, over-the-top environmental, and then into the party was 2,000-plus people," says Robino. "And we leaned in hard with creators and influencers, so we wanted to make sure that it had that immersive feeling so when the influencers were on the carpet, they were able to capture and create content that would travel and was perfect for their particular channels."
After the pink-carpet arrivals and official screening, it was time for a dazzling technicolor afterparty presented in partnership with Mattel and a handful of partner brands.
AN AFTERPARTY FOR THE AGES
The Shrine's interior was completely transformed into a glittering "Barbie" playscape that served as a montage of "Barbie" scenes and spanned a 36-foot-high by 56-foot-wide inflatable "Barbie Land" installation and corresponding cul-de-sac scene, a replica of Weird Barbie's house, a "Kendom" man cave vignette, an elegant bar anchored by another giant, spinning "B" installation and interactive partner activations.
Another key touchpoint: A glittering, 12-foot-diameter disco ball that invited plenty of photo ops on its tinsel-covered exterior, while the interior included a six-foot-tall Barbie Dream House built proportionally to the Mattel dolls' scale and populated with new dolls featured in the "Barbie" movie. There were also more than a dozen mini disco balls and three film vignettes inside featuring real set builds from Mattel's corporate headquarters.
Partner activations were designed to align with the afterparty vibe and the film itself, like an OPI nail salon and an Xbox Forza gaming station (in Forza Horizon 5, players can drive two electric General Motors vehicles from the film, Barbie's Corvette and Ken's Hummer).
"Creating vignettes that celebrated partners like General Motors without giving General Motors the afterparty, having an Xbox gaming station without it becoming an Xbox party, is a very unique way that you've got to cross over real, human, earth-world things with the crazy textures that are 'Barbie' and create a true-to-form film," says Austin Johnston, ceo and founder at AKJOHNSTON Group, agency partner along with Mirrored Media for the afterparty experience. "So when you walk in there, it feels like an afterparty, not a trade show."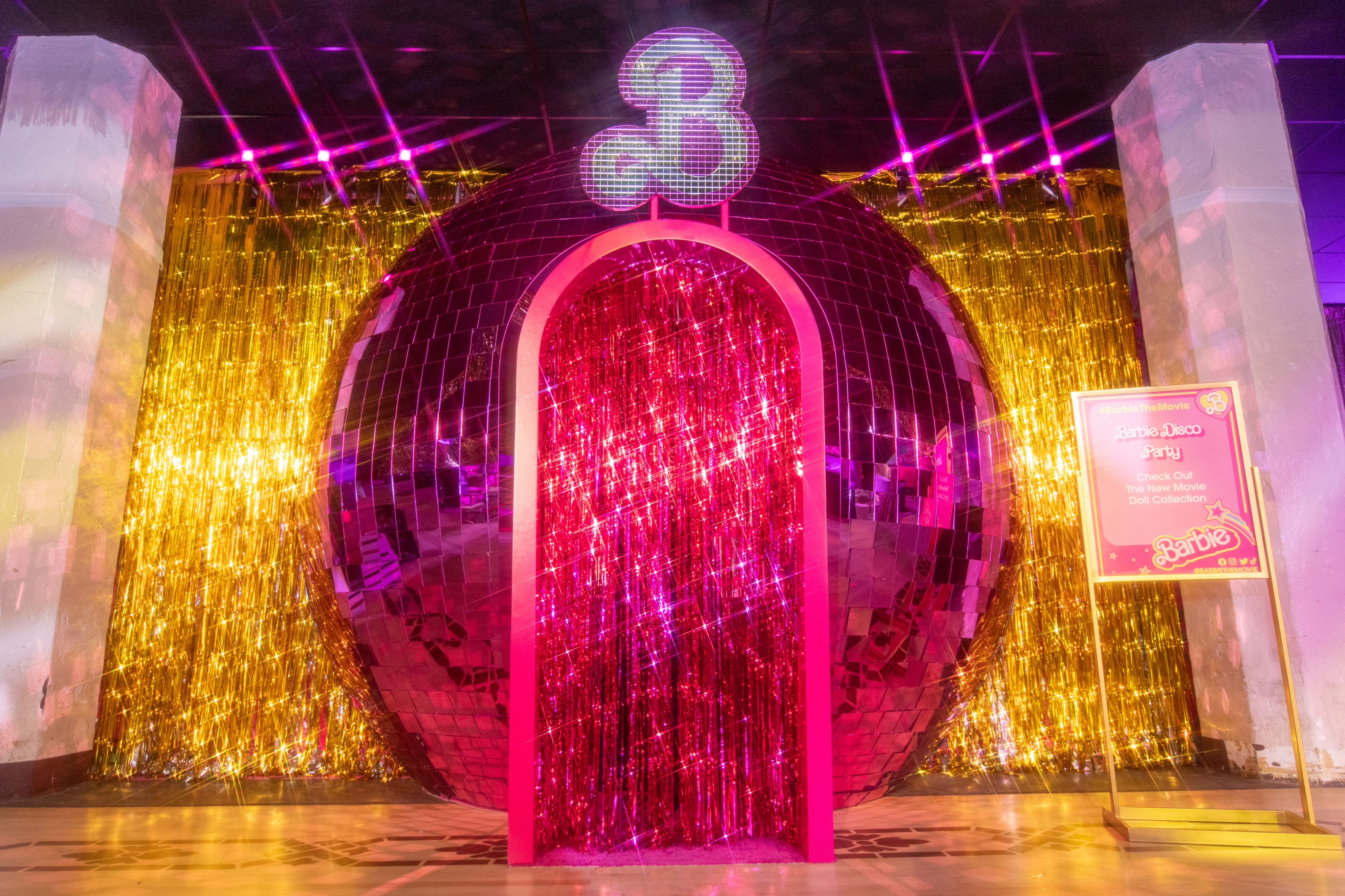 Meanwhile, Dolby stepped in to transform part of the Shrine into a proper theater for the screening with a 140-foot screen and Dolby Atmos sound, and American Express offered select cardmembers a "money-can't-buy" experience that entailed a walk down the pink carpet, the chance to watch arrivals and a brief meet-and-greet with Gerwig and Kate McKinnon, who plays Weird Barbie in the movie.
"The overall marketing campaign for the film was about making the Barbie brand feel new and fresh again, especially from the mind and the vision of our filmmaker, Greta," says Robino. "And with the events that we did, particularly the premiere and the [after] party, we wanted it to feel hip, fresh, exciting. We just didn't want anything to feel old—instead we worked to ensure all things 'Barbie' felt fresh and fun. I think the entire campaign in general, beyond even events, was able to do that."
A global event storyline that somehow felt accessible. Unapologetically playful design tactics. Mixed audiences and formats. As both a cultural phenomenon and landmark campaign, the real beauty of "Barbie" was that even though the whole world was invited to her hot-pink party, everyone felt like a VIP. Everyone felt like Kenough.
Agencies: 15|40 Productions (pink carpet event); AKJOHNSTON Group and Mirrored Media (afterparty).
Photo credit: Line 8 Photography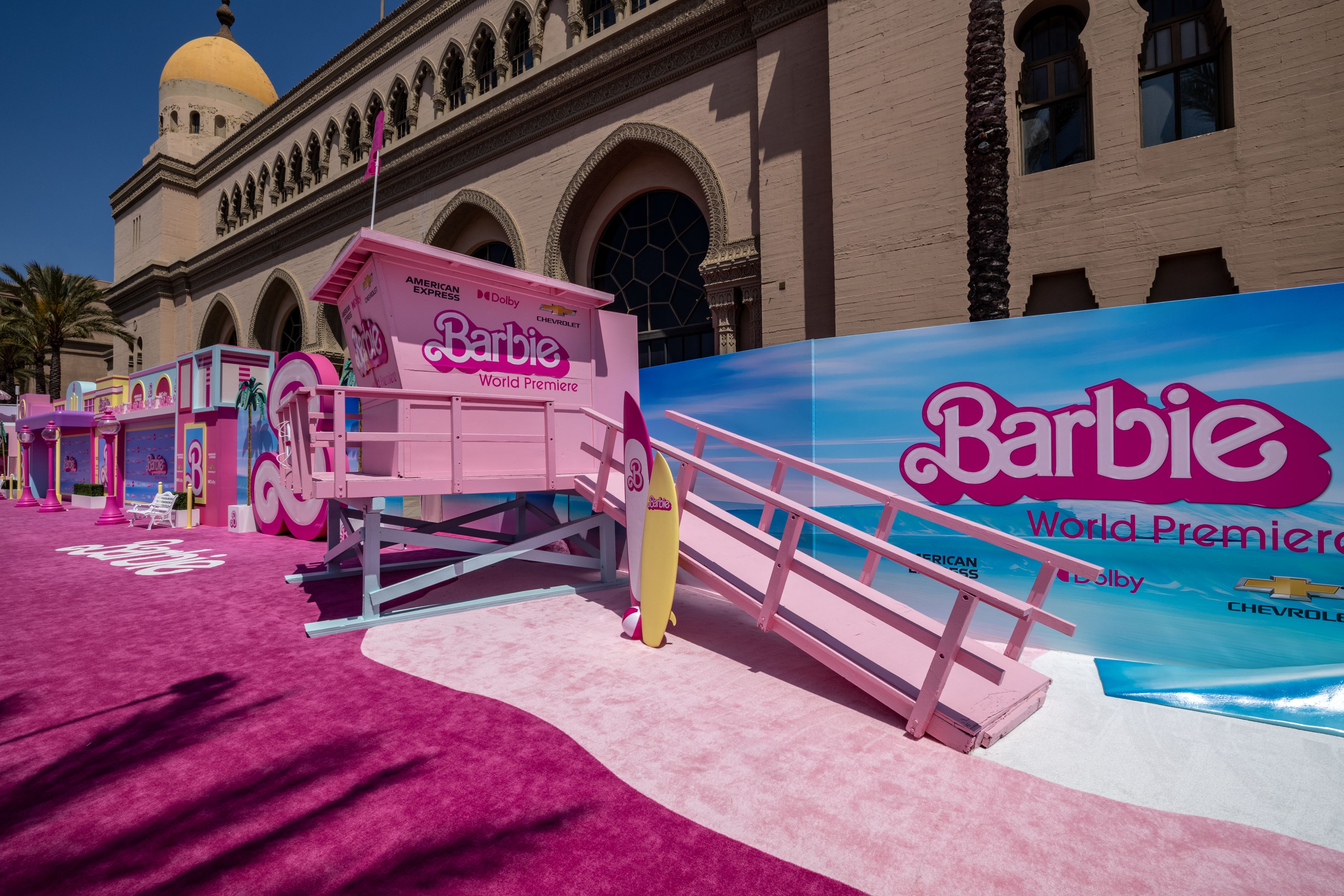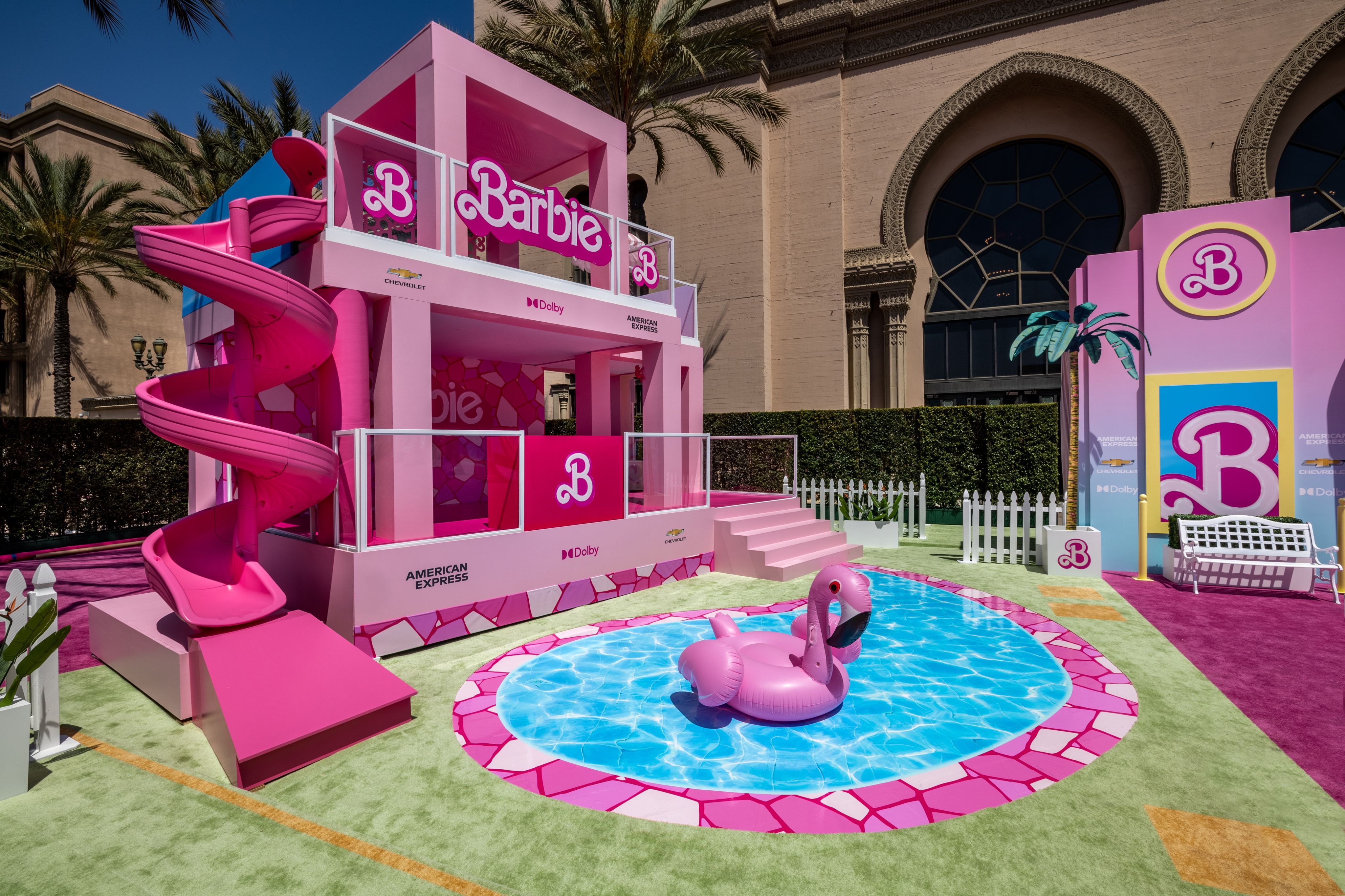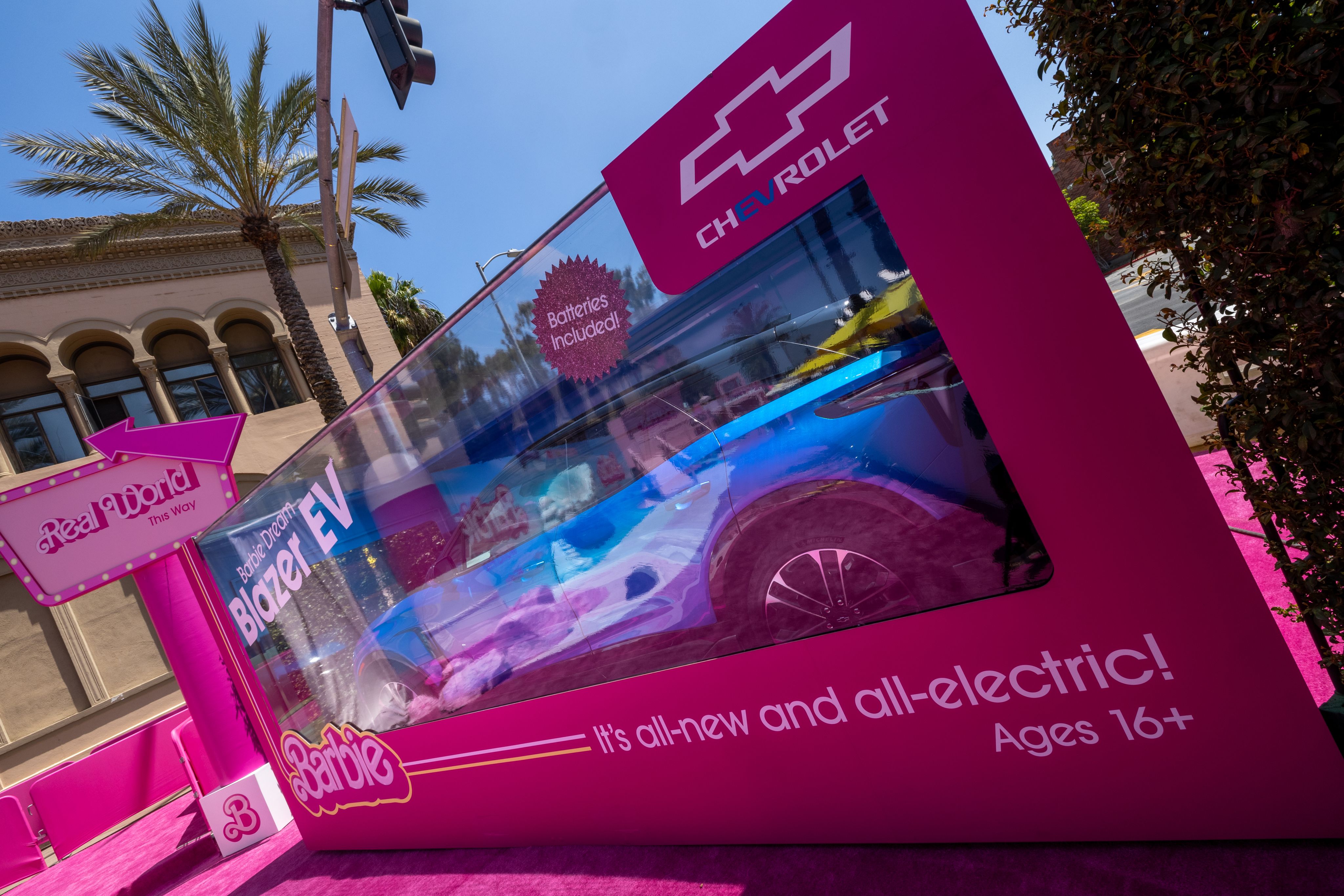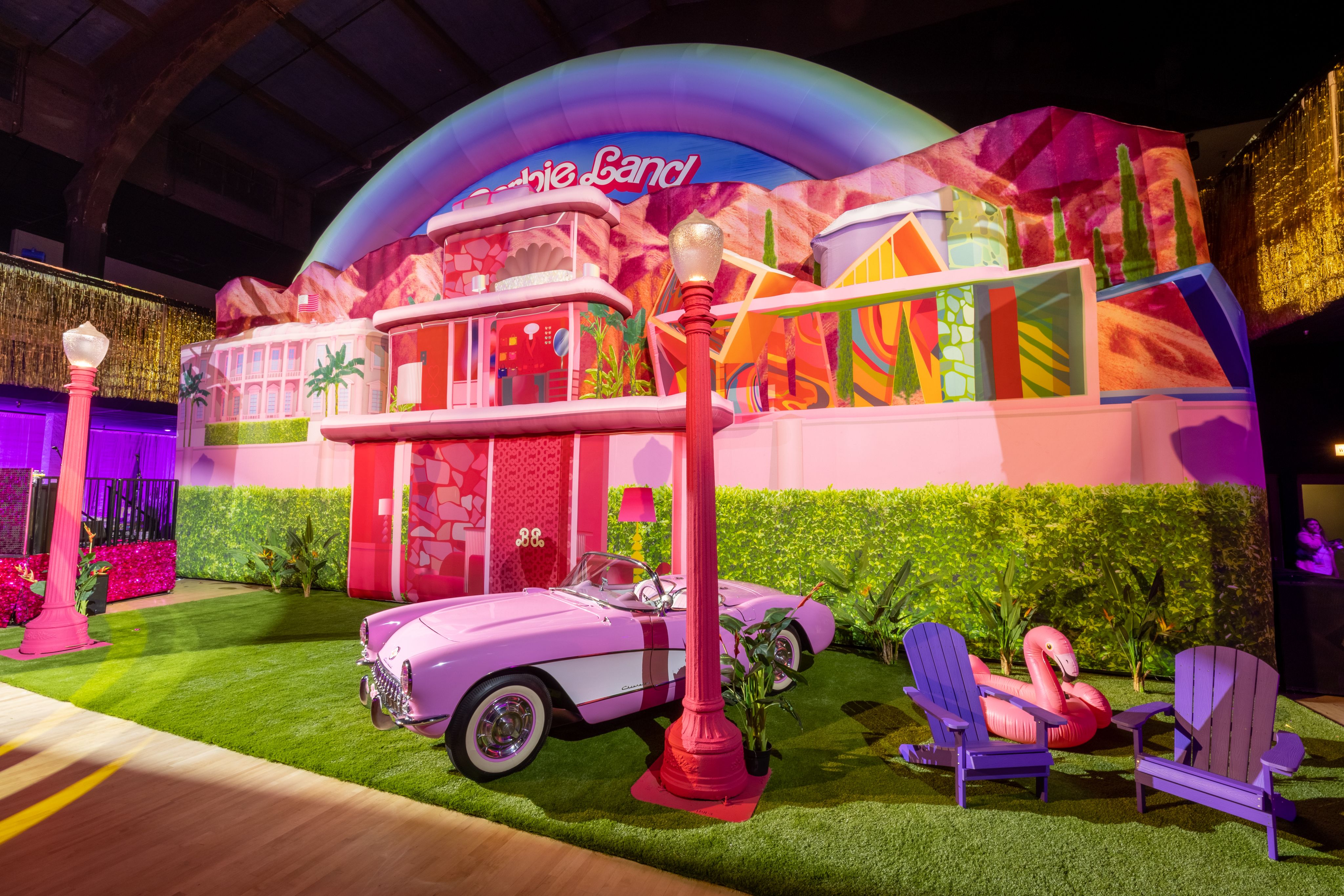 'LOGISTICS BARBIE'
The Devil's in the Details
To get the scoop on the planning, strategy, challenges and thrills of producing the L.A. event program, we tapped the agency brain trust behind it all—Austin Johnston, ceo and founder at AKJOHNSTON Group; Mirrored Media founder Justin Lefkovitch; and Craig Waldman, president and chief creative officer at 15|40 Productions—for insights and anecdotes.
The scale vs. intimacy balancing act was real.
One of the teams' unique challenges was building an event that had the scale and magnitude of a blockbuster film premiere while simultaneously making the experience feel intimate. The Shrine's capacity is 6,000, but only 2,400 people attended the "Barbie" premiere, which required a delicate balancing act that would ultimately impact the vibe of the entire experience.
Insider help enabled authenticity.
The Warner Bros. event team and its partners received input from "Barbie's" production designer, who offered tips and tricks on how to achieve certain looks from the movie as the event's experience design strategy was being developed.
Matching materials was essential.
Every surface, material, color and pattern used within the event had to match the movie's aesthetic, down to the doorknobs used for the afterparty's Dream House. Mirrored Media even developed a reflective Plexiglass-like material to craft the giant disco ball—because nothing of its kind already existed.
Spoiler alert: No one likes spoilers.
There's nuance to crafting a premiere that teases the film but doesn't give it all away, particularly during the red-carpet experience, before the movie has yet to be screened. The strategy for "Barbie" included incorporating Easter eggs into the arrivals line that attendees who had already seen the film would recognize, but making the experience "approachable" and "press-worthy" for those who hadn't.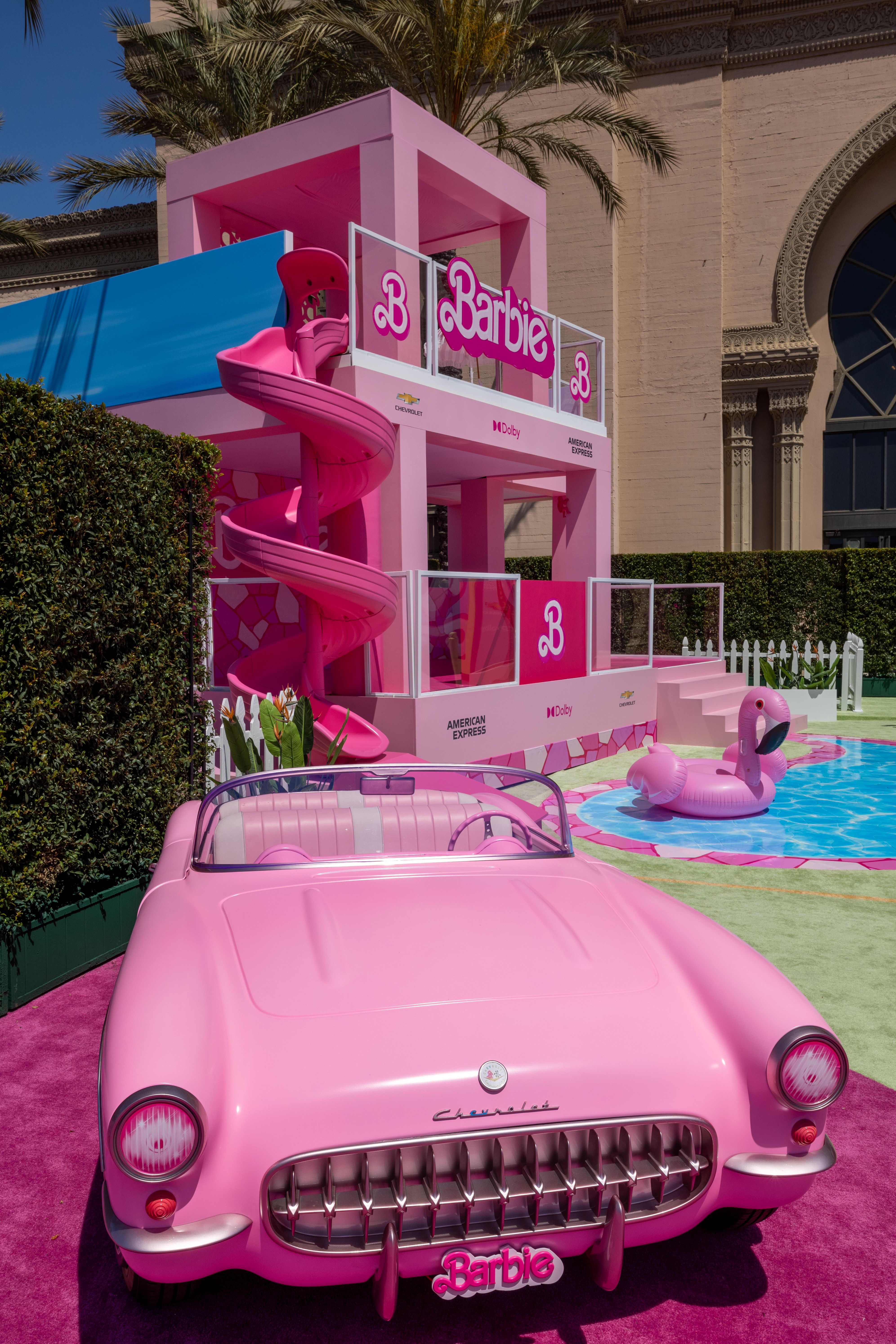 Accessibility was non-negotiable.
Implementing an inclusive event strategy was not up for debate. Case in point: Warner Bros. invited creators with a range of special accessibility needs to the event and accommodated them with everything from assistive listening devices used during the screening to ensuring that the carpet to the theater and afterparty were easily accessible.
'Easy' concepts can be the hardest to execute.
Warner Bros. gave each agency a specific set of scenes to "own." In the case of AKJOHNSTON, "disco party vibes and the cul-de-sac" was the directive. "It was like, OK, that's pretty easy to work with, but the 'easiest'-to-work-with ideas are actually the hardest because they can't look generic, either," Johnston says.
Everyone wanted in on the fun—paycheck or not.
Agency employees who weren't assigned to work on the premiere volunteered to help out, simply to be part of the cultural movement. Johnston called the project a "beacon for our internal staff," while Lefkovitch says for the first time ever, his staff rented a movie theater to watch "Barbie" as a team, and Waldman explains that from accounting to production to art, employees from every department wanted to participate in the project in some way.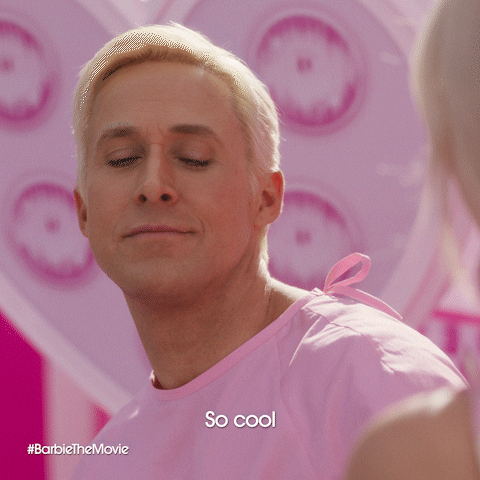 The event felt 'personal.'
Everyone who worked on the L.A. program reflected on the event's palpable energy, including how delighted talent and other celebrities were to be in attendance, and why the experience spoke to attendees in different ways.
"We've all been to a million movie premieres where there's talent and creatives, and everyone's taking photos for the FOMO or to post something on social," says Lefkovitch. "But here, everyone was taking photos and sharing because they were so excited and happy to be there. It was the vibe and the energy in the space and that cultural moment where it was more [about] taking content for themselves. People were dressed in pink because they wanted to be, as opposed to because it was the cool thing to do and to post. It very much felt personal to everyone."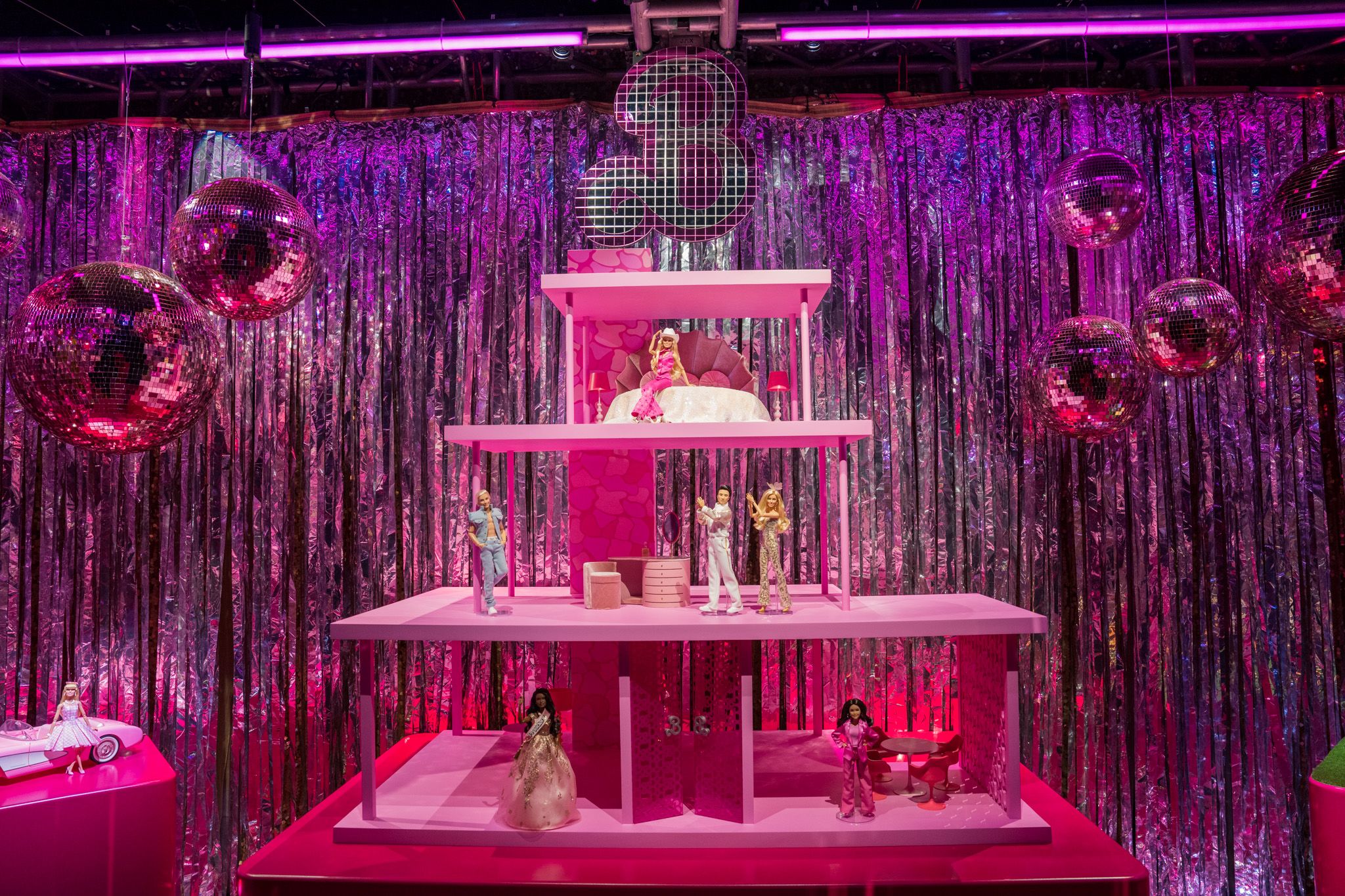 'FUN FACTS BARBIE'
Four ways the 'Barbie' phenomenon
left its mark
1. The pink haze left in "Barbie's" wake didn't come without its consequences. There was an international shortage of the film's specific shade of fluorescent pink as a result of set construction on the movie. "The world ran out of pink," production designer Sarah Greenwood told Architectural Digest.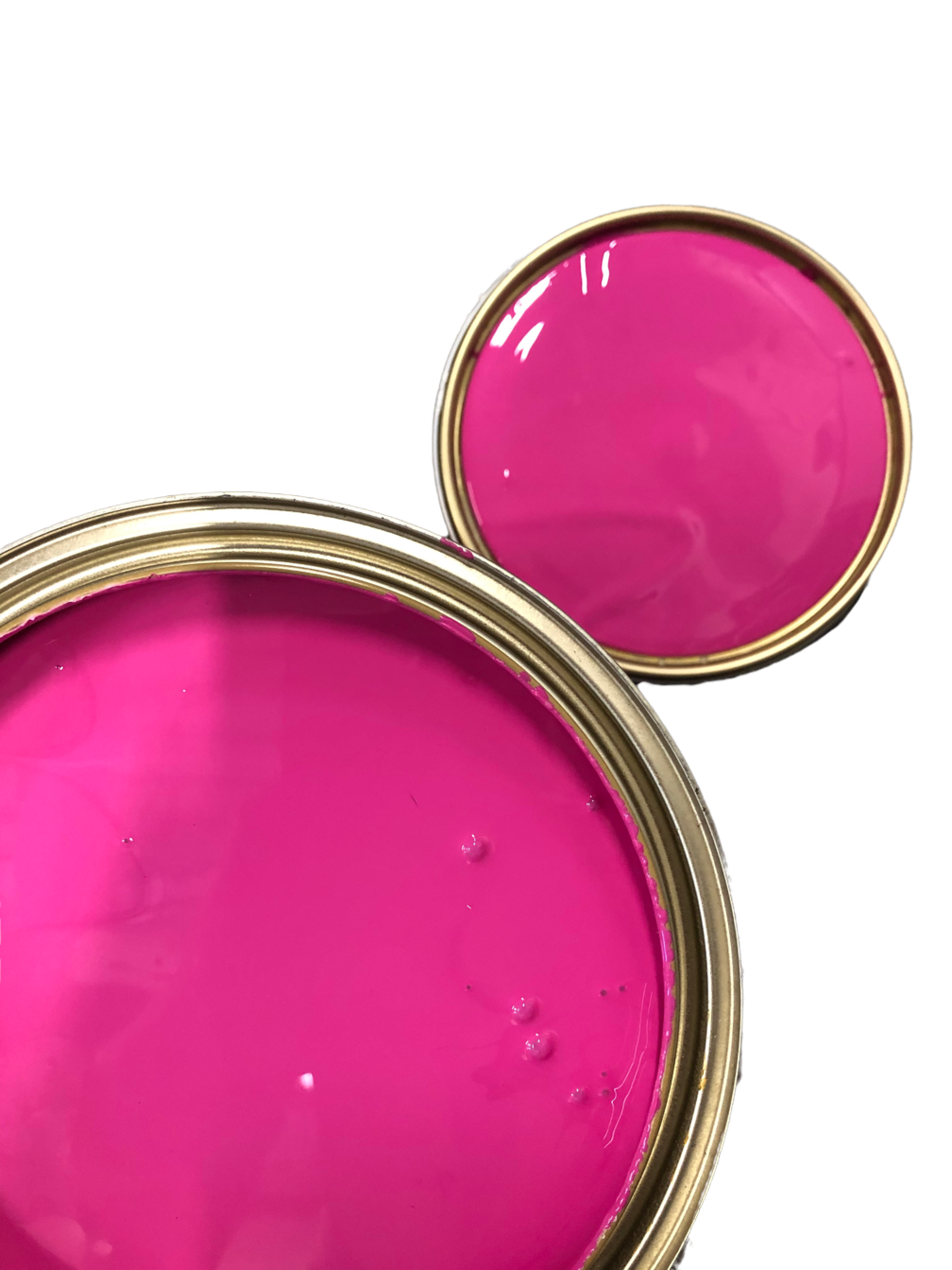 2. With two films that were not only expected to make big waves, but slated for the same opening weekend at the box office—"Barbie" and WWII thriller "Oppenheimer"—pop culture dubbed the phenomenon "Barbenheimer," with many assuming the films would be neck-and-neck when it came to scoring consumers' attention (and money). But "Barbie" rolled right over the competition in her neon-yellow skates, generating $155 million during the movie's debut weekend, compared to the $80.5 million "Oppenheimer" brought in.
3. Before the debut of "Barbie," just 28 men had ever single-handedly directed a movie that generated $1 billion at the global box office. By Aug. 6, that record had been updated to 28 men and one woman: Greta Gerwig.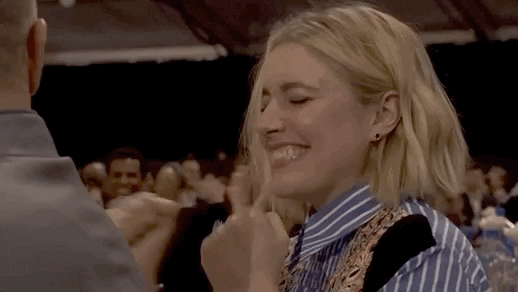 4. The on-set dress code was an excuse to do good. The star of the movie, Margot Robbie, made it "mandatory" that cast and crew members wear a pink item once a week while filming, then handed out "fines" when they didn't comply, and donated the funds to charity.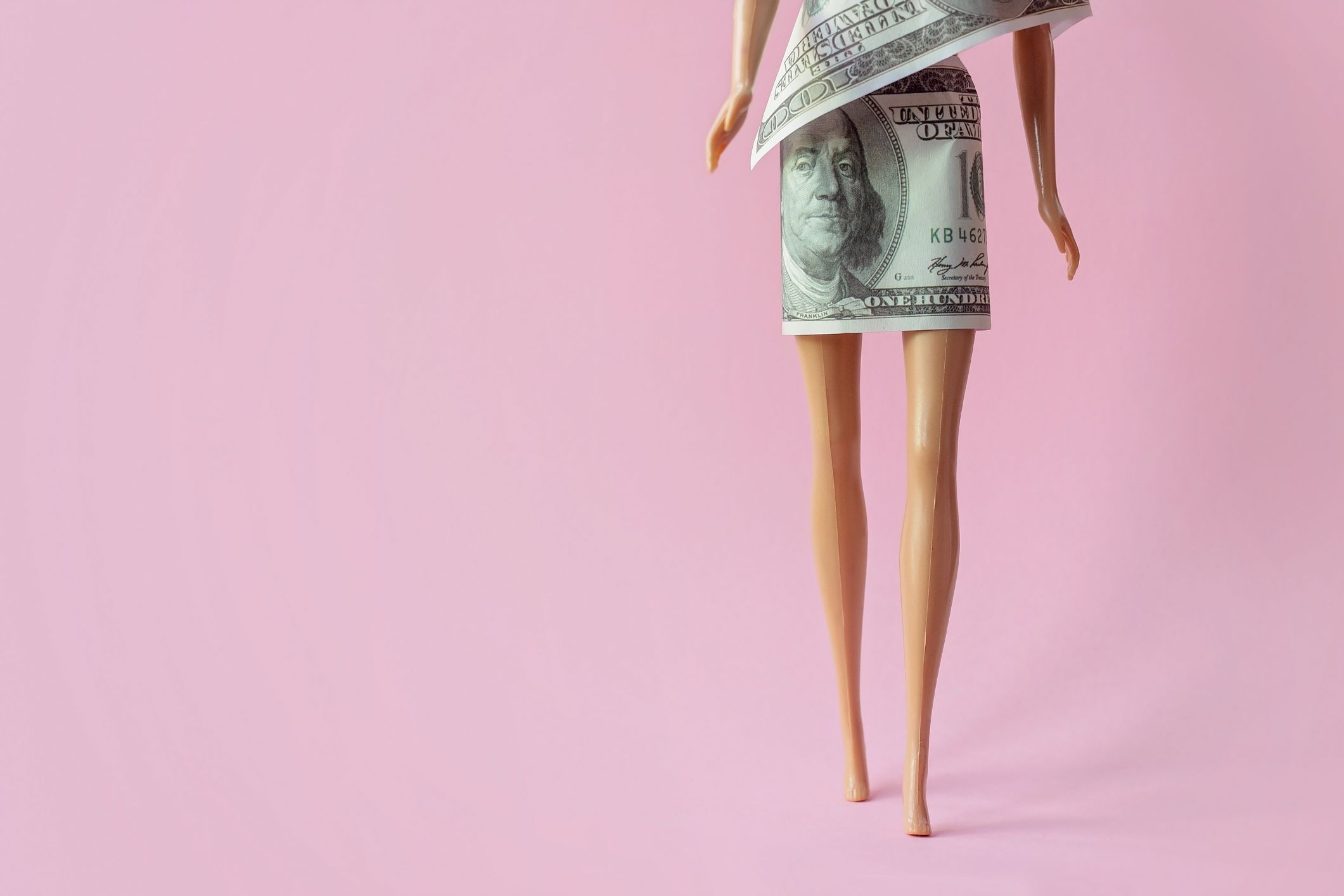 SIX ACTIVATIONS THAT PAINTED THE SUMMER PINK
On top of the endless array of licensing partnerships that led to "Barbie"-themed beauty, apparel and home accessory products, and limited-edition food and beverage items, were plenty of other avenues for getting up close and personal with the film through activations produced around the globe.
Airbnb's Dream House
Back in 2019, Airbnb made Barbie's Malibu Dream House a reality, offering a limited-time stay at the property (naturally, set in the heart of Malibu, CA) to celebrate the doll's 60th anniversary. Over the summer, the listing reappeared, but this time, Ken was the man of the house and Airbnb went all-out to transform the mansion into a genuine extension of the "Barbie" movie's aesthetic and storyline. The "Kenergy" was strong, with a full Ken-inspired wardrobe, the Kendom Saloon from the film, an outdoor disco dance floor, cowboy boots galore, beachy décor and activities (lest we forget, "Ken is beach"), and even a new set of neon Impala roller blades and surfboards to take home for those lucky enough to score the two-night booking.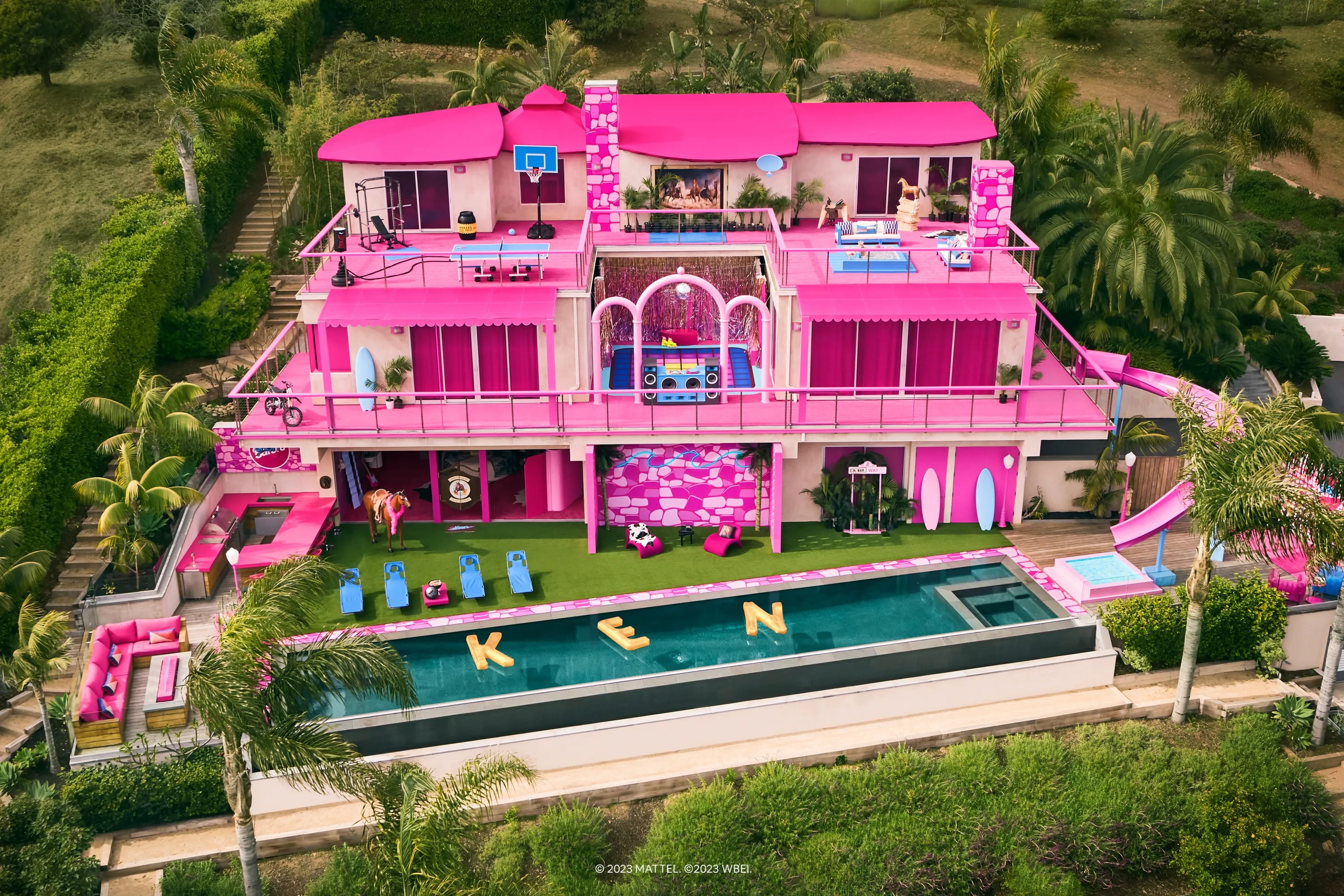 The Malibu Barbie Café
"Barbie" fans in New York City, Chicago and, coming this fall, the Mall of America in Minnesota, are invited to reserve a spot at the Malibu Barbie Café, a themed dining experience produced by Bucket Listers. The 90-minute jaunt spans myriad photo ops, including a life-sized Barbie doll box, retro-glam décor, playful menu items whipped up by chef Becky Brown, including Pacific Paradise Rainbow Pancakes and Sun is Hot Tea, and the option to donate $1 to charity to access the on-site roller rink.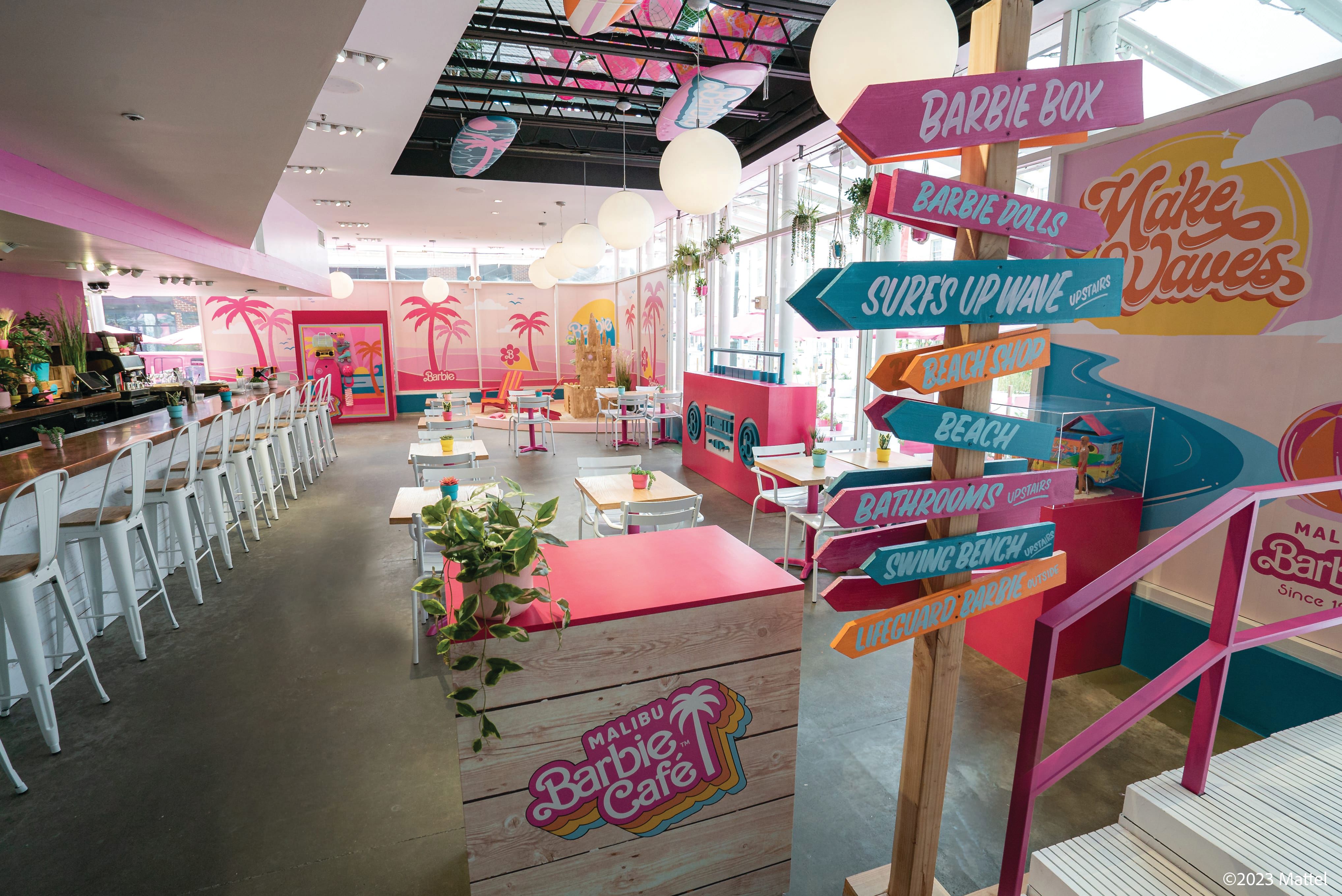 NYX's Covent Garden Pop-up
NYX promoted its limited-edition "Barbie"-themed makeup collection at a vibrant "beach paradise" pop-up in London's Covent Garden the week before the film debuted. The activation entailed share-worthy installations, like a mirror in the shape of a giant flip phone, a dedicated photo booth, a lifeguard station, slushies and, of course, the opportunity for attendees to get their makeup done by the brand and purchase their favorite products. (Agency: Backlash)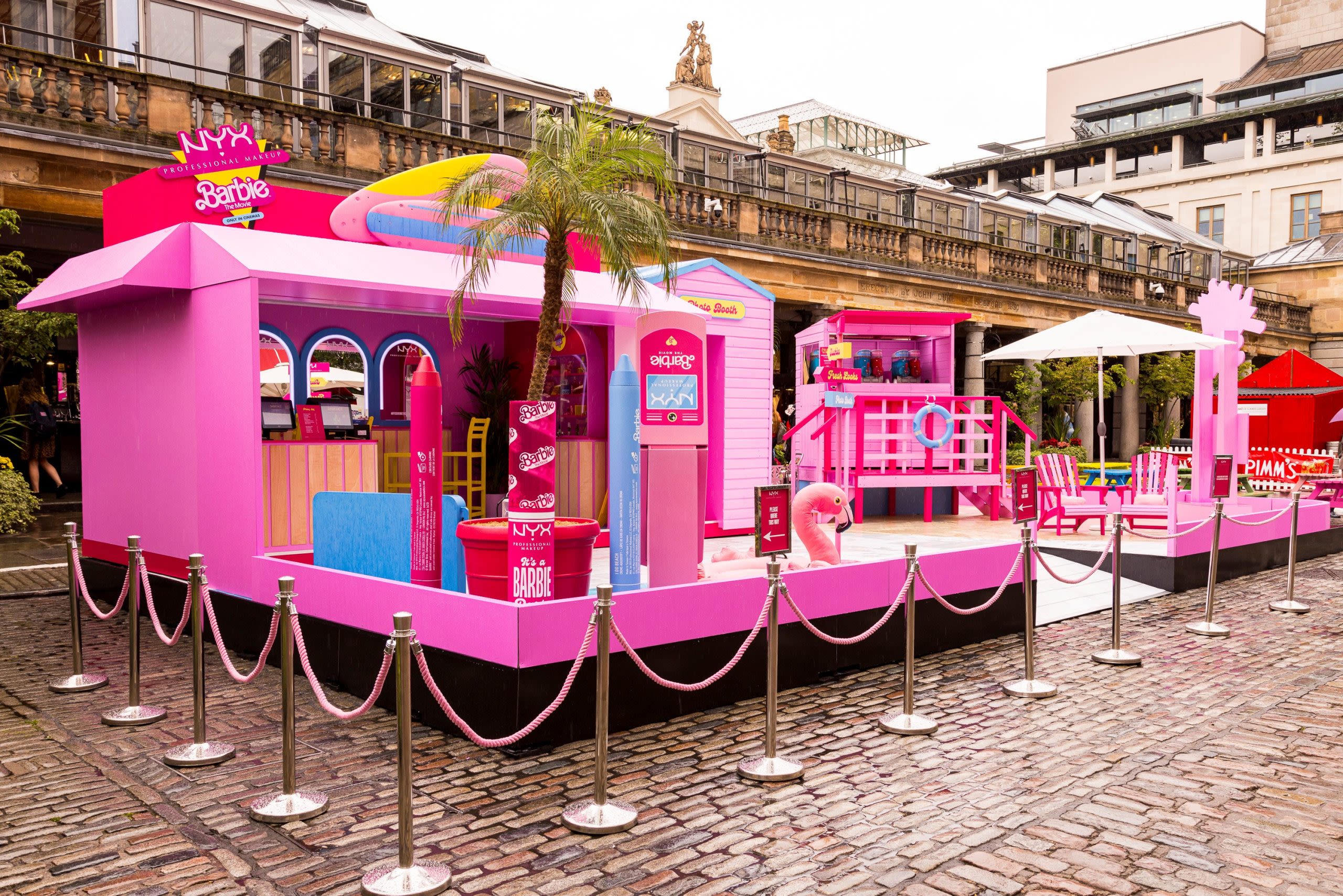 Mall of Asia's Barbie Land Experience
The Mall of Asia, a "super mall" located in the Philippines, invited shoppers to plunge themselves into its Barbie Land Experience for two weeks in July. The gigantic footprint in the property's atrium was an homage to the film, and included life-sized Barbie doll boxes, a two-story Dream House with a Music Room playing songs from the soundtrack, a slide and pool ball pit, a whimsical cart filled with "Barbie"-themed donuts from Krispy Kreme, Barbie dolls for sale, a fashion installation and a pink Corvette cut-out at the center of it all.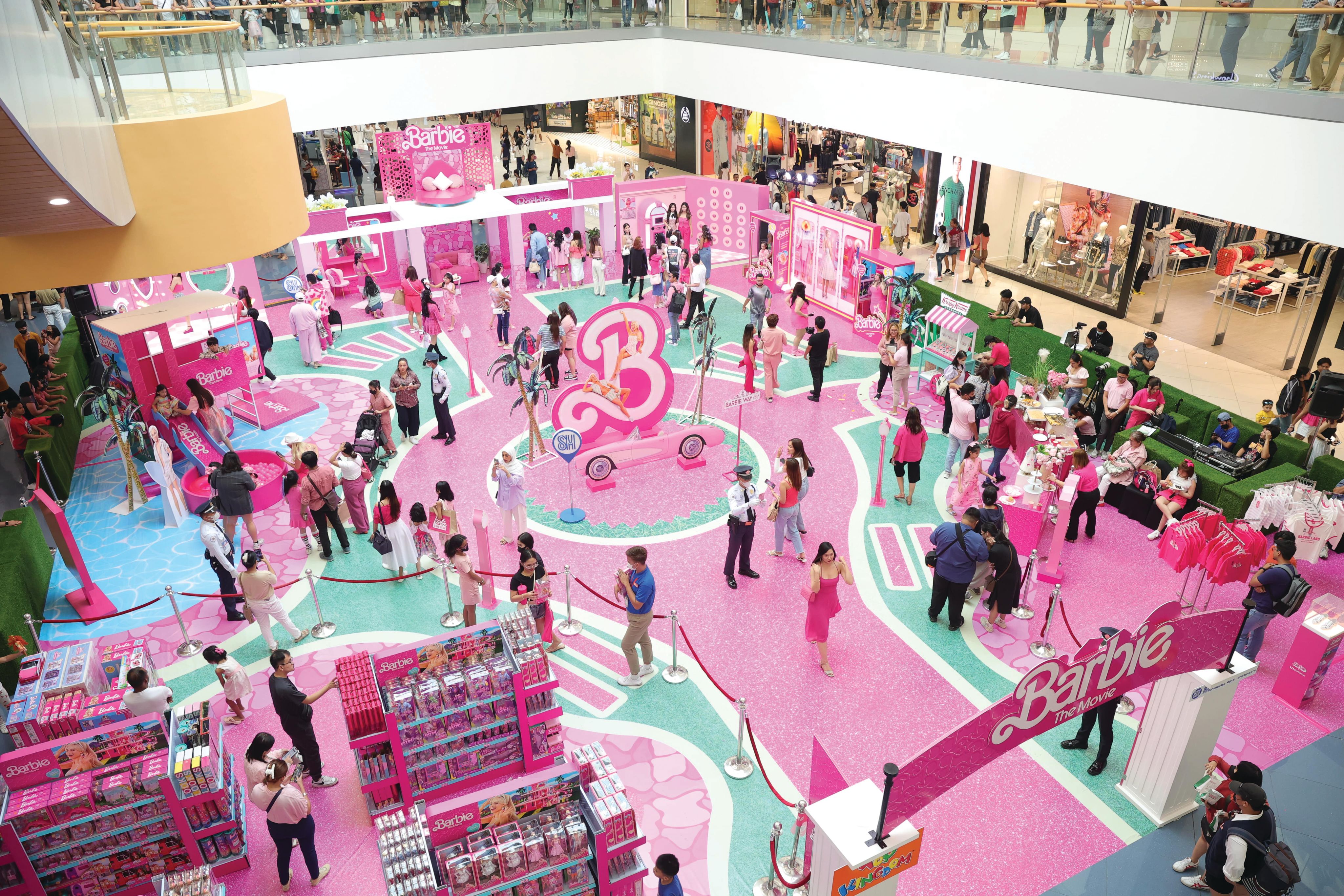 The Barbie Dream Cruise
Warner Bros. executed a one-night Barbie Dream Cruise event that sailed out of Boston Harbor and invited adults to arrive wearing their best Barbiecore or Ken-inspired outfits. More than 600 people attended the experience, which entailed a dj spinning tunes, like those from the soundtrack, photo ops, inflatables, branded giveaways and plenty of movie-themed cocktails. (Partner: Fangirl Fantasy)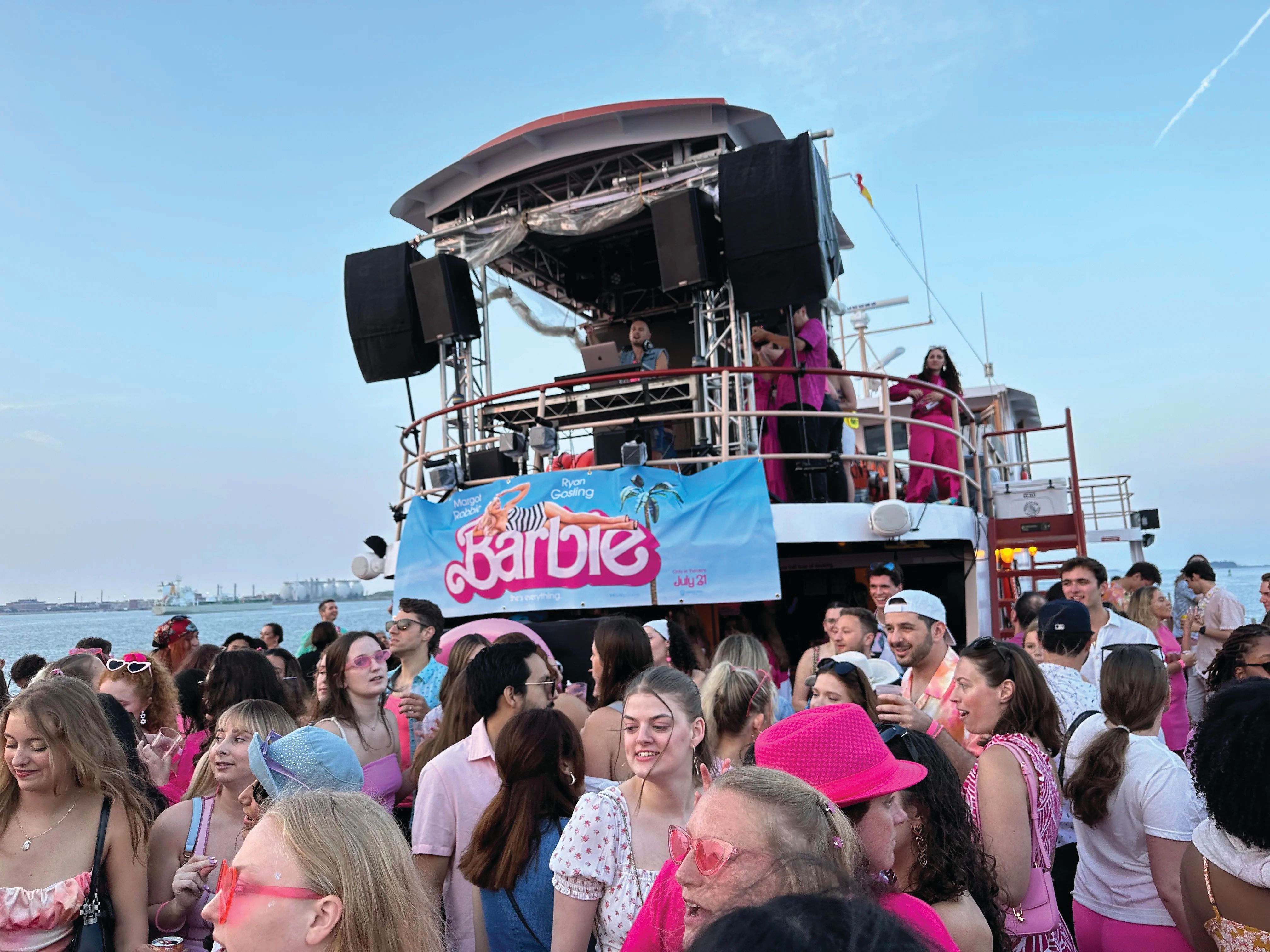 Honorable Mention: 'Barbie' OOH
In addition to experiential programming, "Barbie" inspired a number of sparkly OOH displays around the world. Among standout projects in partnership with Warner Bros. Australia were meticulously decorated bus shelters, including one that had a hot-pink sofa in place of a bench, and a 3D anamorphic billboard box in the heart of Melbourne that had a winking Barbie appear to be breaking free from the display. (Partners: oOh!Media; EssenceMediacom)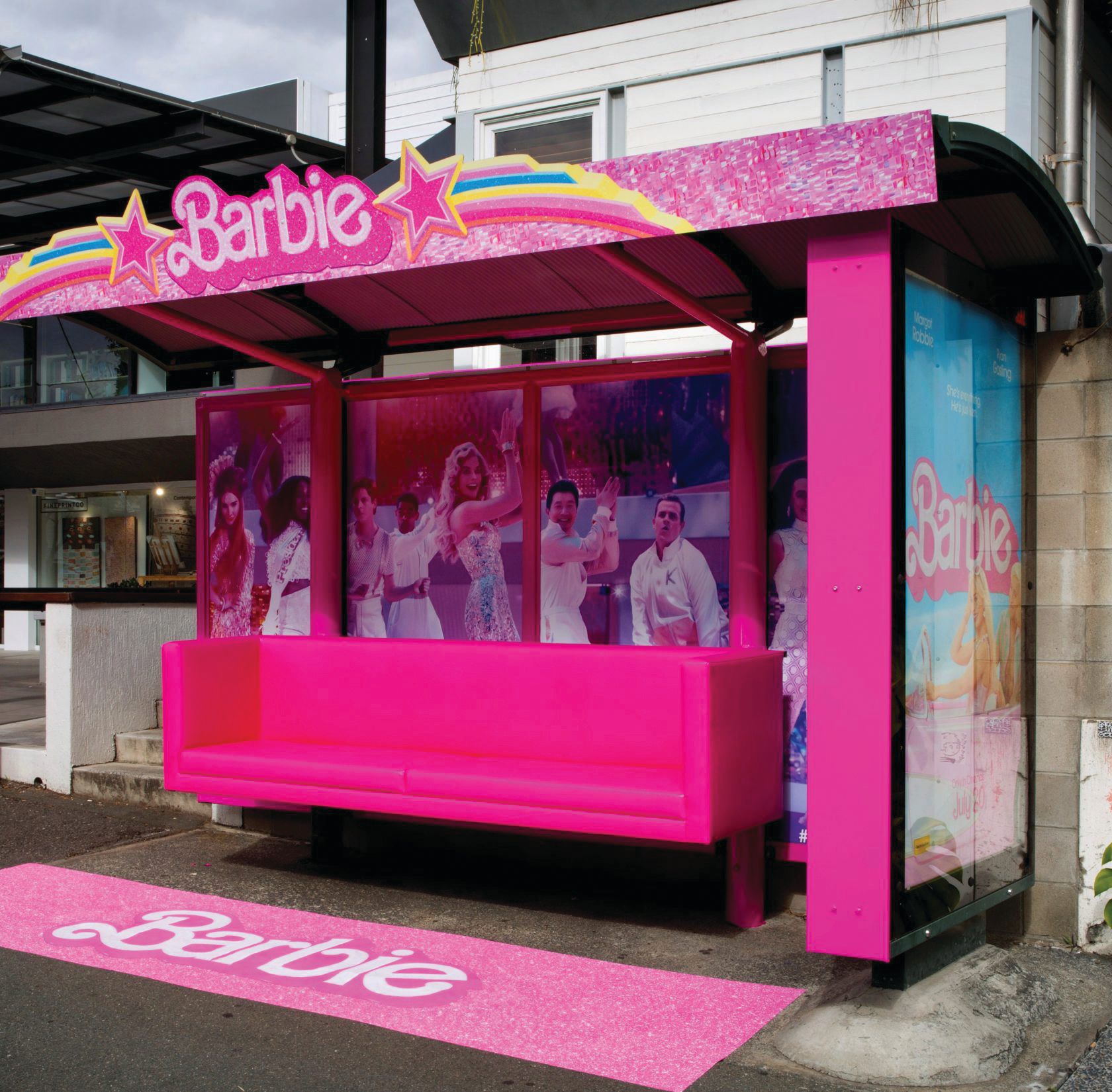 Photo credit: Hogwash Studios, Bucketlisters, Kevin Moran,
SM Supermalls, Steph Solis/Axios Boston, oOh!media