CES 2023
On-the-Ground Coverage of 18 Brand Experiences from Across the Show Floor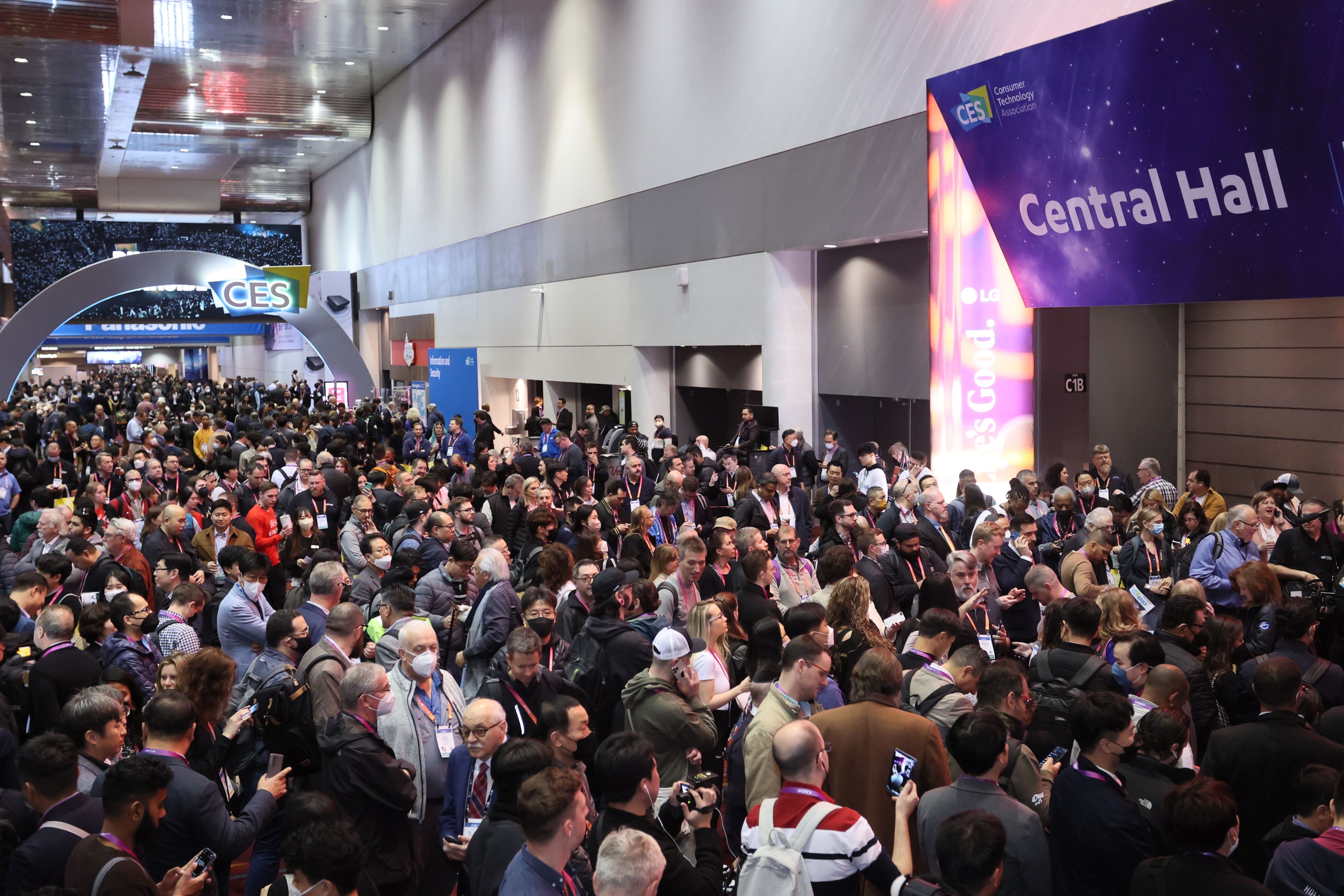 Sustainable actions, zen spaces, robots
and the metaverse mark the trade show's
full return to live
More than 115,000 people touched down in Las Vegas for CES 2023, Jan. 5-8, the show's official full return to in-person since 2019 following last year's near cancellation due to the COVID-19 Omicron variant. A healthy population of exhibitors touched down, too. This year's show featured over 3,200 exhibitors and nearly 2.2 million net square feet of exhibits—70 percent larger than CES 2022.
CES 2023 marked the largest audited global tech event since the pandemic hit, with major themes of transportation, mobility, digital health, sustainability and Web3 apparent throughout the floor. From Canon's "Knock at the Cabin" immersive movie experience to Reddit's "Future Tellers" house of clairvoyance, storytelling emerged as a consistent experiential tactic across the Las Vegas Convention Center, The Venetian Expo (formerly The Sands Expo) and a host of ancillary venues tied to the show. The use of natural landscapes did, too.
Take a look at 18 standout booths and experiences we explored on the ground.
Featured photo credit: Consumer Technology Association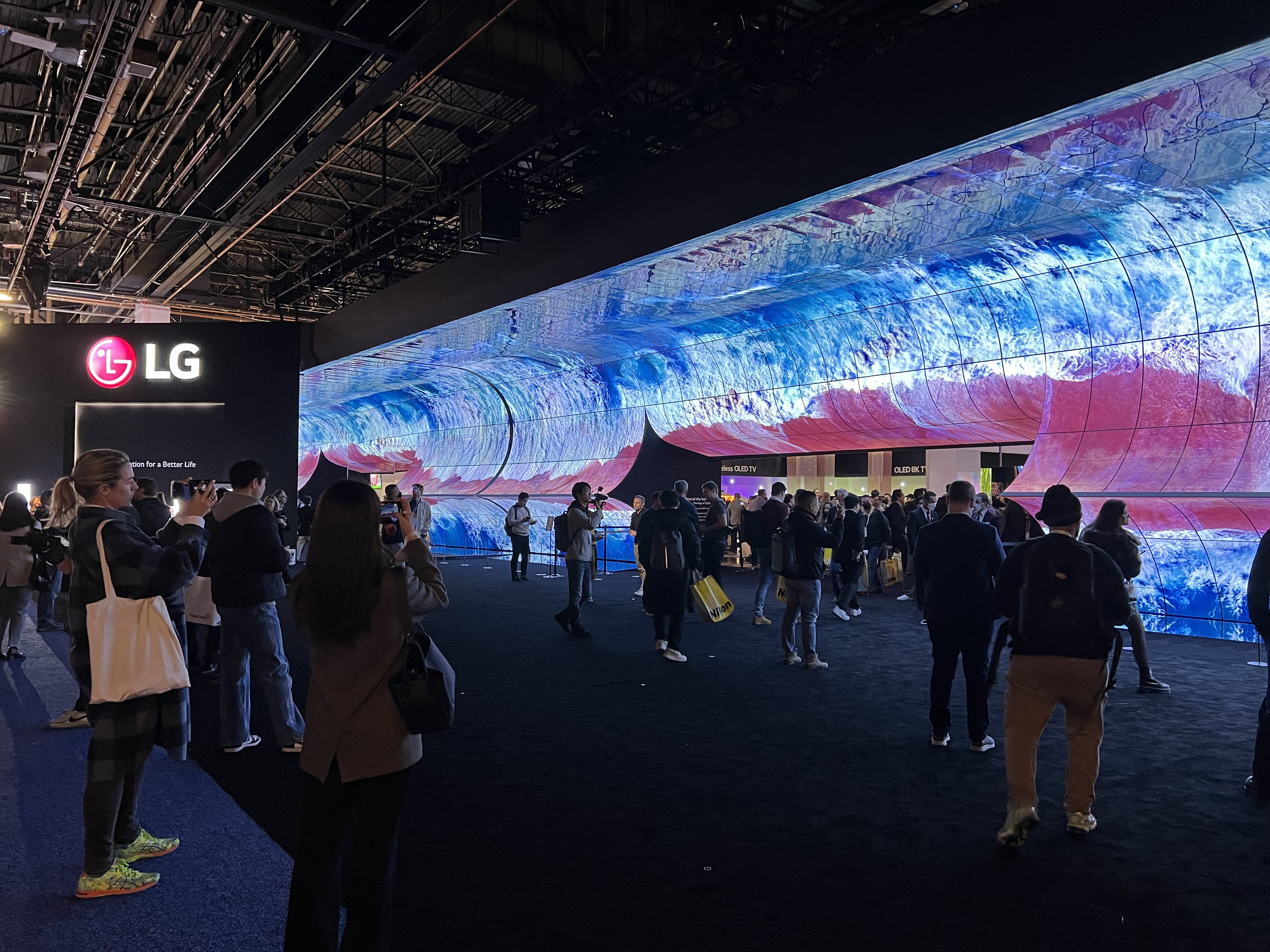 AARP
AARP hosted a mini startup showcase in its space, and in partnership with the Consumer Technology Association (CTA), AgeTech Collaborative from AARP launched CES's first AgeTech Summit, a program of key speakers and panel discussions on technology solutions designed to meet the needs of the world's aging population.
In addition to hosting 21 sessions on the dedicated AgeTech Stage, part of AARP's 7,000-square-foot booth, the association gathered 18 startups to exhibit their latest innovations supporting adults 50 and older, ranging from assistive robots to pain management in virtual reality. Mini booths grouped into pods of three gave each startup its own space with countertops, chairs, screens and signage. Startups also had the opportunity to participate in an invite-only AgeTech After Dark Pitch Challenge. Builder: MC2.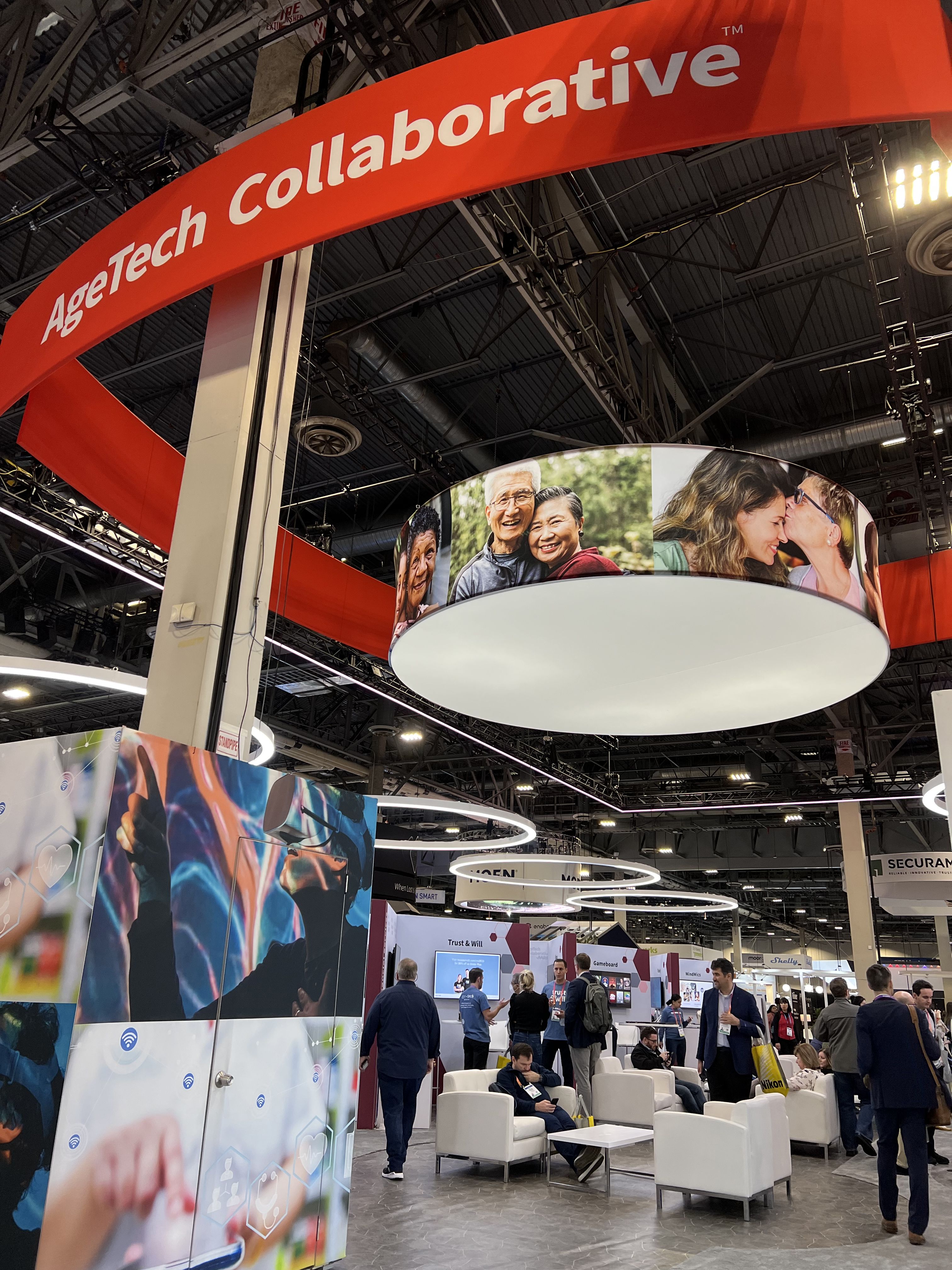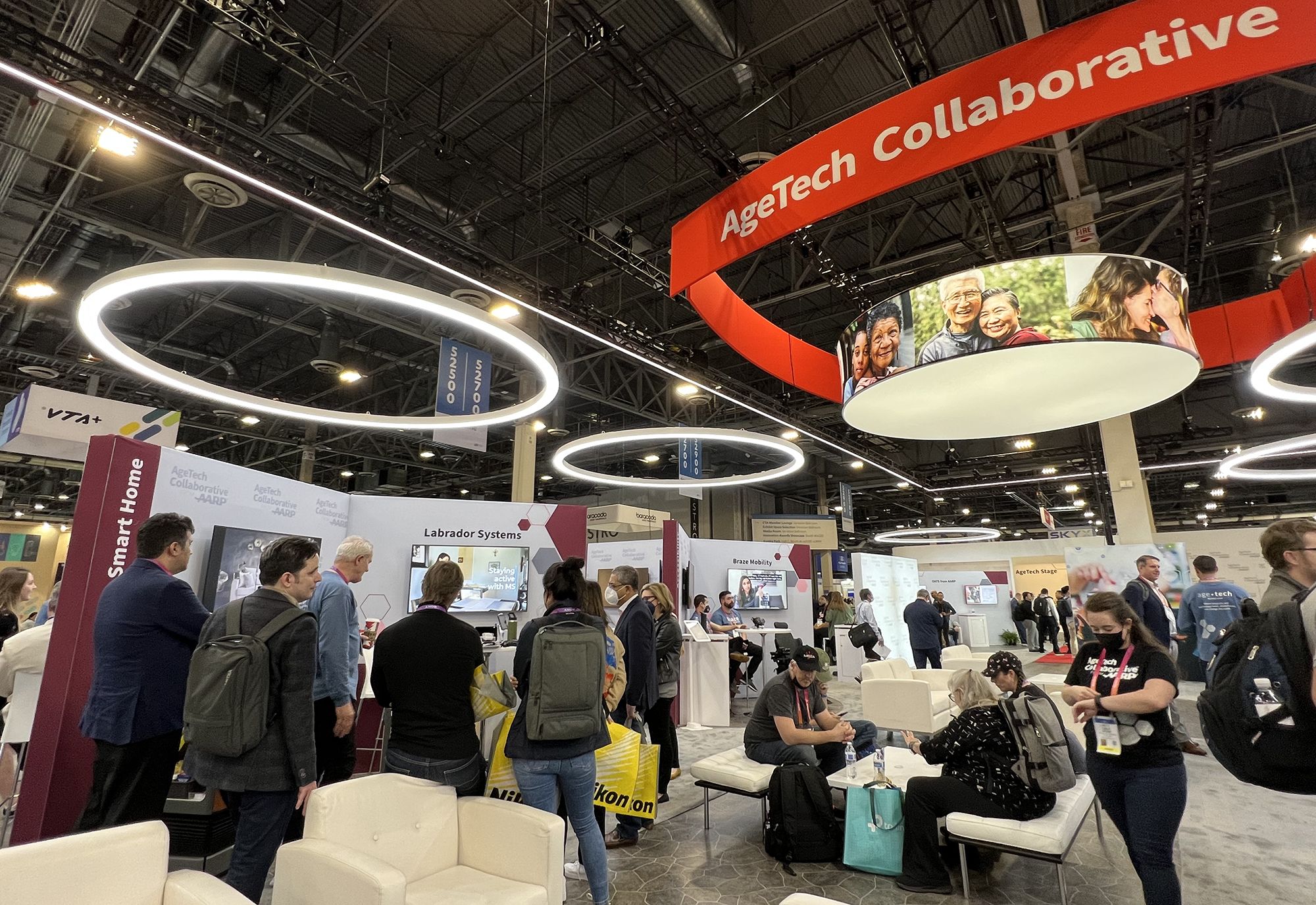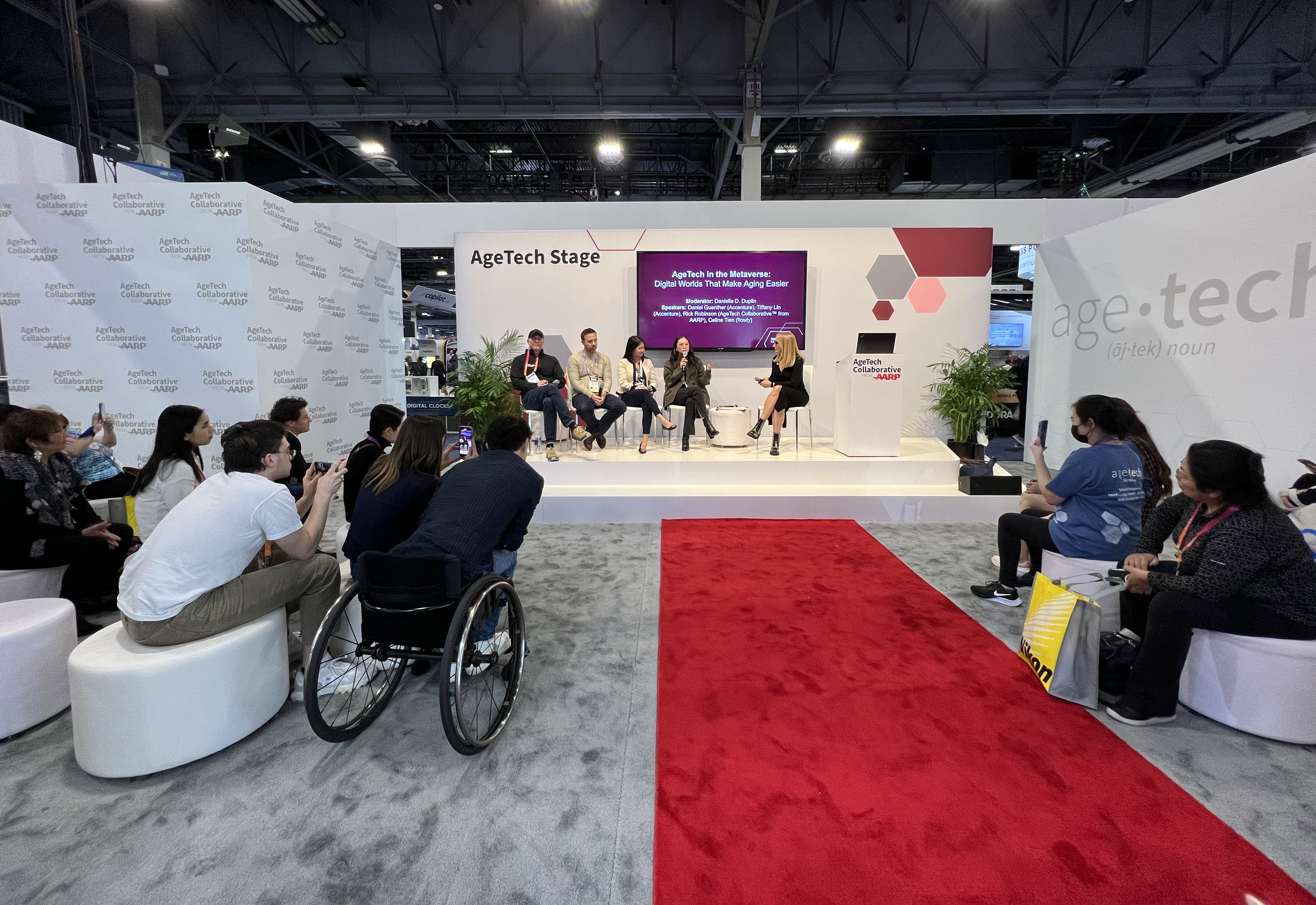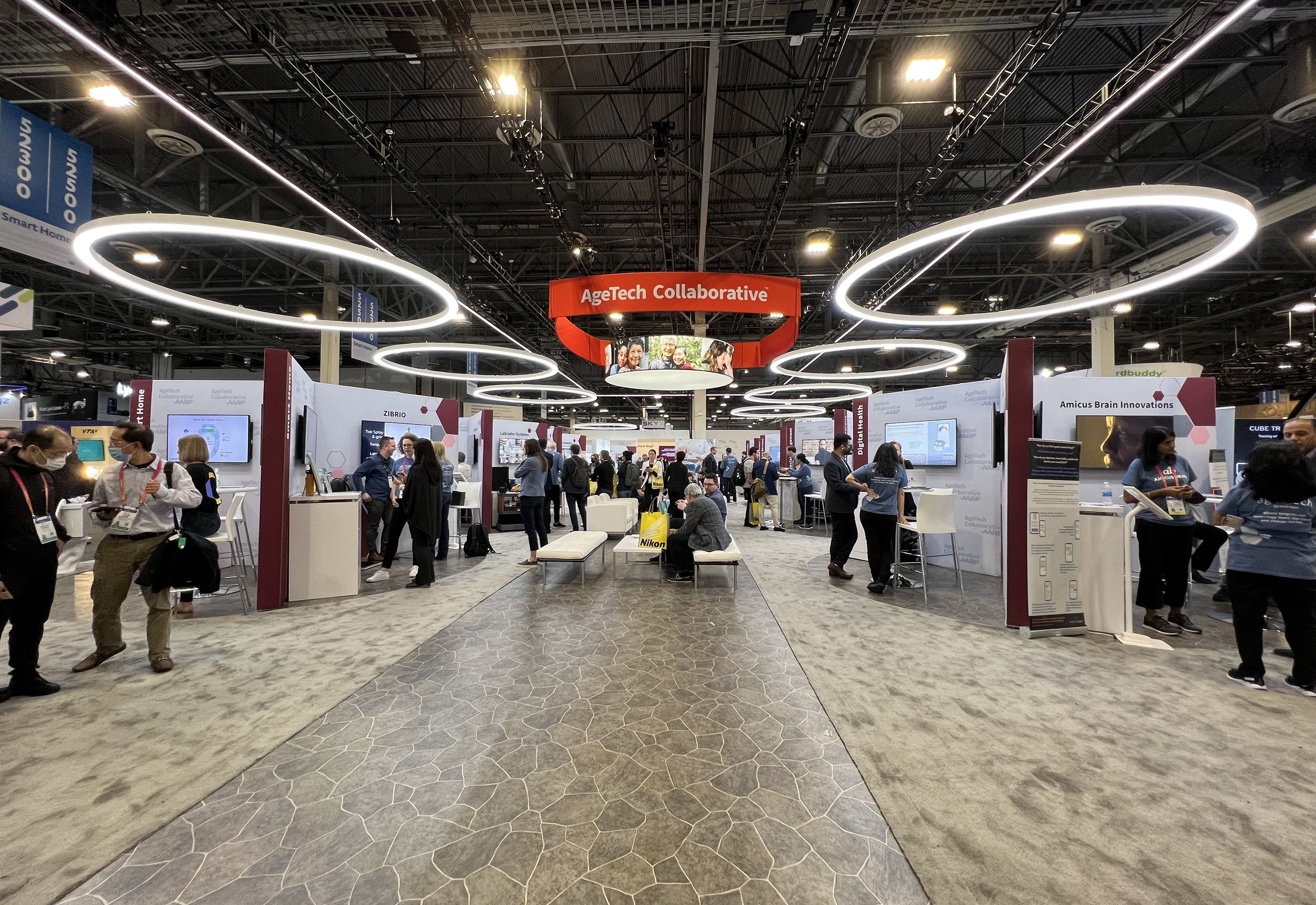 Item 1 of 3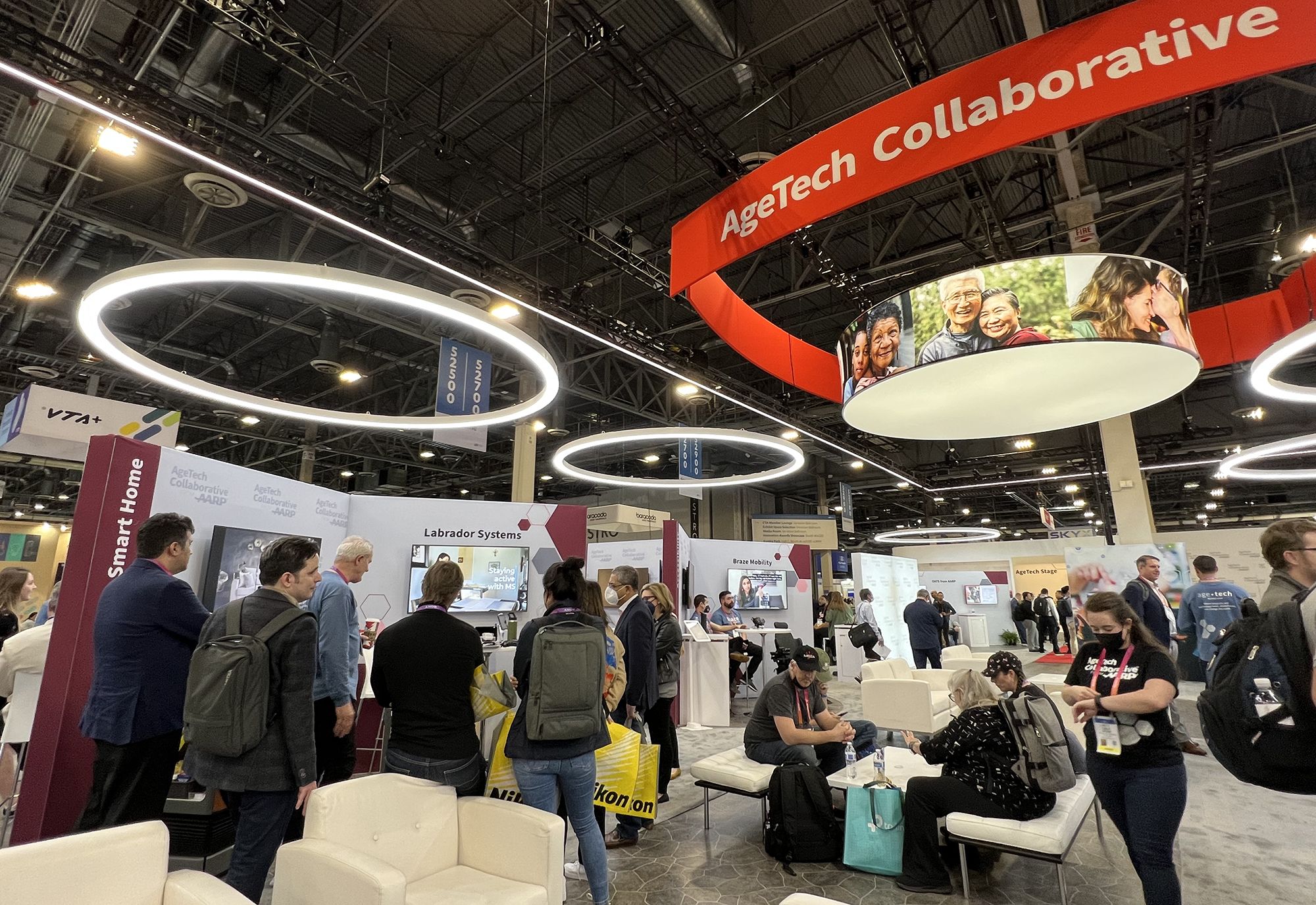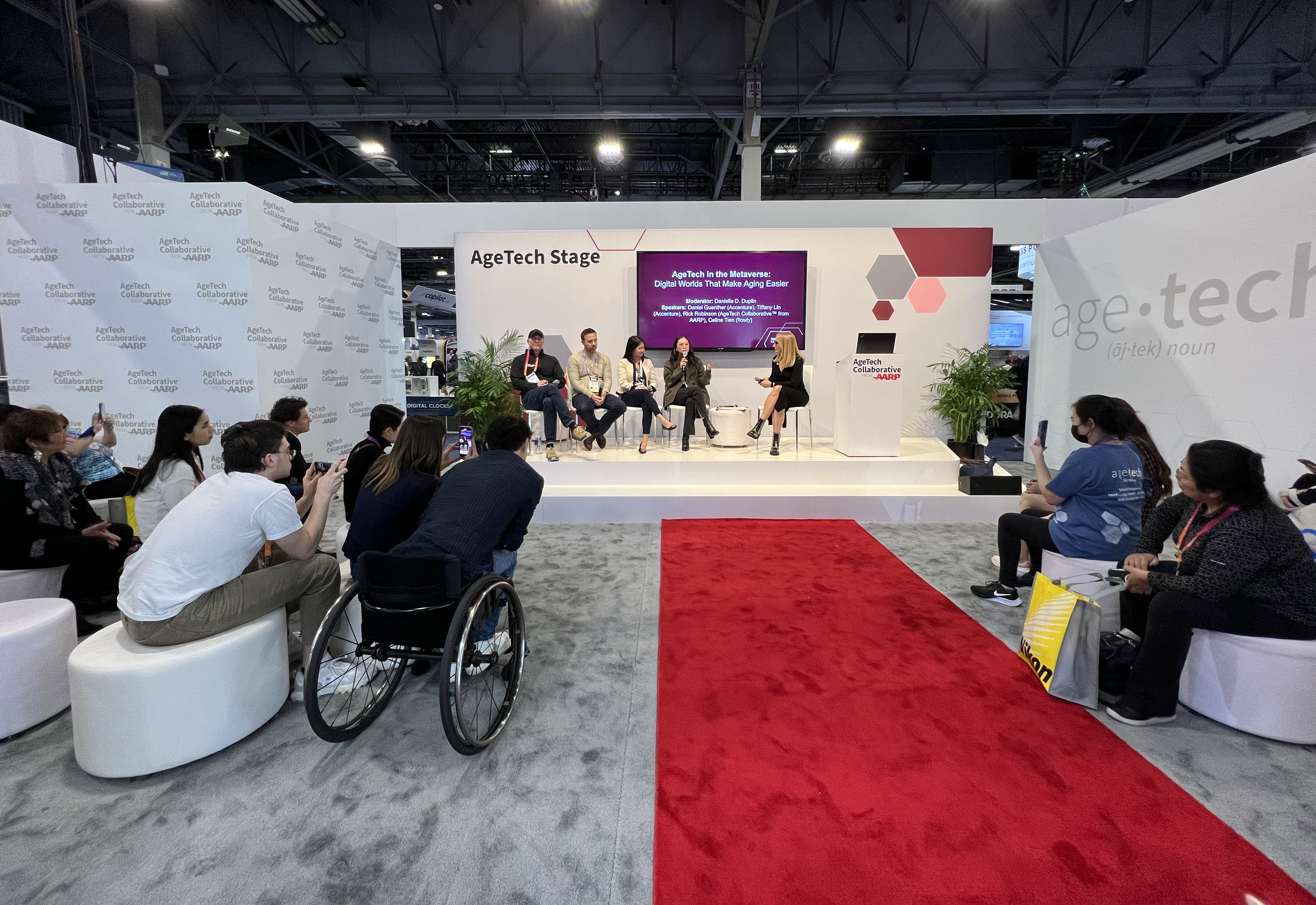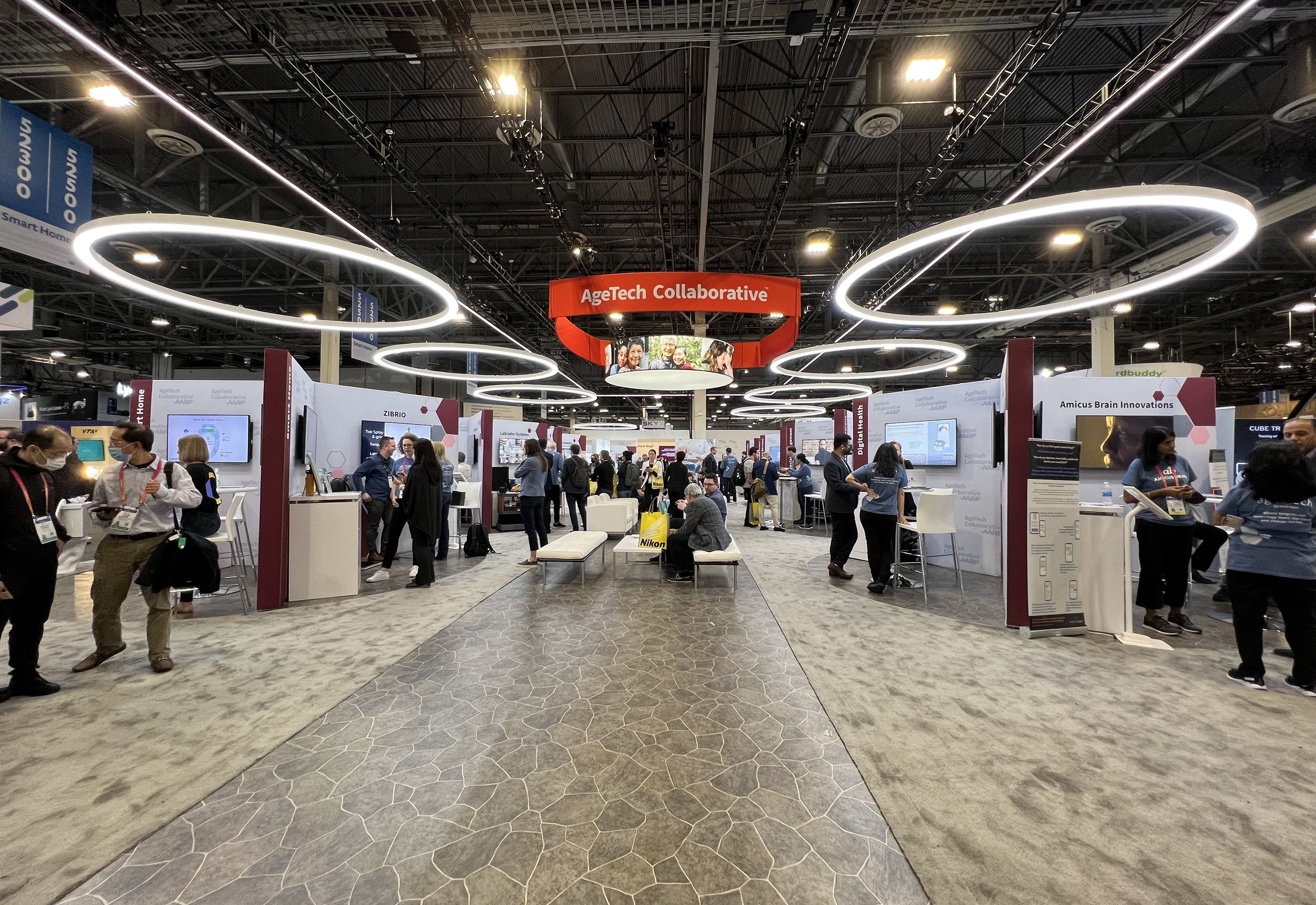 ADT
ADT activated a Safer City experience designed to look like an indoor/outdoor home environment with wood floors, grass carpet, doors, windows, a fireplace and a blue-sky mural. Attendees could grab a free beverage from the coffee shop and interact with the EvoGuard humanoid robot, a corporate security offering. The smiling robot on wheels waved to passersby and even helped by grabbing maps from participants and handing them to an ADT representative for stamping.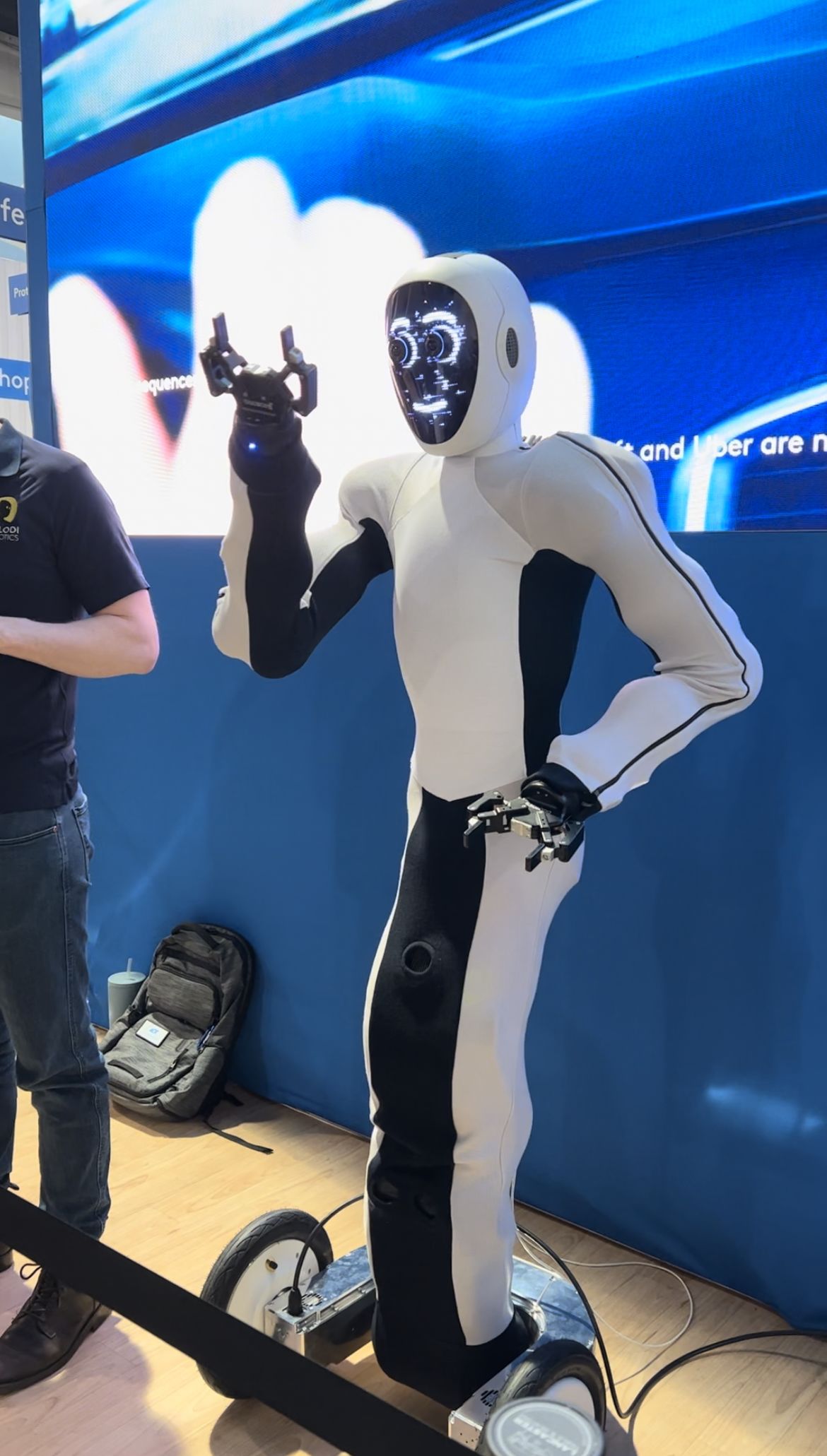 ADT hosted a stamp-collecting activity to engage participants with its new safety innovations, including the ADT+ app, solar panel connectivity and drones. In each of Safer City's areas—Safer at Home, Safer at Work and Safer On-the-go—a brand ambassador explained ADT's latest smart home and small-business security systems, as well as future concepts in development, through demonstrations and video examples. Once attendees collected a stamp for each of the three areas, they turned in their map for a prize like a drink insulator, beanie, mug or keychain.
Like AARP, ADT leveraged existing partnerships to flesh out the experience, highlighting its collaborations with Uber, Lyft and DoorDash at its Safer On-the-go station with smartphones on display to review the apps' ADT-integrated safety solutions and the mobile connectivity available with invisaWear's wearable personal safety accessories.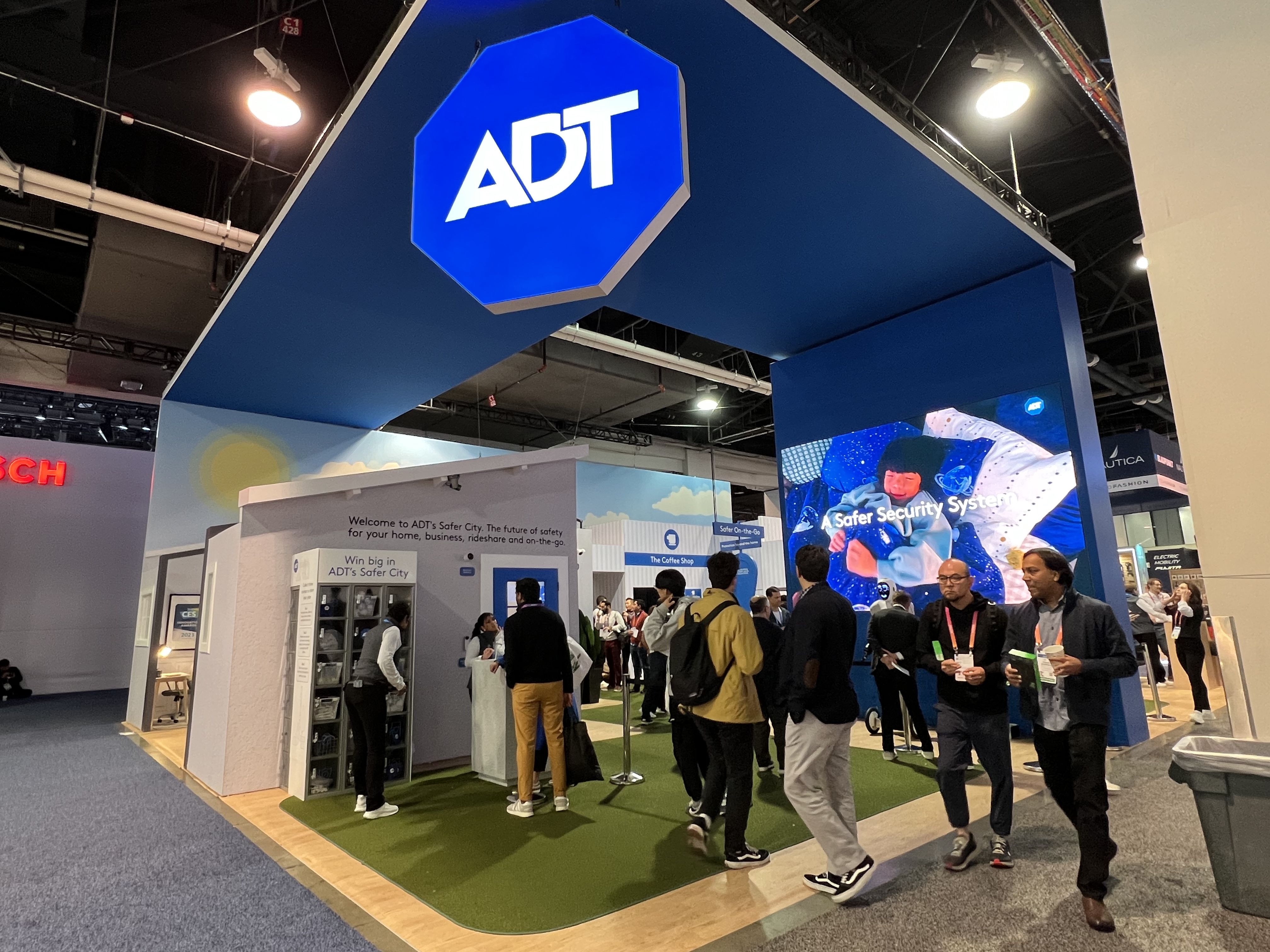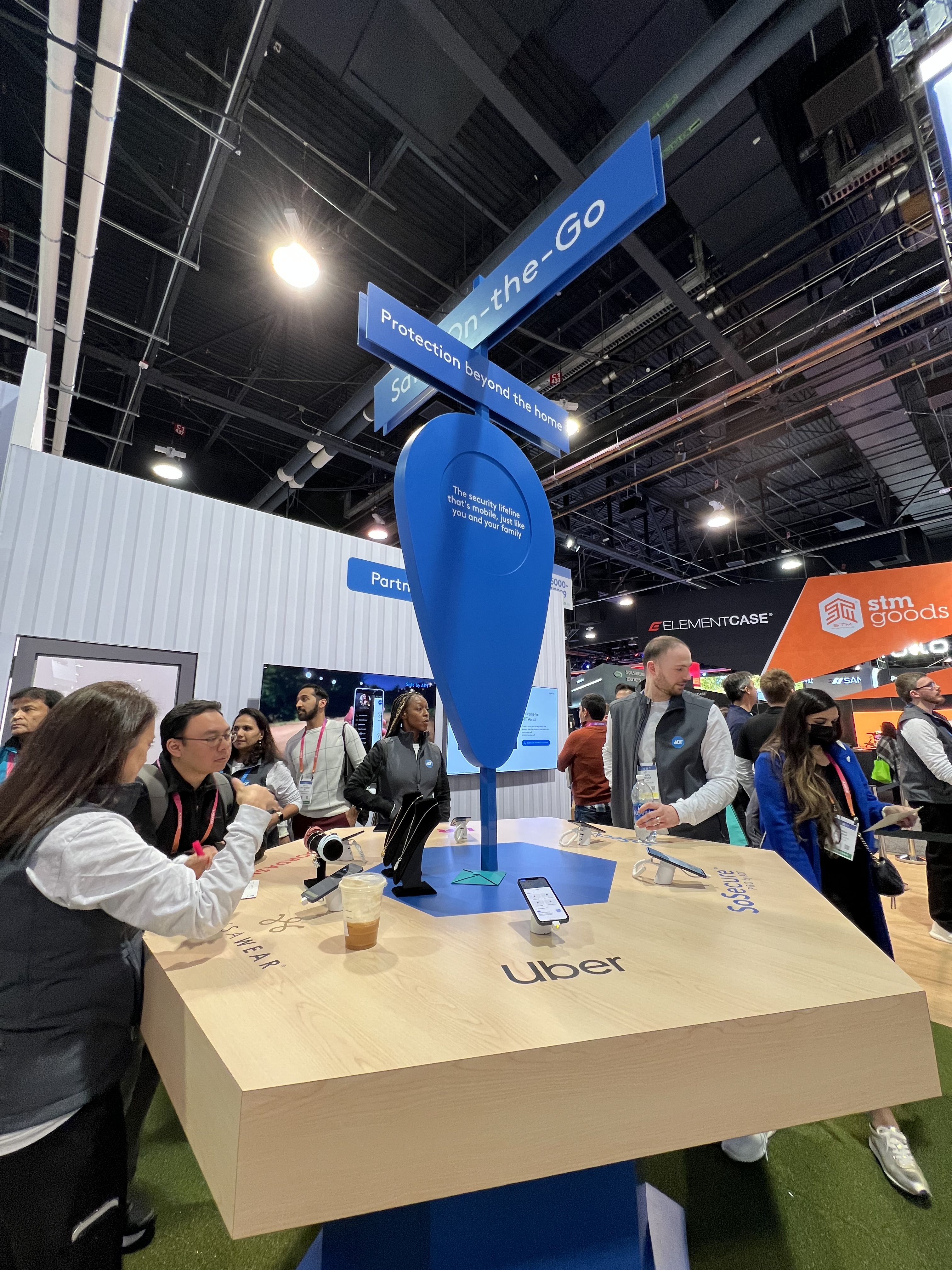 Item 1 of 2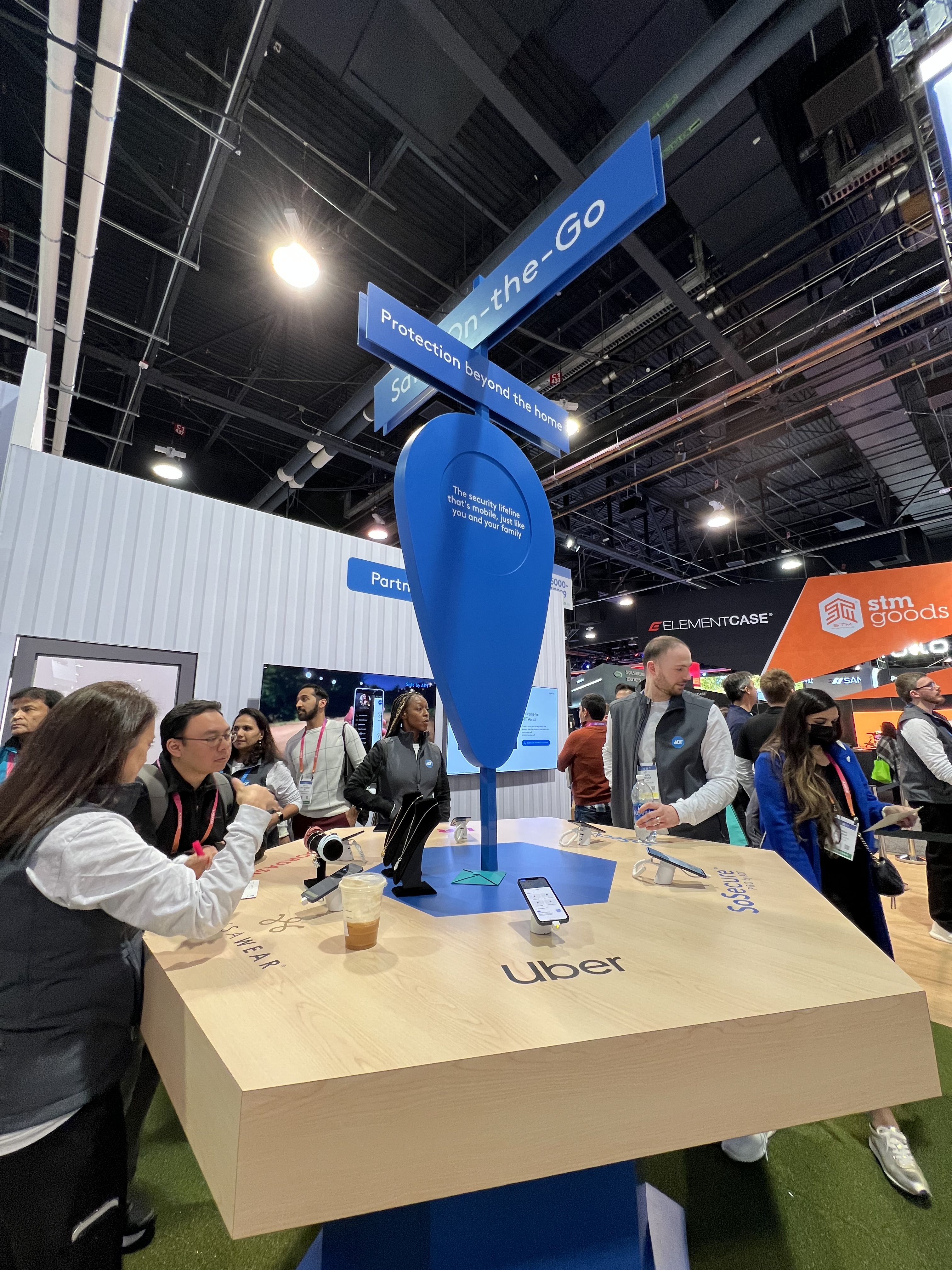 BOSCH
Split into two areas, Bosch's long booth sported a green color scheme for its Connected Living home-focused half of the exhibit, while the Connected Mobility section was decked out in blue, from the color of the bikes on display to the lighting accents on the concept vehicles. Color-coordinated concentric circle design elements carried through both halves, tying them together.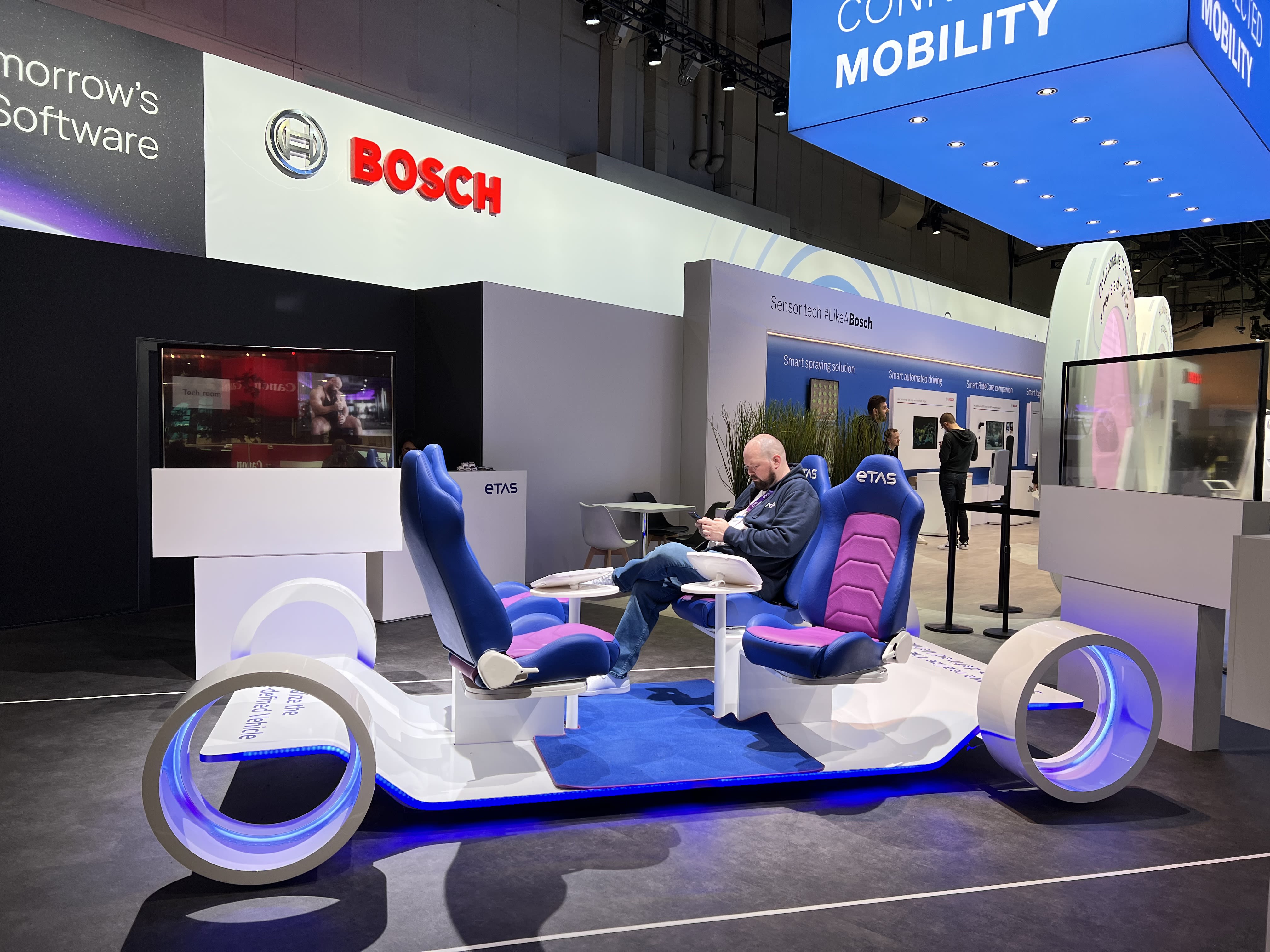 Bosch leaned into its #LikeABosch campaign to spotlight its sensor-based mobility innovations and brought along its brand ambassador, Shawn, the hero of the campaign's latest video, to interact and take selfies with attendees, star in social content and demonstrate how various sensor products worked. Attendees could score #LikeABosch-branded caps while exploring the tech supplier's booth, highlighting applications for its sensors at home and on the road. They could sit in a futuristic car set up with swiveling seats and tablets to learn about software-defined vehicles or take part in a live fitness show, complete with kettlebells and dumbbells, exhibiting the BHI380 AI sensor system for exercising.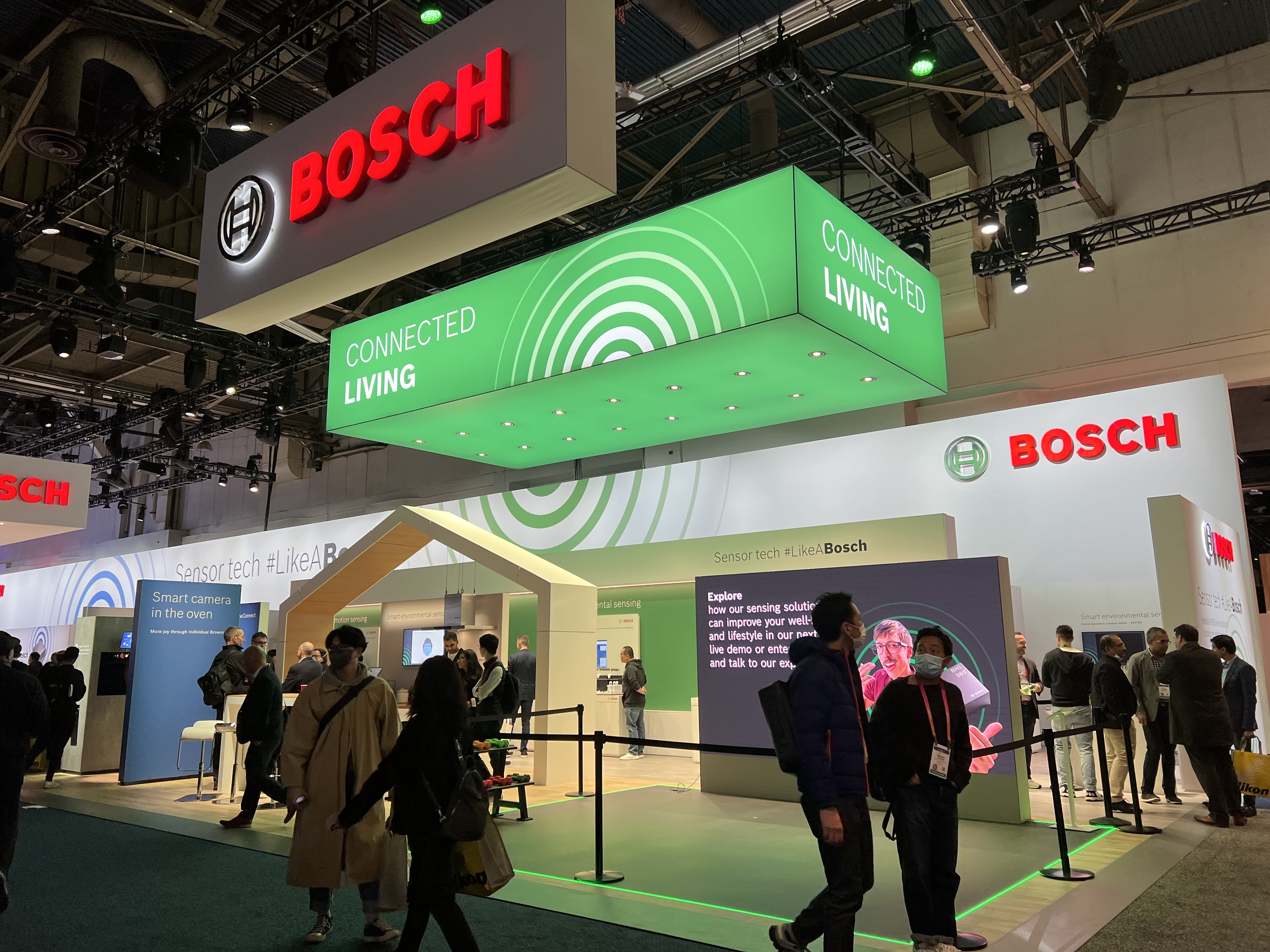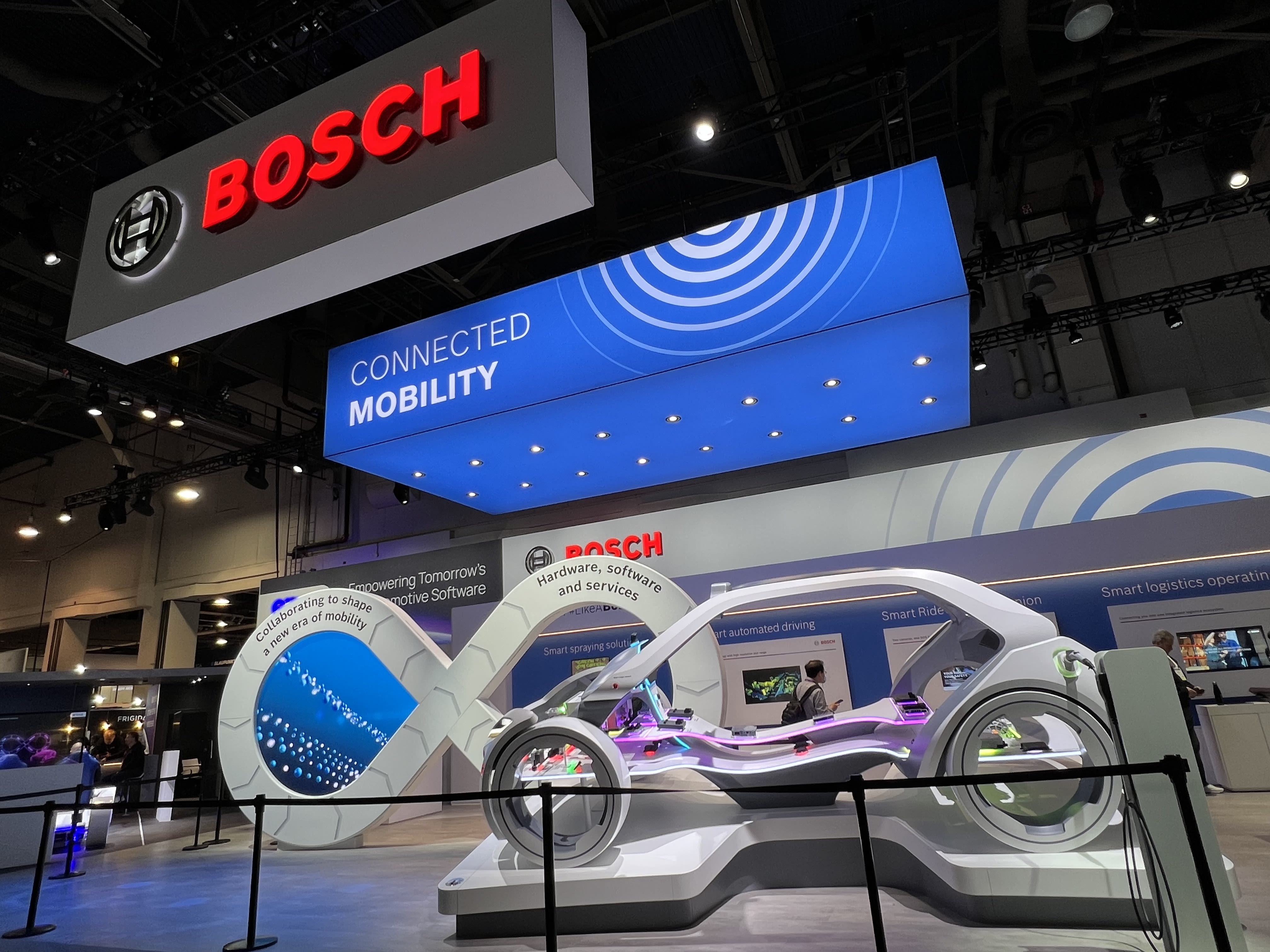 CANON
Movie magic permeated every corner of Canon U.S.A.'s exhibit. The digital imaging solutions brand partnered with filmmaker M. Night Shyamalan on four interactive experiences that transported attendees into the story of his new thriller, "Knock at the Cabin" (released Feb. 3). Canon's booth brought the forest setting of "Knock at the Cabin" to the Las Vegas Convention Center with trees that reached the ceiling, bushes, rock features, wooden props and a pine straw-covered ground. The exhibit's centerpiece was the titular cabin, made to look like a cozy vacation home with a porch.
Canon connected participants to characters from the film and placed them in the middle of some of its most suspenseful moments using four of its technologies: MREAL, AMLOS, Kokomo and Free Viewpoint. The experiences tied back to the company's theme of "Limitless is More," and contrasting the woodsy environment were cameras, VR headsets, smartphones, computers and screens. Builder: FCBX. (Get the full story on each experience here.)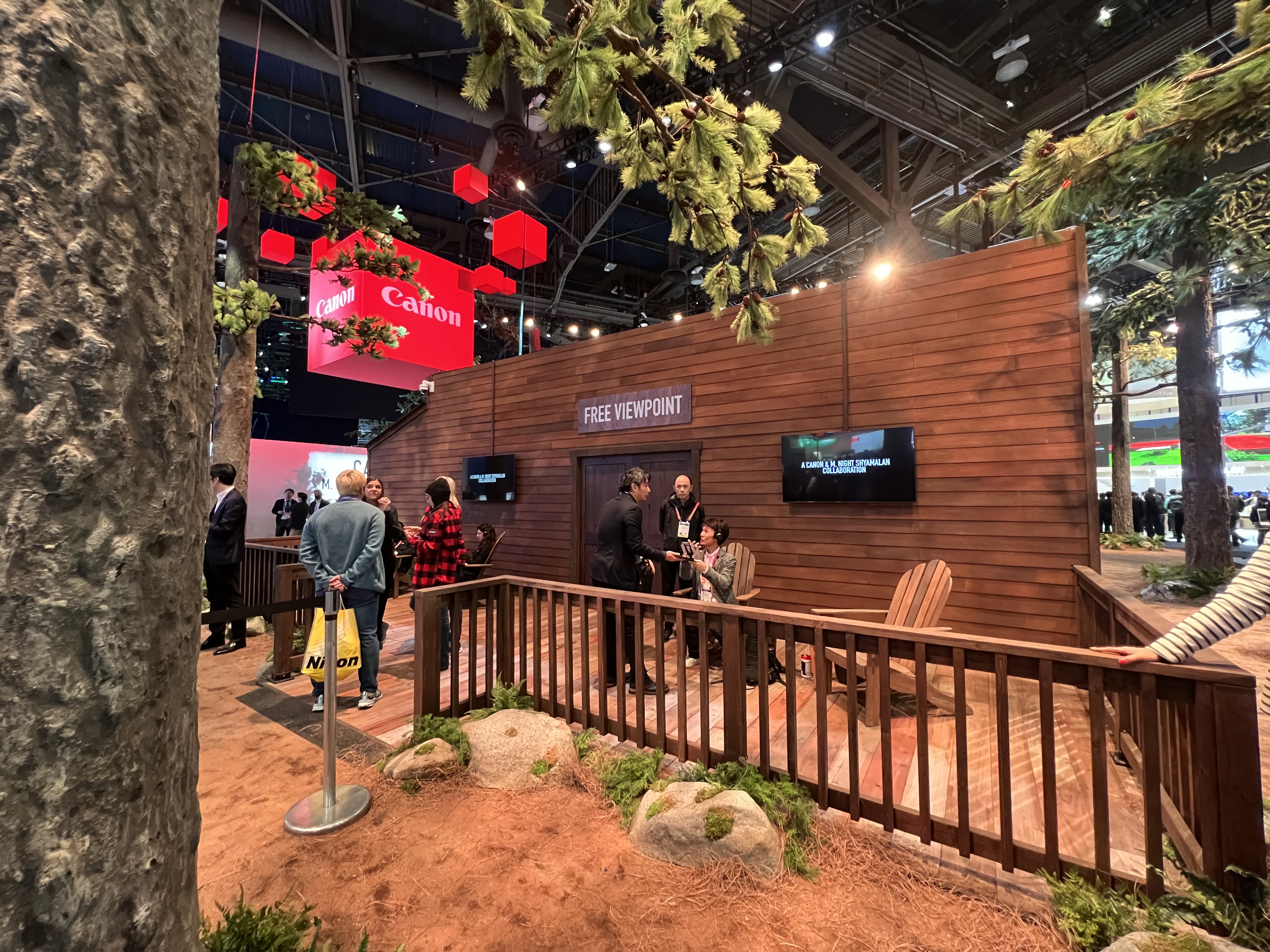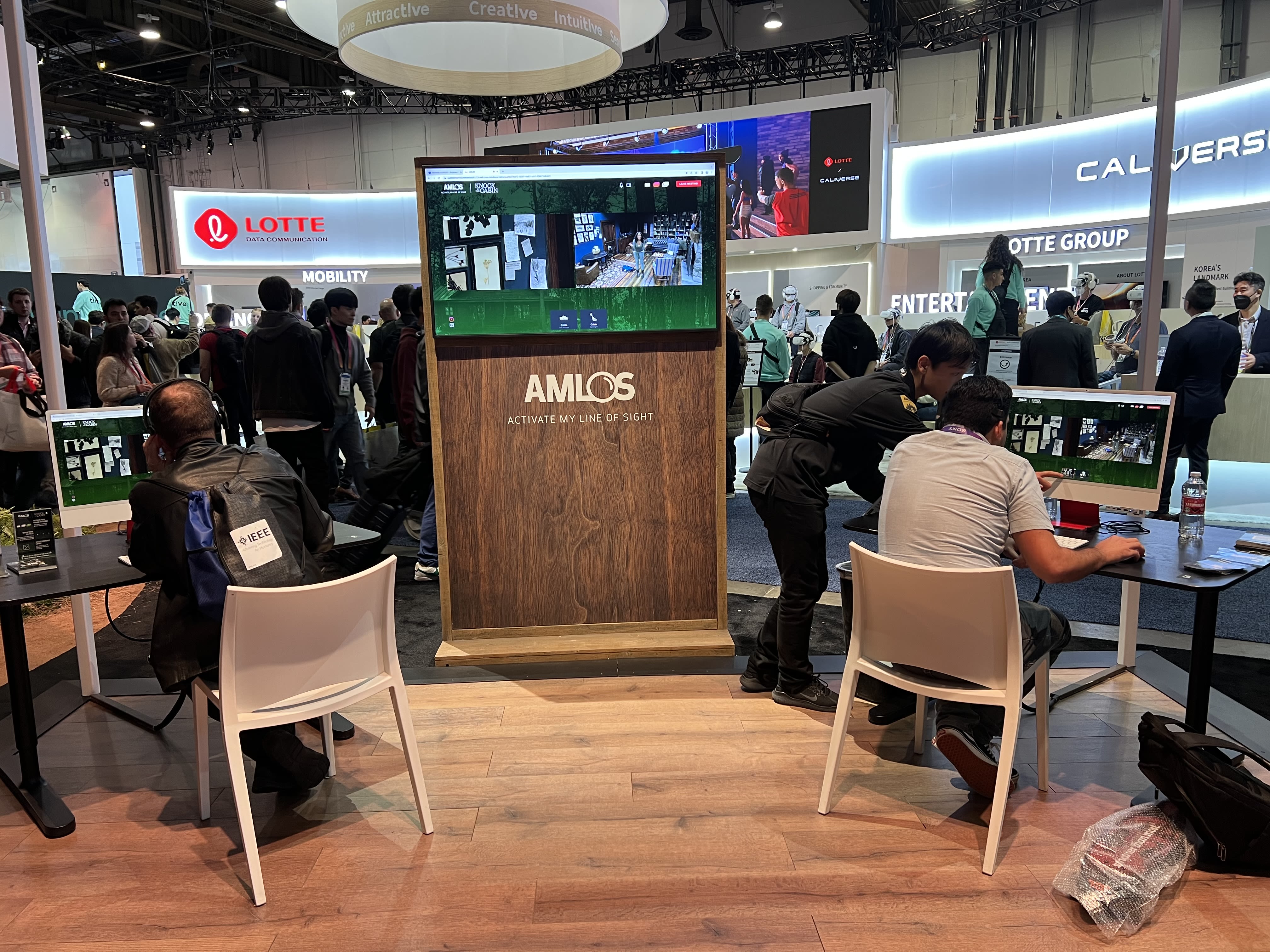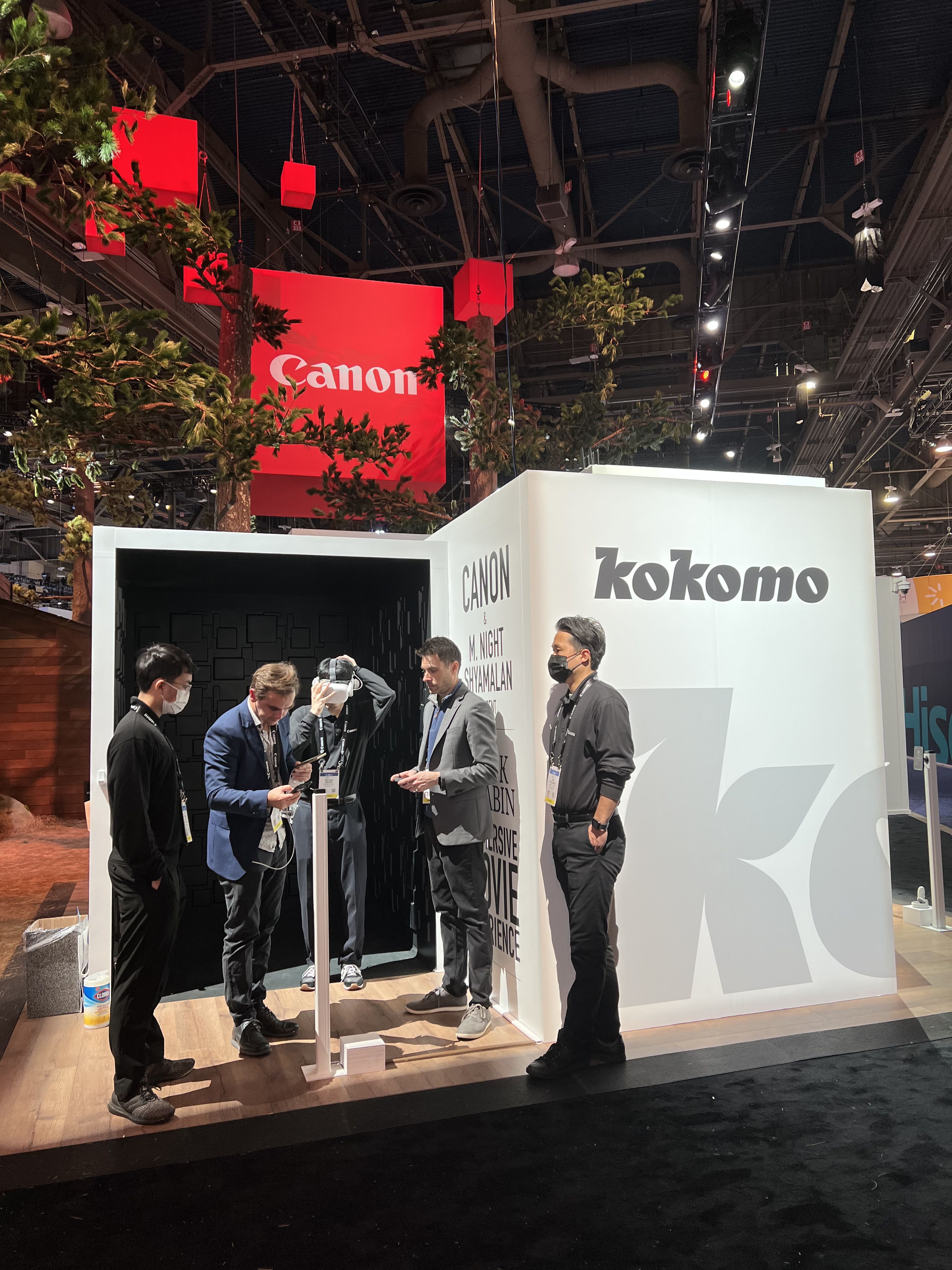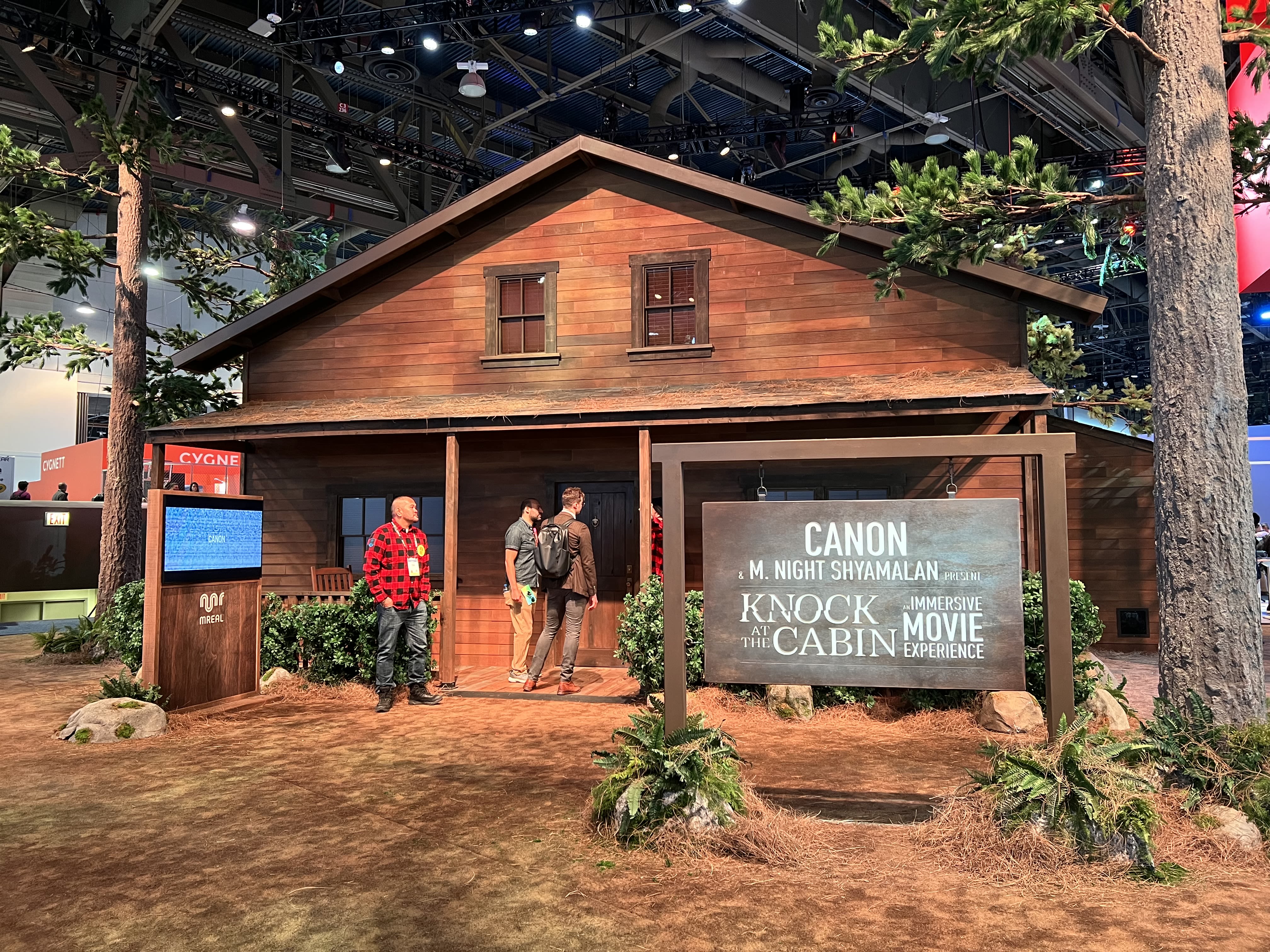 Item 1 of 3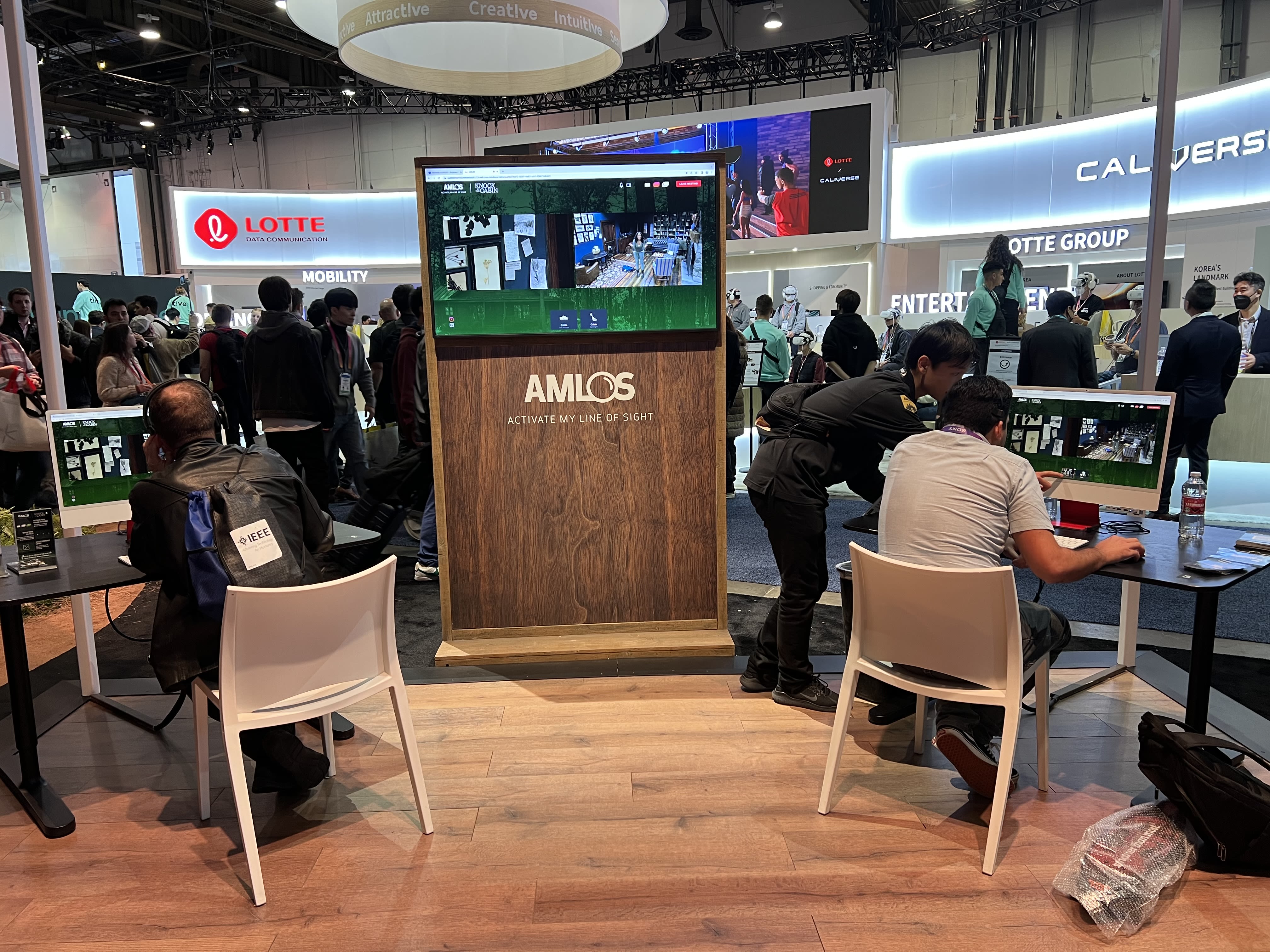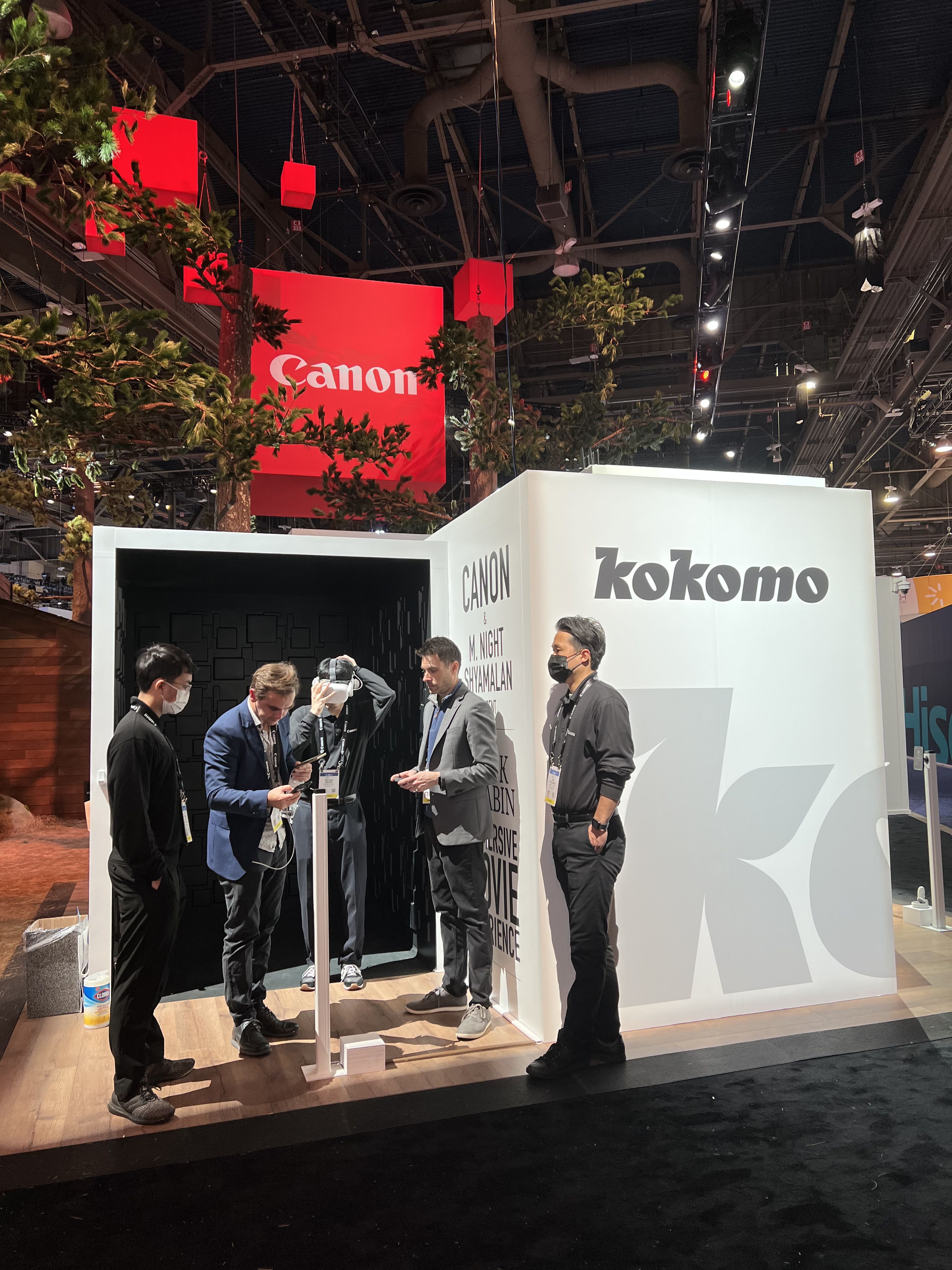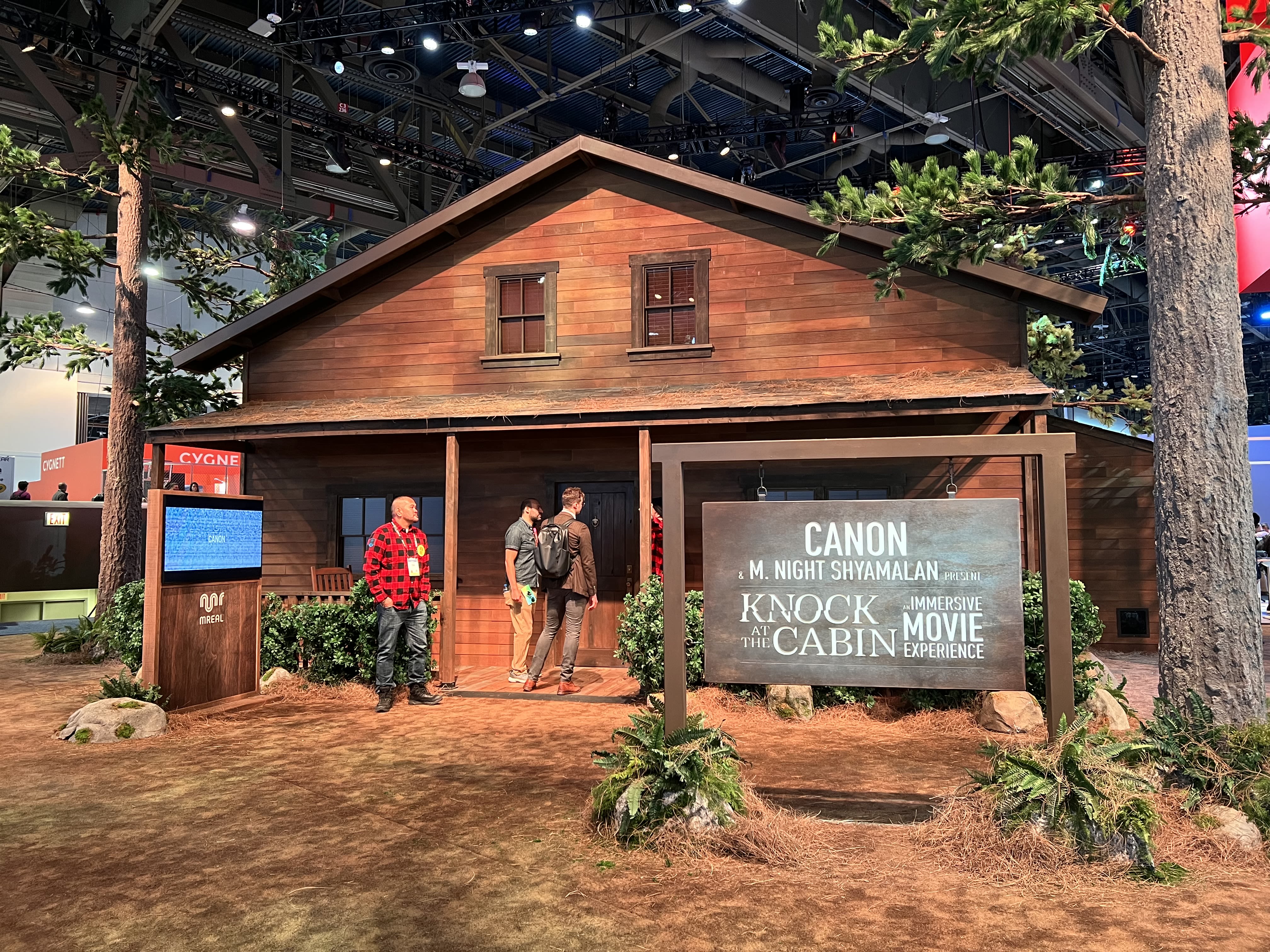 GOOGLE
Android took center stage at Google's two-story-tall booth in the outdoor exhibit area outside the convention center. The brand's recognizable little green robot grabbed the attention of passersby as various colorful and textured versions of the mascot popped up on a large screen on the left half of the booth's exterior, contrasting the right half's floor-to-ceiling windows that brought natural light into the interior. Long lines awaited attendees looking to get into Google's modern, wood-paneled exhibit, but along the way, they took advantage of a popular selfie spot with a silver sculpture of the Android robot (one of many iterations of the icon around the space).
Inside, attendees could sit on a green Android-themed swing—promoting "Take a selfie with your watch"—before making their way through showrooms for Android at Home, Android in the Car and Android on the Go that presented multidevice experiences, mobile connectivity, wearables, Google TV and Google Assistant speakers. Tying into Android's Fast Pair feature, attendees could pull a slot machine lever to connect Google devices and win a prize—a small capsule filled with candy. Builder: Sparks.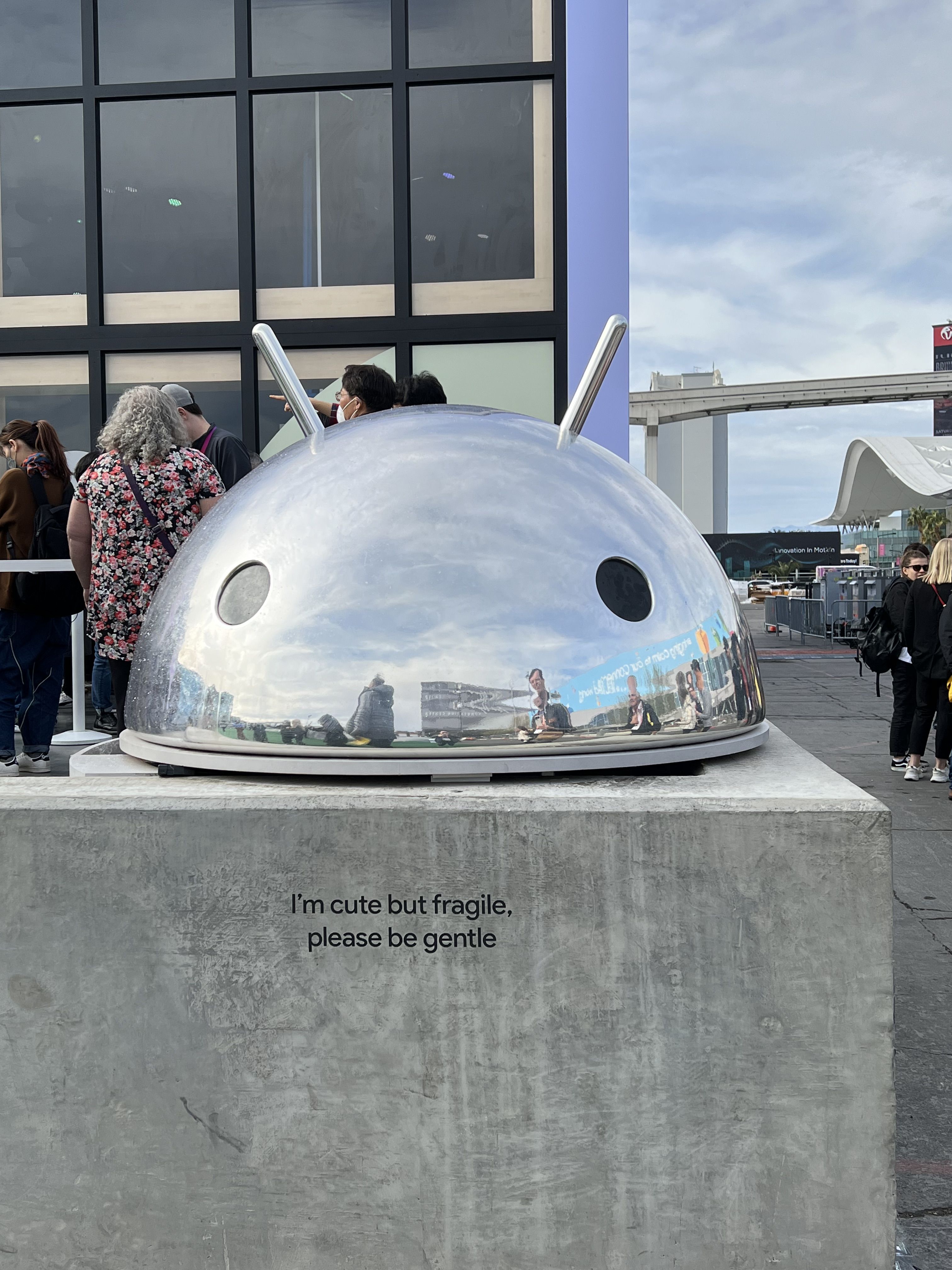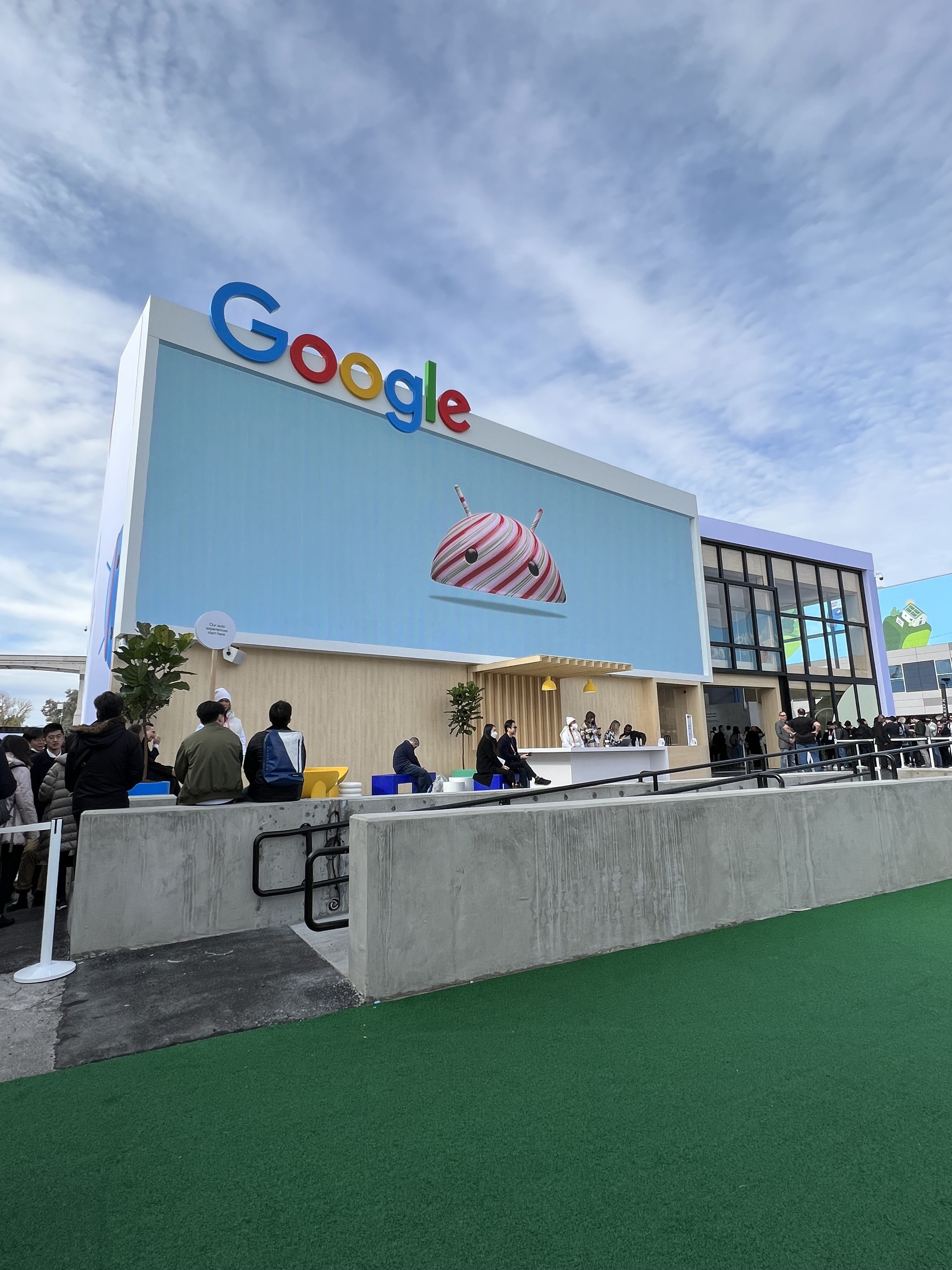 HISENSE
Hisense's mixed lush features, like projections on a waterfall installation, with the sleek designs of its newest ULED X TVs attracted the attention of attendees. Purple and blue mood lighting set a relaxed tone for the spacious exhibit divided into areas for gaming, TVs and home theaters, and a kitchen suite. Themed gaming setups—such as desk shelves stocked with Pez dispensers, robots, lava lamps and hanging pinball and game room posters—encouraged attendees to sit down in Alienware gaming chairs to play on computers or grab a controller and settle in on floor rockers.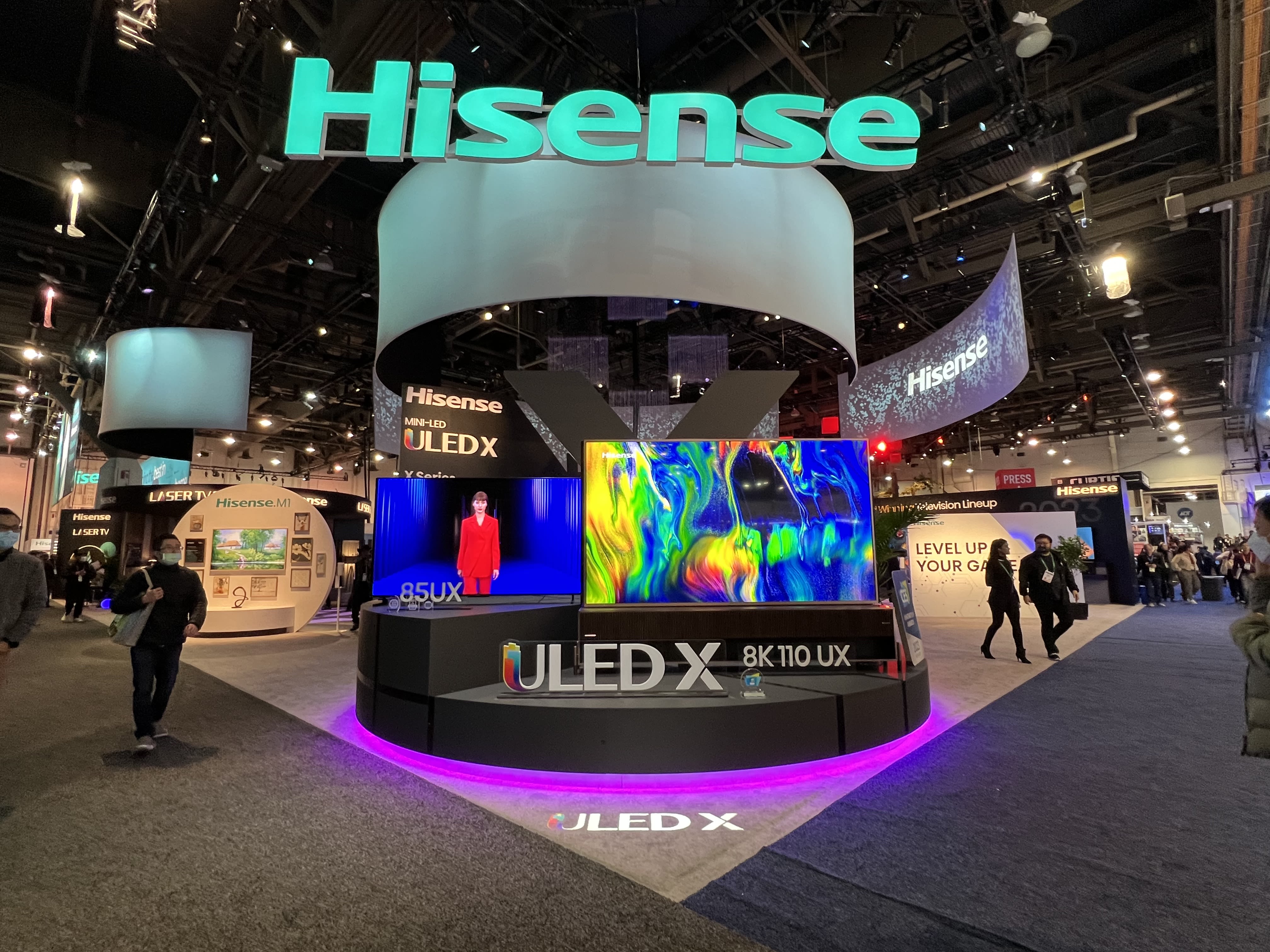 In the home cinema area, attendees could step into intimate living room spaces to absorb the experience of the Laser Cinema projector or the Sonic Screen LCD TV, where sound emanates from speakers built into the screen rather than behind or below it. The ConnectLife zone, separated by a wall of windows, laid out a smarter living space with Hisense's integrated collection of home products, and attendees made themselves at home on the couch in front of the TV and at the kitchen island. Further down, attendees could learn more about Hisense's future of cooking technology with gas and electric ranges, a microwave, a dual zone wine and beverage cooler, a French door refrigerator and a dishwasher on display. Builder: Impact XM.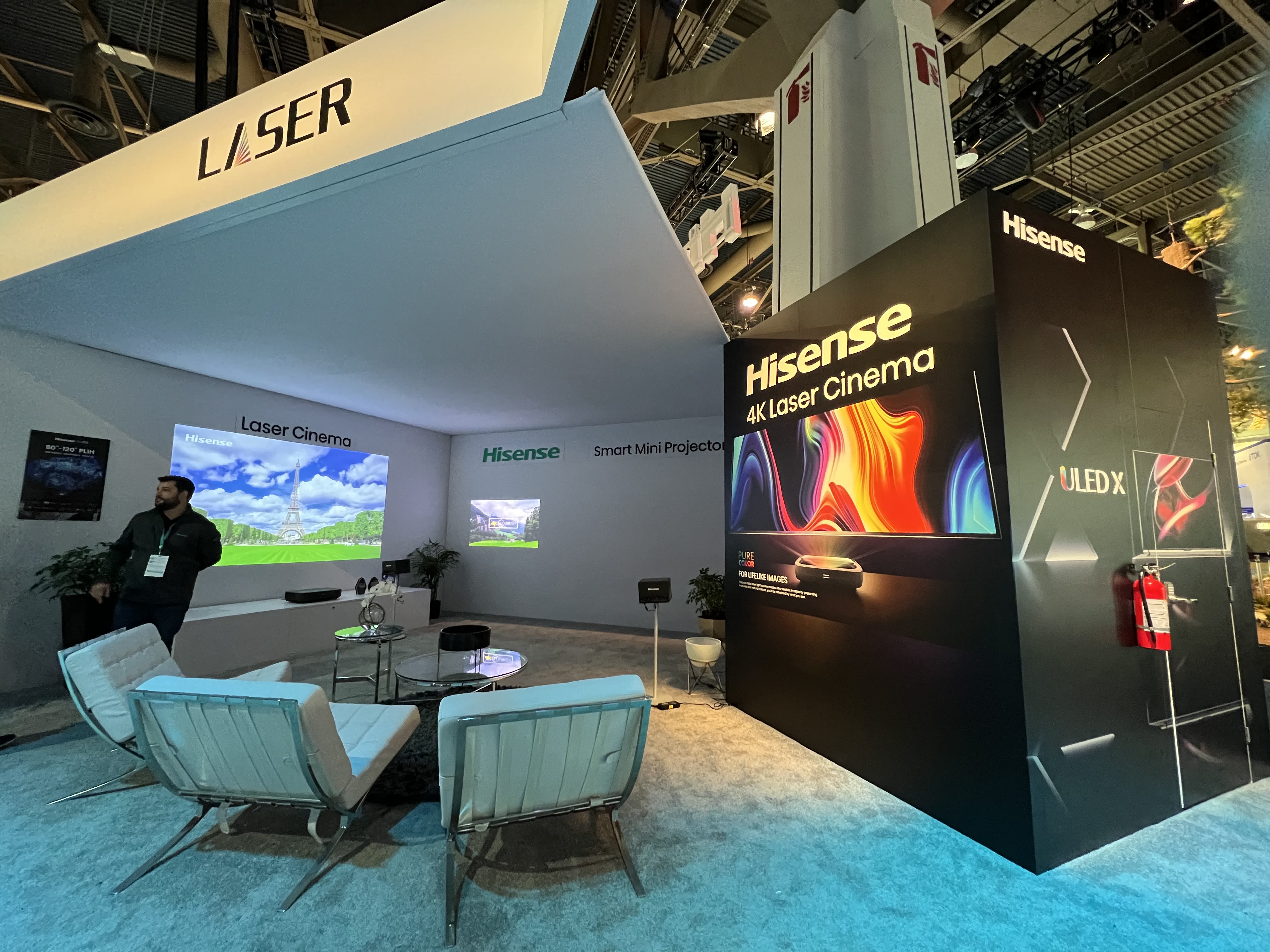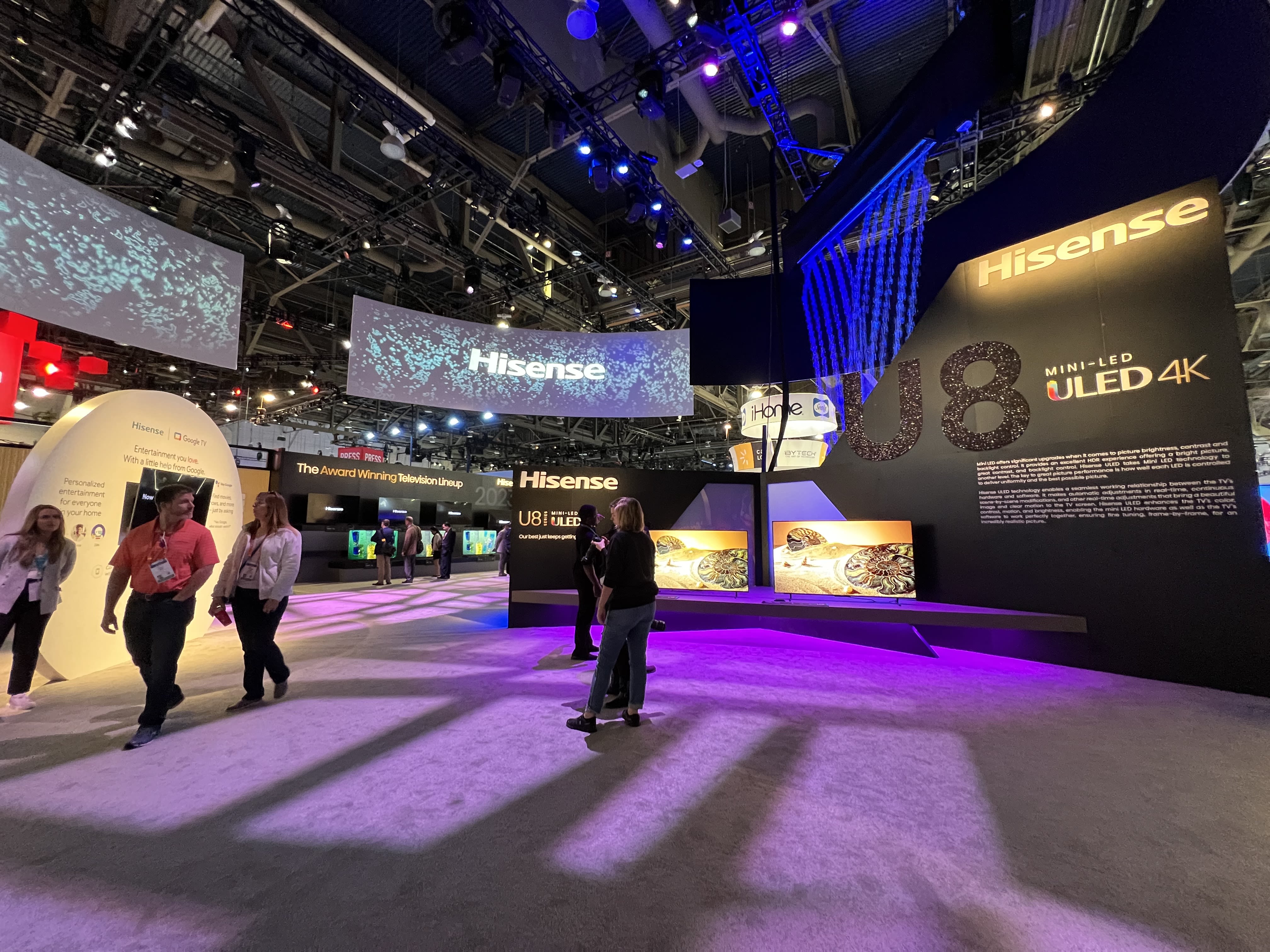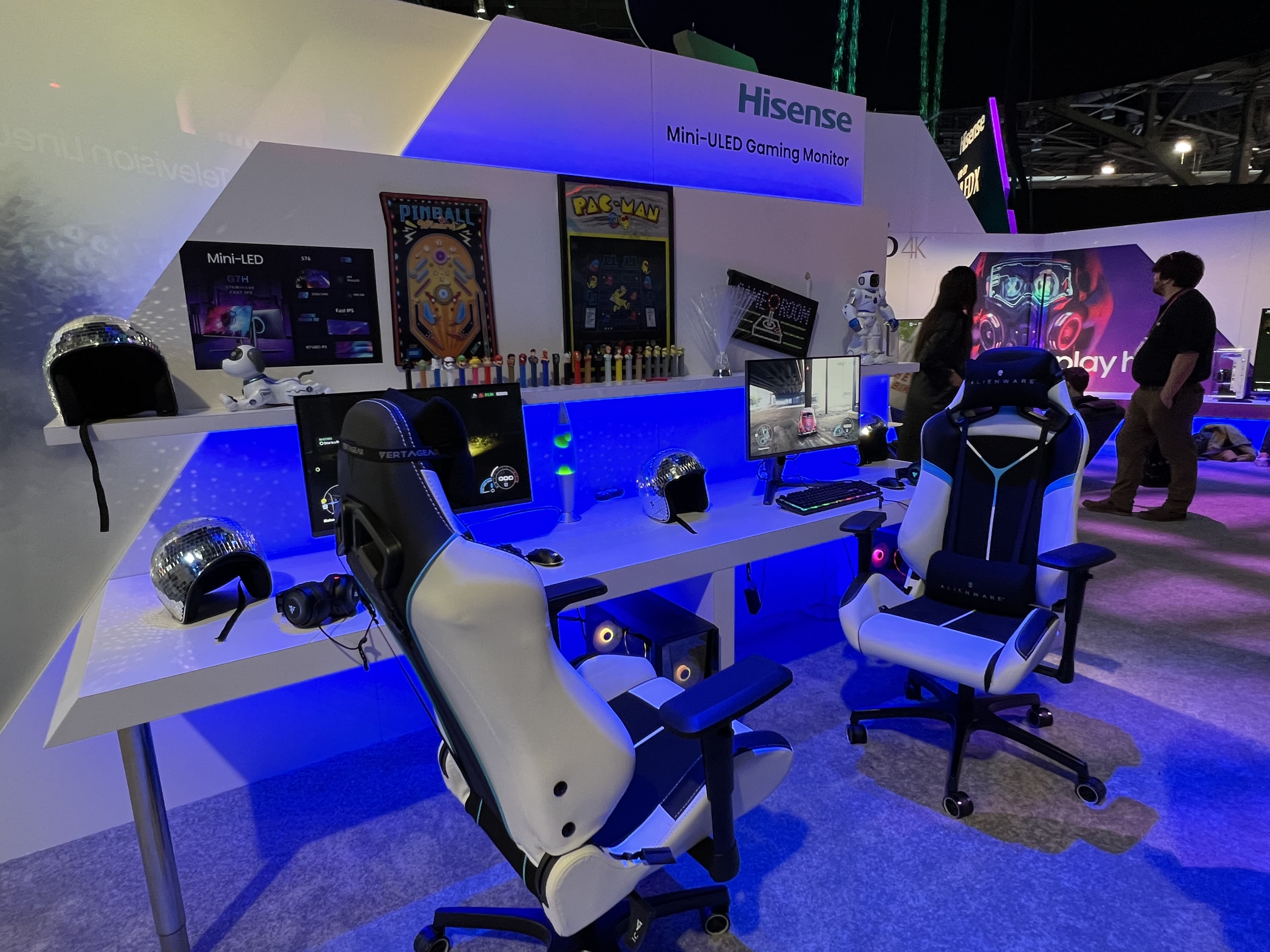 KOHLER
Kohler, which is marking its 150th year, offered attendees a calm spa space amid the commotion of The Venetian Expo's show floor with sounds of running showers water falling into a pool with rock features and trees. The Anthem digital smart showering system allowed attendees to control four water outlets, spray pressure and patterns, and temperatures.
The booth's focal point was the Kohler Stillness Infinity Experience Bath, making its in-person debut in the U.S. Drawing inspiration from Japanese forest bathing, the bath was surrounded by full spectrum lighting and a floor-to-ceiling screen depicting bright, moving water, mountain and cavernous environments. Adding in the aroma of essential oils and fog that enveloped the water's surface, attendees were immersed in a sanctuary for the senses designed to "relax the mind, sooth the body and renew the spirit."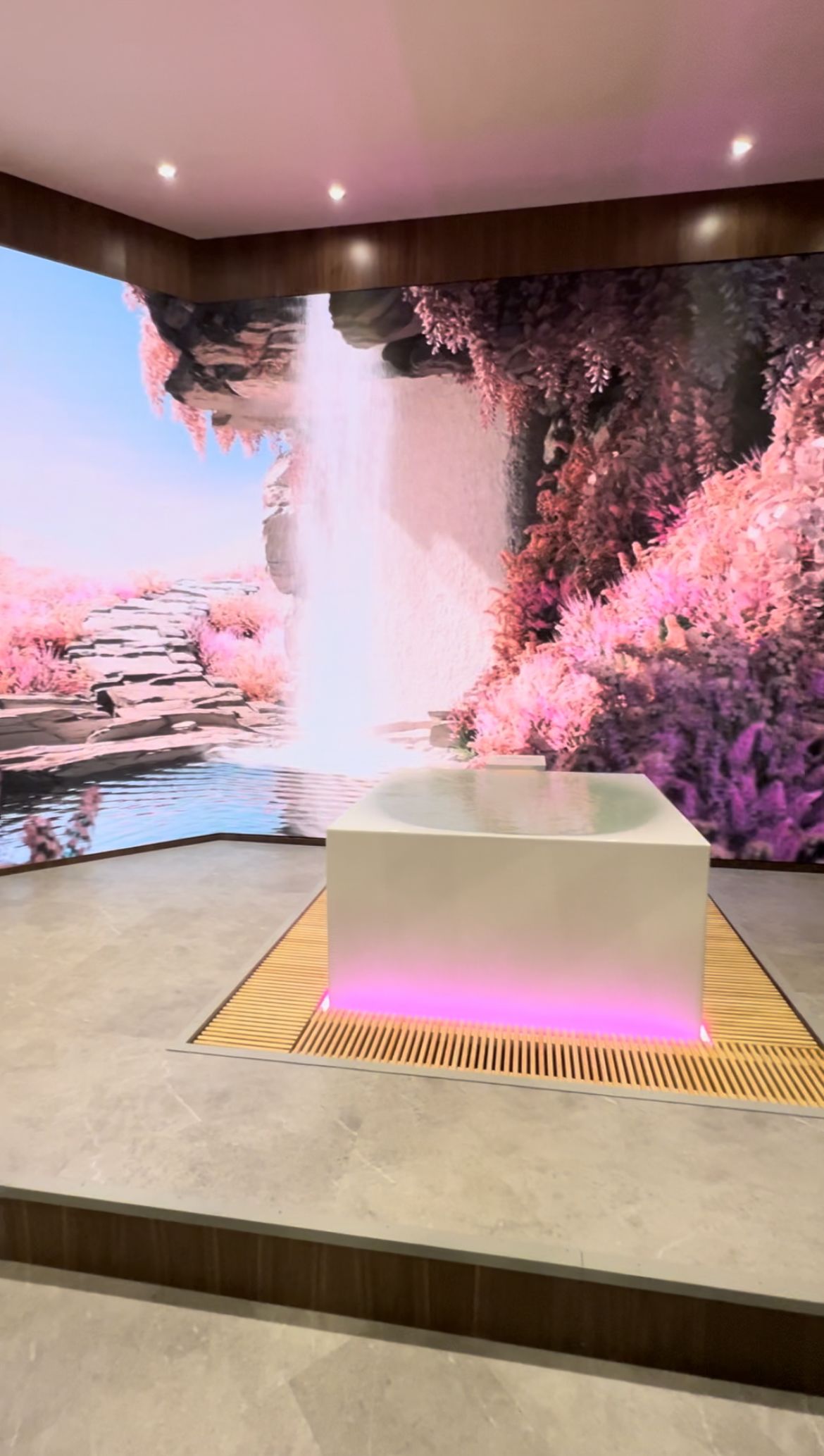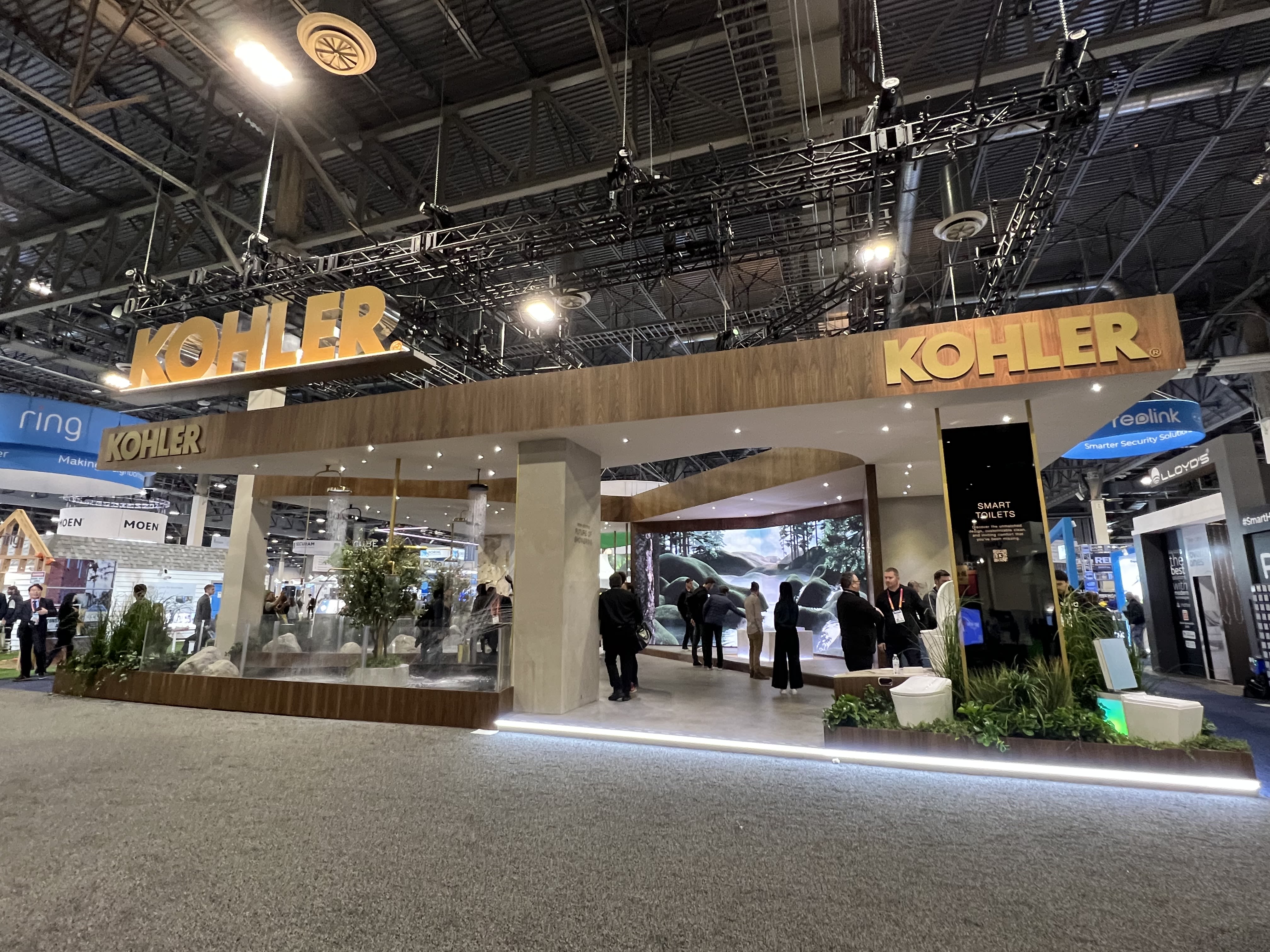 LG
It's not CES without checking out the immersive entrance into LG's signature booth. With 2023 marking the 10th anniversary of LG's OLED TV, the tech brand fabricated an OLED installation that stretched almost 20 feet high and 82 feet wide, taking over one of the Central Hall entrances at the Las Vegas Convention Center.
From the opening of the show floor until its closing each day, the "OLED Horizon"—made up of 260 flexible and open-frame 55-inch displays—captivated attendees, who stopped to pull out their phones and capture the lifelike scenes of space, oceans, waterfalls and sunsets presented on the floor-to-ceiling screens that arched overhead. Just inside LG's booth, the OLED celebration continued, carrying over the natural elements showcased on the OLED Horizon, with a pool of water front and center reflecting the intricate designs presented on several suspended TVs.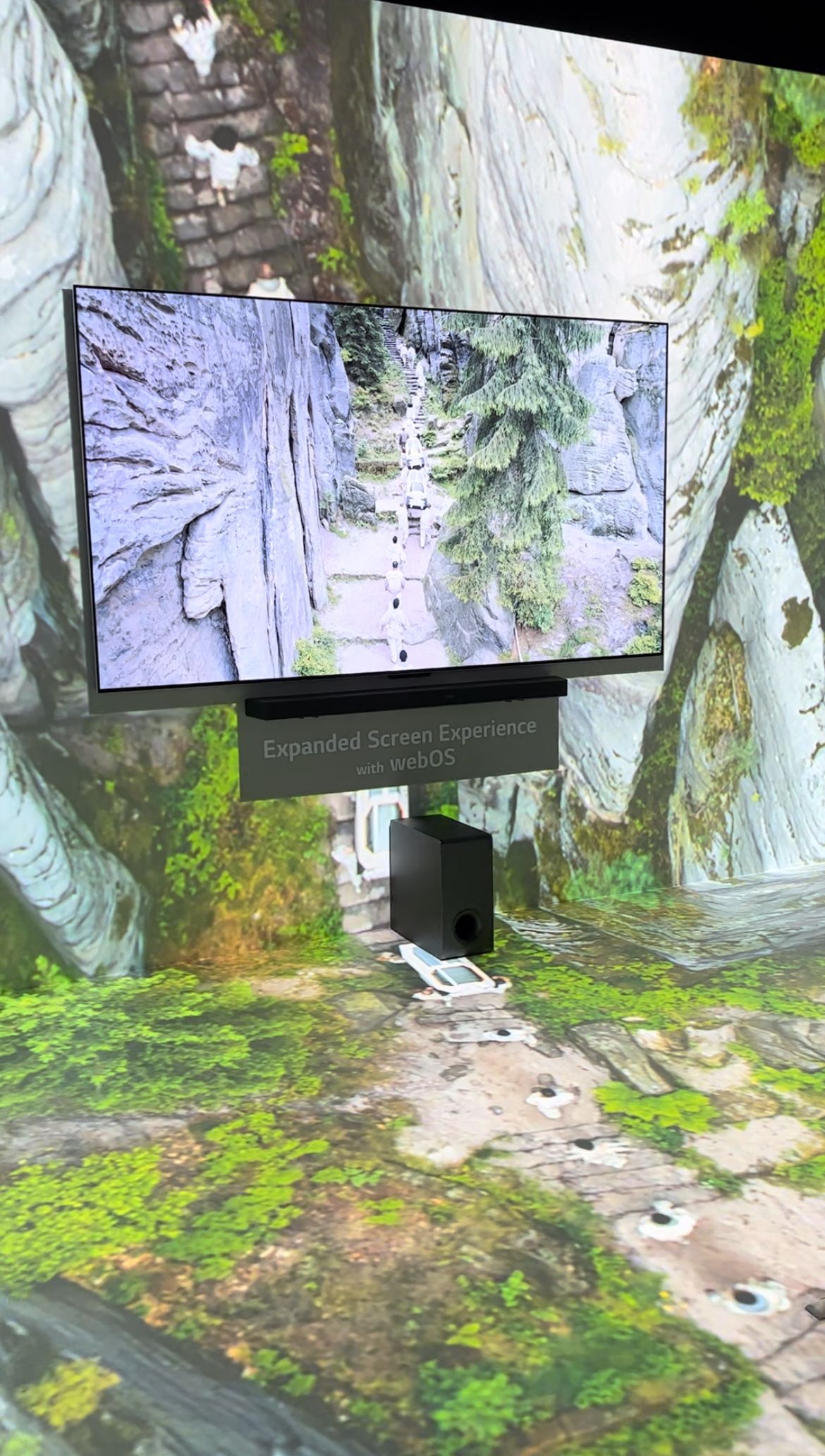 The lighting within LG's booth created divisions between each technology zone. A modern home kitchen built to demonstrate LG's appliances was warmly lit, contrasting the bright color-changing lights emanating from the OLED TV exhibits across the booth, including an expanded screen experience in which the walls and floor around a mounted TV were blanketed with imagery matching the content shown on the screen.
As attendees made their way toward the back of the booth, home to a neon-lit gaming area showcasing curved OLED monitors for PC gamers to try, the lighting became progressively darker, giving off an edgy feel. All of LG's product zones had such distinct designs and vibes matching the products on display that they could each be pulled out from under the LG umbrella and stand alone as their own booths on the show floor.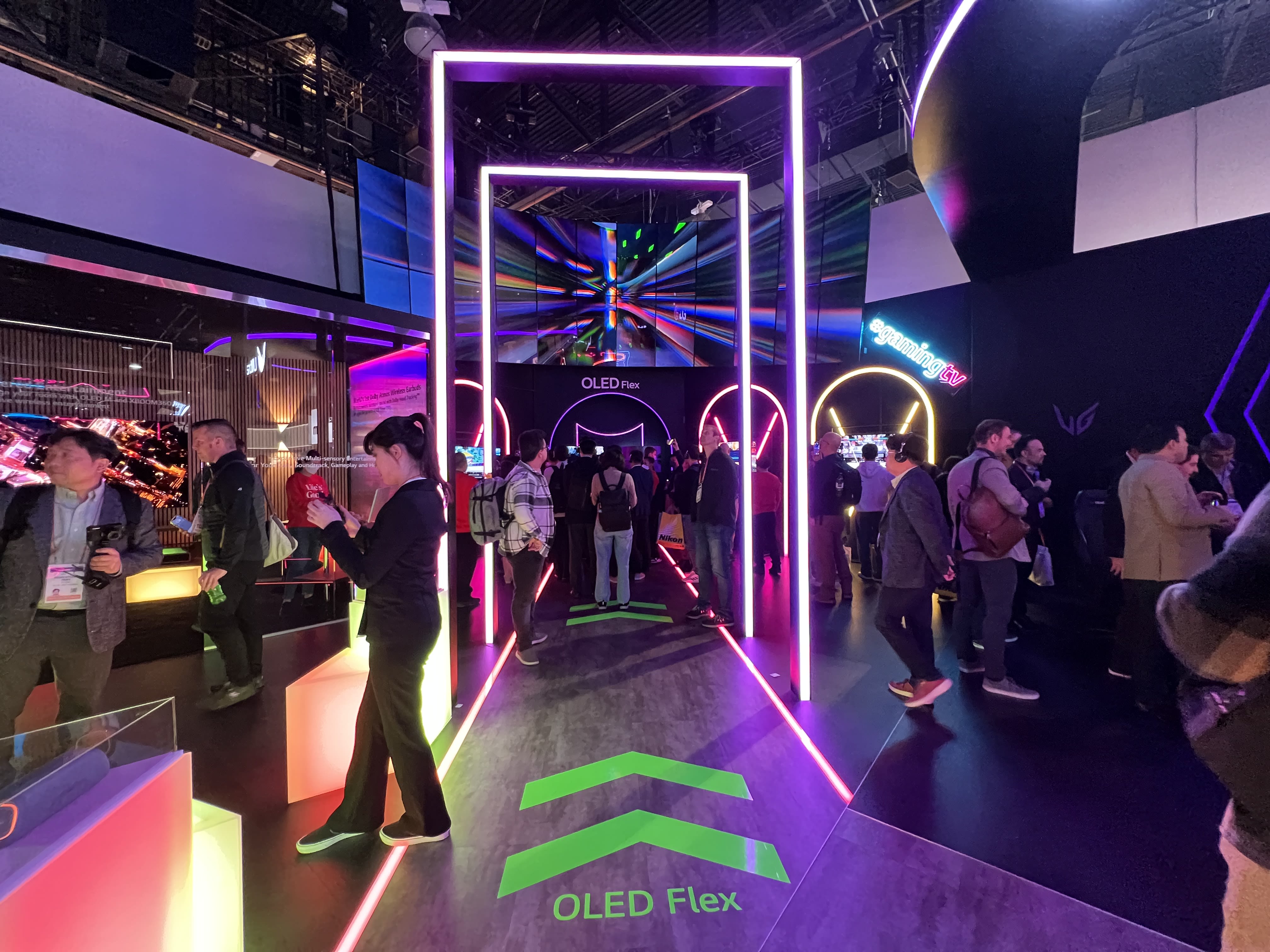 One of those was LG Labs, which made its debut at CES as a new product zone featuring new devices and prototypes, such as an AR service where attendees could virtually try on NFT shoes from Monster Shoes Club (Monshoecl). Glossy red floors and framed wall details tied each product showcase into one cohesive lab zone. Additional areas included "Let's Gram" for laptops, "Better Life for All" on LG's sustainability initiatives and the "Lifestyle Zone" for household appliances.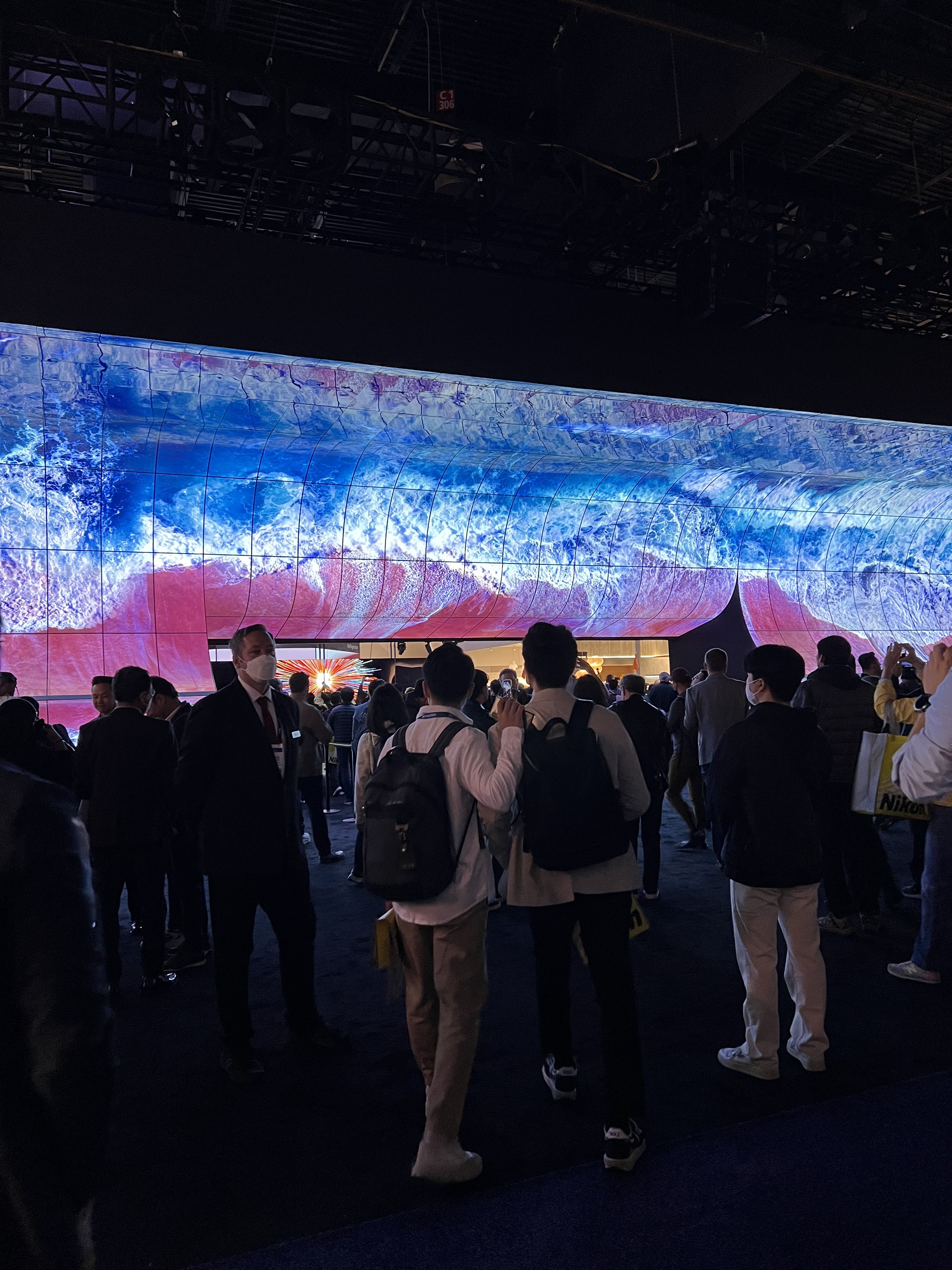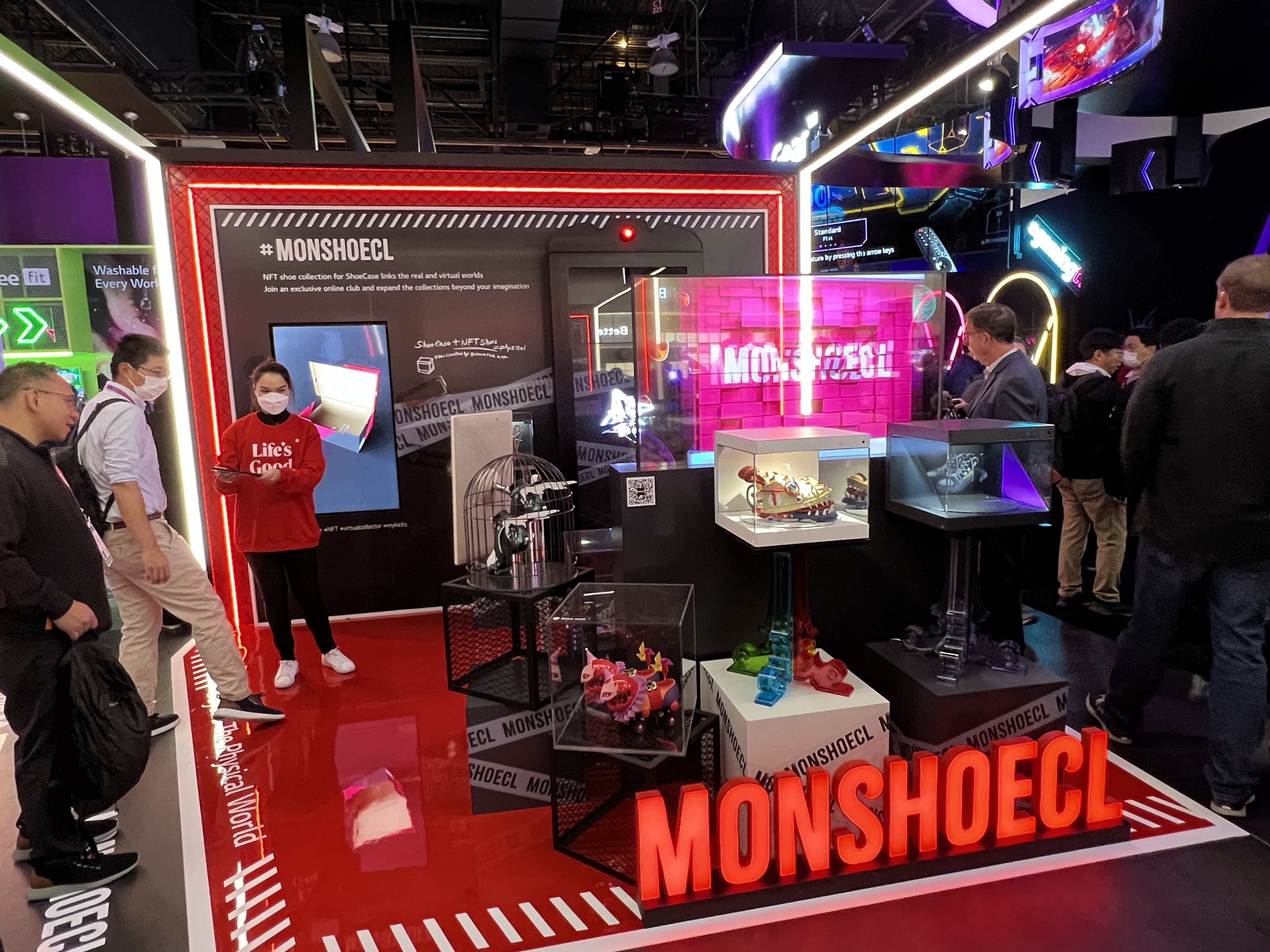 LOTTE HEALTHCARE
In the growing digital health space, LOTTE Healthcare built an interactive quiz to introduce CAZZLE, its customized health care platform through which consumers can monitor their health, purchase supplements and track workouts. Attendees entered the booth under a square archway screen featuring bouncing bubble letters and floating balls, and then approached one of four tall touch screens to find their CAZZLEMON. Three "would you rather" questions popped up on the screen, asking participants to choose between prompts like walking around Central Park for four hours or watching Netflix for 10 hours.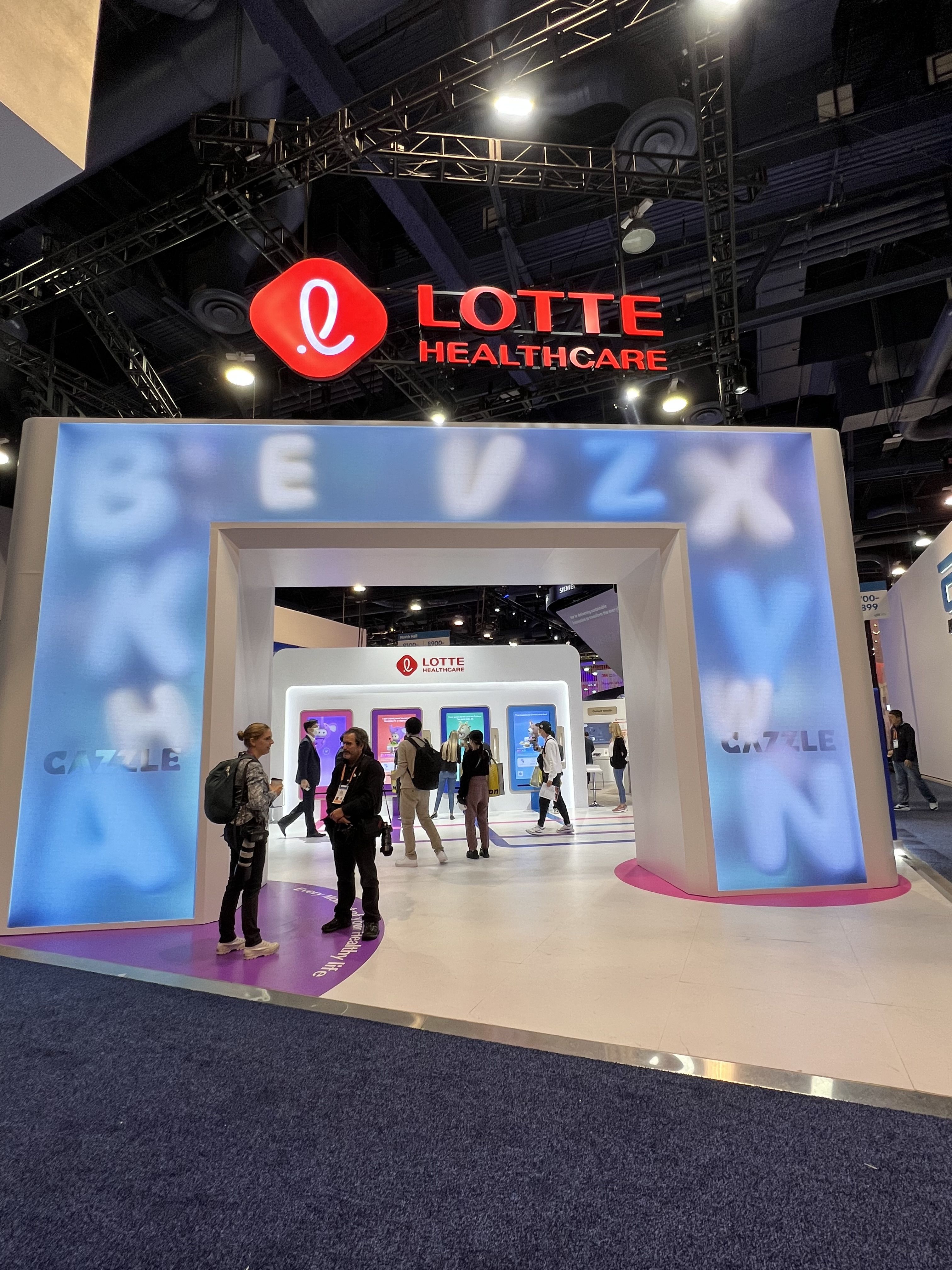 CAZZLE analyzed the three selections and generated a cute CAZZLEMON animal that best fit their lifestyle choices: Koala for those who are laid-back, Gazelle for gymgoers or Eagle for meticulous planners, among others. A QR code directed participants to LOTTE Healthcare's website for more details on their animal and a lifestyle report on eating, exercising and sleeping habits. From there, attendees picked up a small canister to the right of the touch screens and moved to the next station to fill it with jelly beans and collect their corresponding CAZZLEMON keychain, which quickly ran out due to the experience's popularity.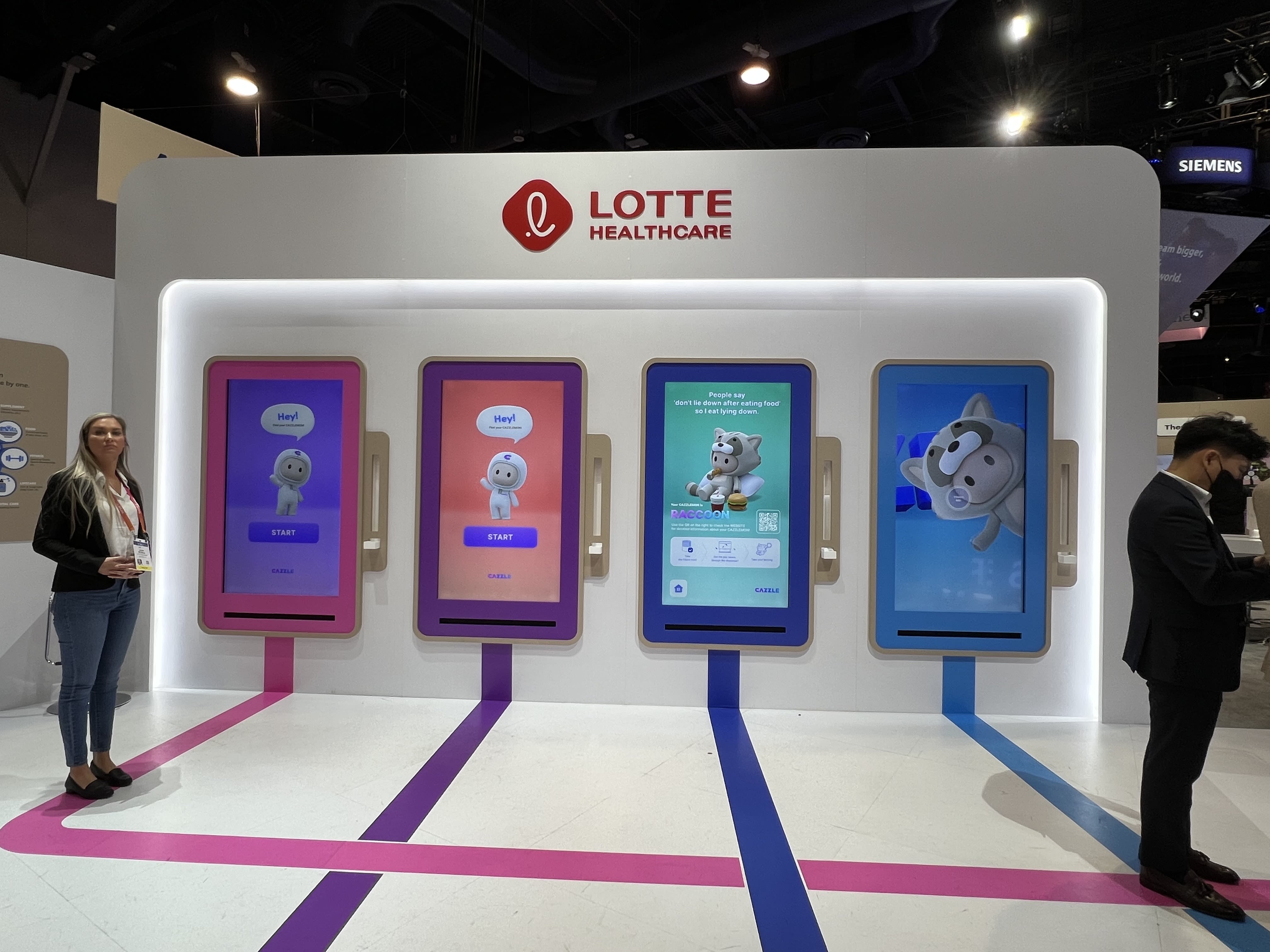 NIKON
Lighting truss systems, elevated platforms, curtains and ample playback screens simulated an active film set for Nikon's "The Unreal Ride" immersive virtual production experience. For a minute, participants had the chance to be a movie star and jump on a custom-made futuristic motorcycle, which was elevated on a stage and set against a giant LED screen backdrop. While the motorcycle remained stationary, participants had to play up their expressions and motions to simulate movement as the screen behind them played video traveling around an ultramodern city, past skyscrapers, over bridges and through tunnels. They also had a little help from a wind machine to make it even more realistic. Stanchions kept captivated "fans" back while filming took place.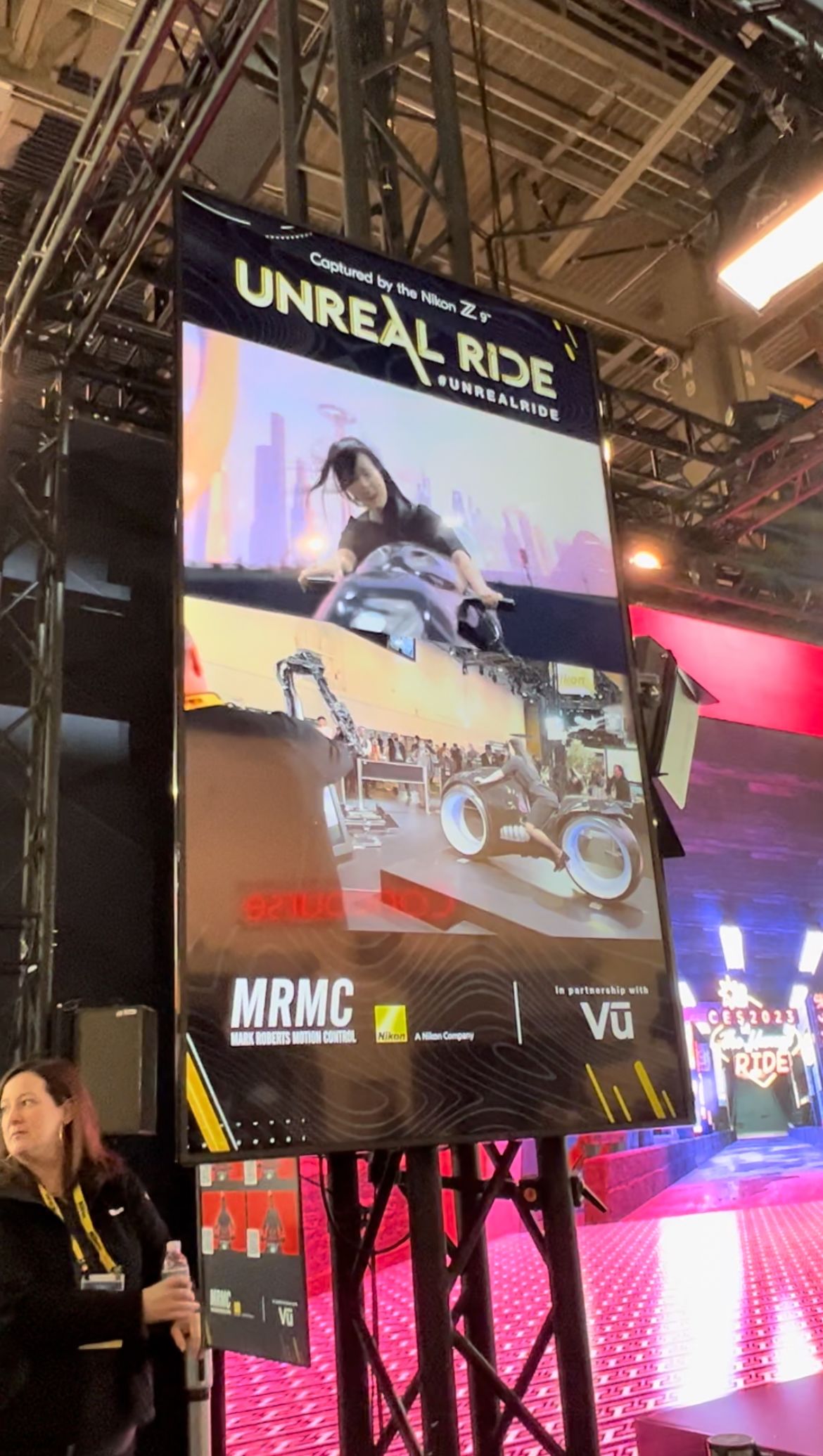 The ride was captured by Nikon's Z 9 mirrorless camera mounted on a Bolt High-Speed Camera Robot. The six-axis robotic arm moved back and forth on a track to film a variety of angles for the cinematic experience, in partnership with Vū Studio and Mark Roberts Motion Control Ltd. Following the filming, Nikon played the final video that combined the physical and virtual world, showing attendees how filmmakers can use this technology to shoot against any background without certain constraints found in the real world. Builder: George P. Johnson.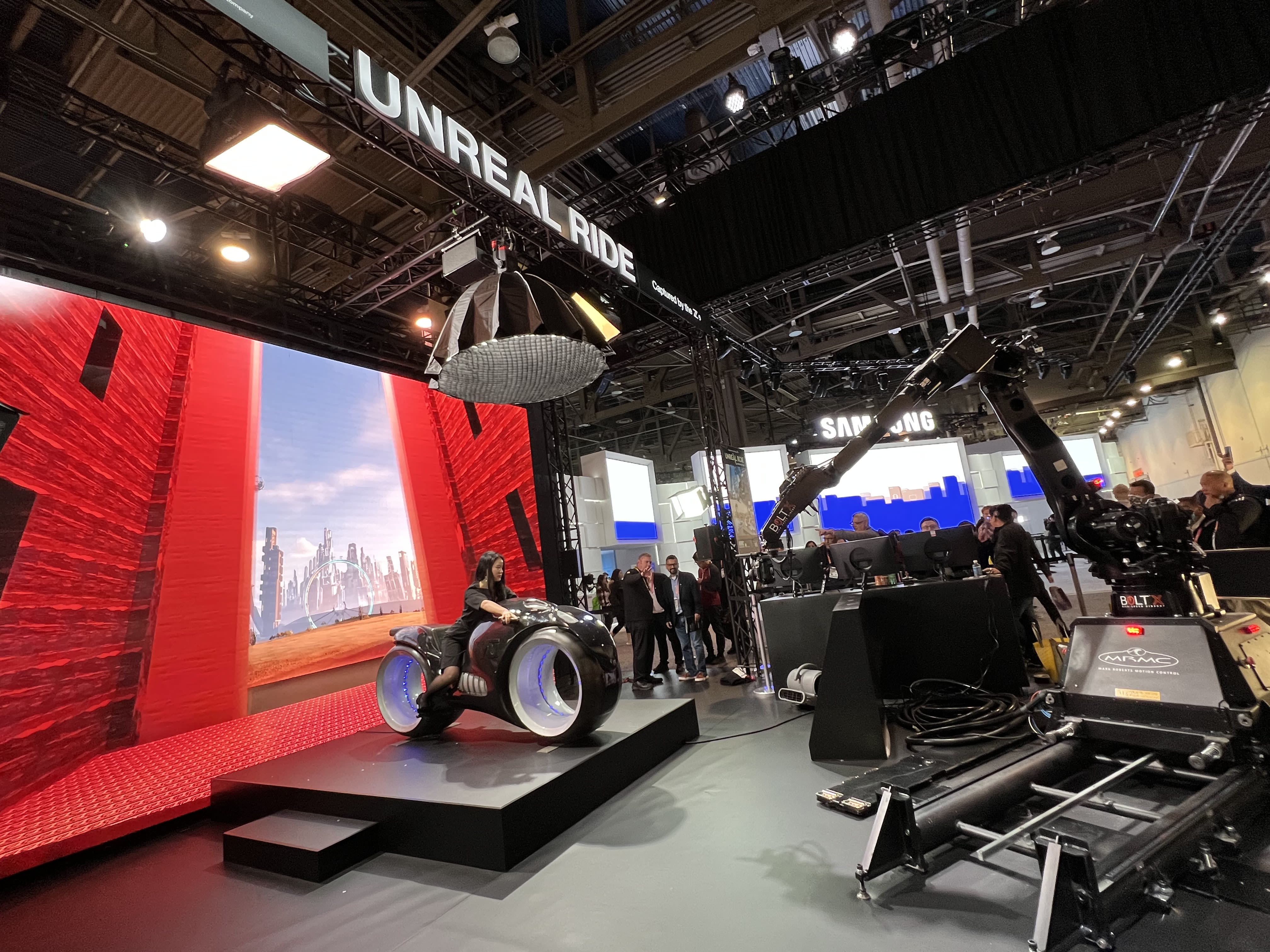 PINTEREST
Off the show floor at The Cosmopolitan of Las Vegas, Pinterest transformed the restaurant Scarpetta into a futuristic space with iridescent lighting, bright colors and sparkly textures reflecting its theme of "The future looks bright from here." Pinterest created an exploration of its user communities and invited attendees to discover beauty, fashion and home trends coming in 2023 through its annual "Pinterest Predicts" trend report available on iPads at the front desk. Visual and stylistic trends from the report influenced the look of the meeting rooms to create vibrant spaces. An interactive wall vinyl asked attendees what they're dreaming of and encouraged them to scan a QR code to add their dream pins to Pinterest's shared 2023 vision board. Participants could also bedazzle an accessory in crystals with the help of eyewear designer Kerin Rose Gold in a workshop area. Builder: Amplify.
Photo credit: Pinterest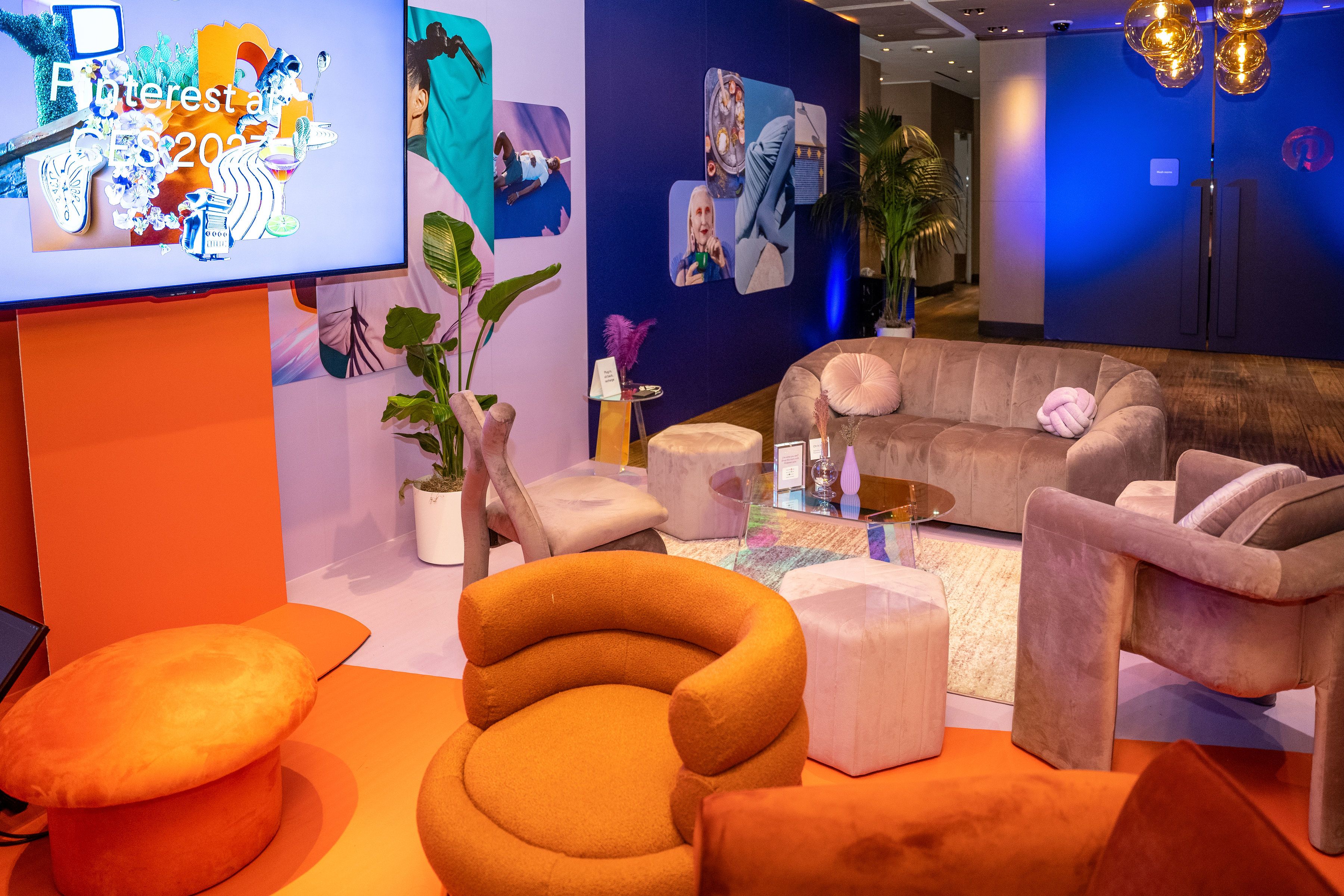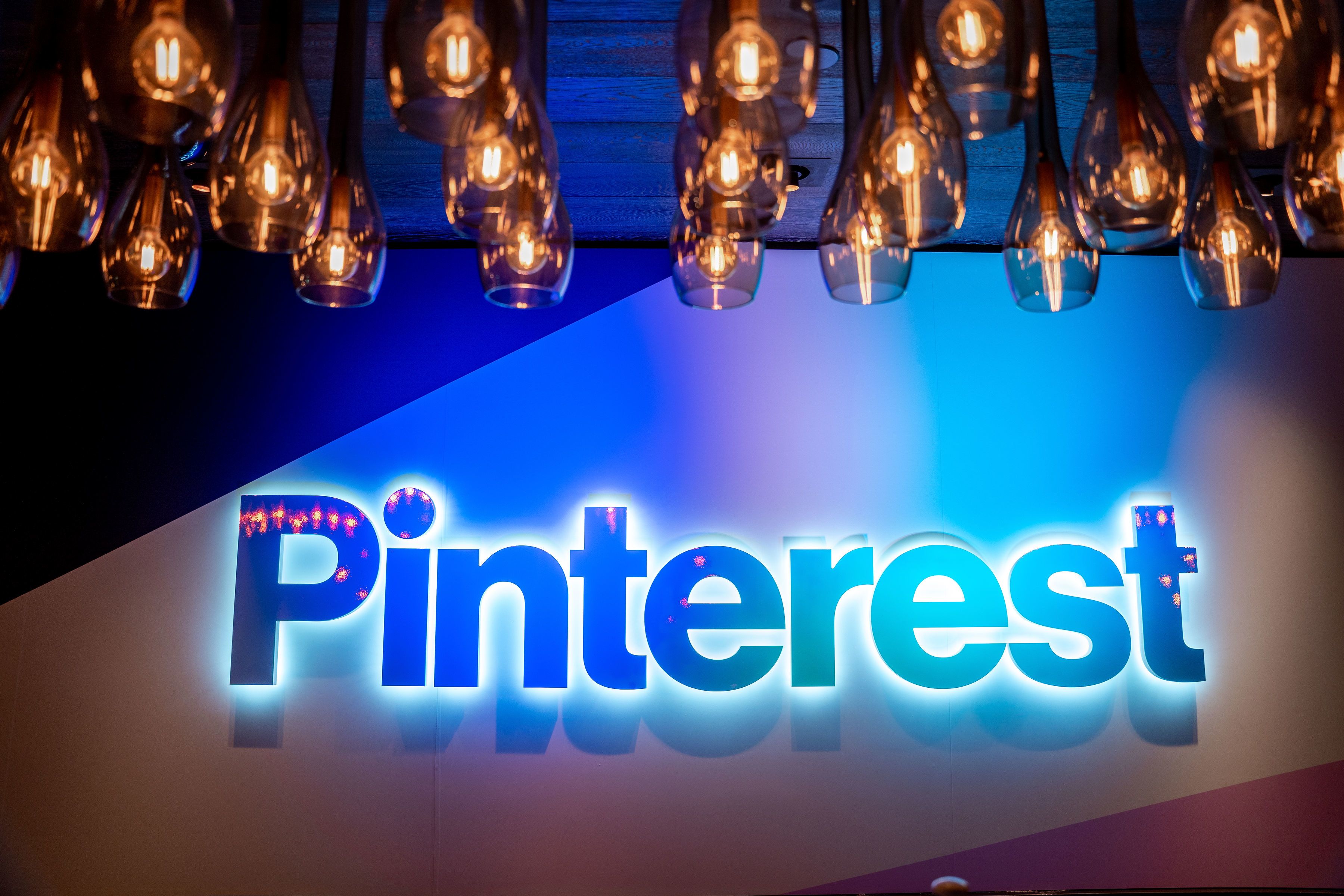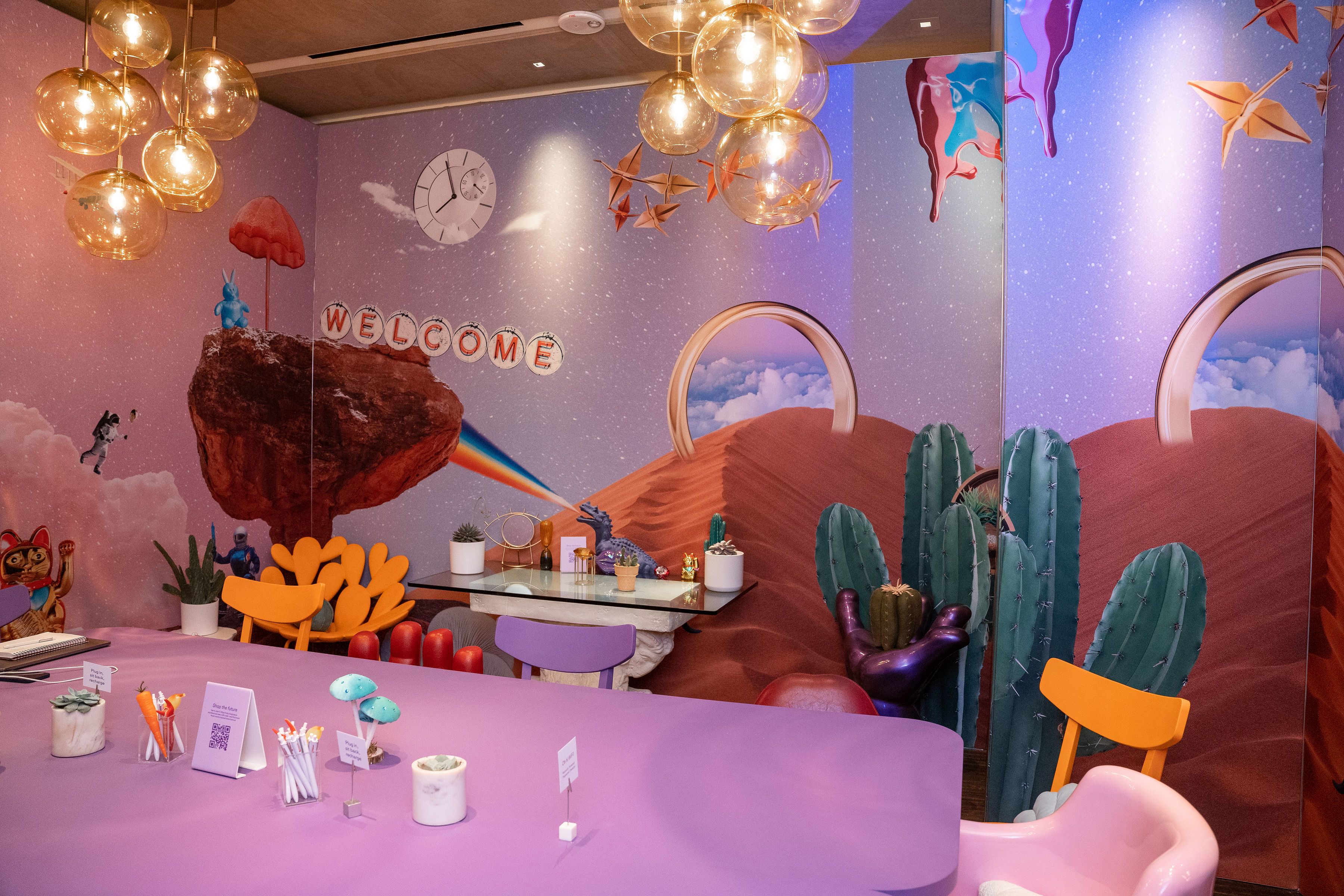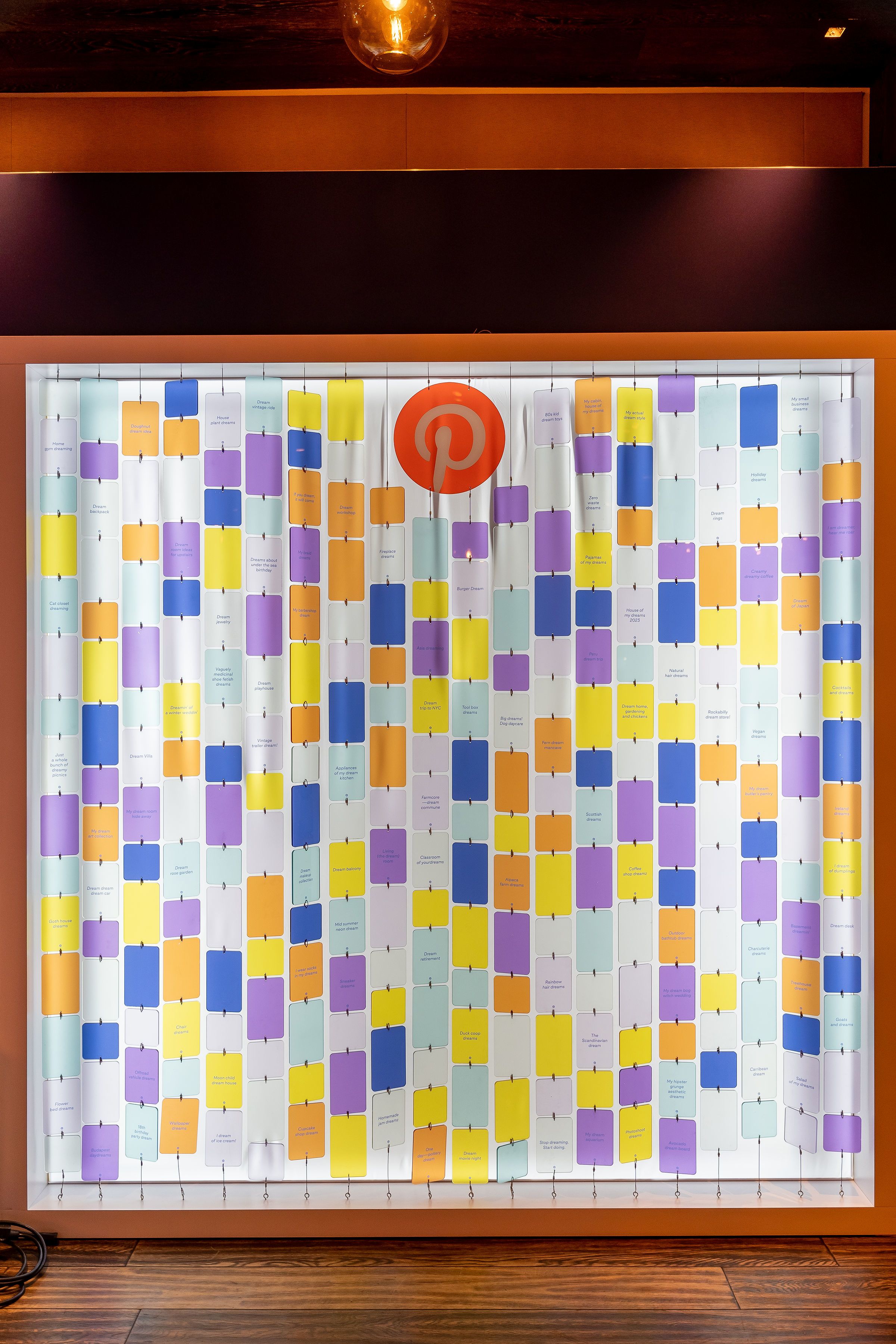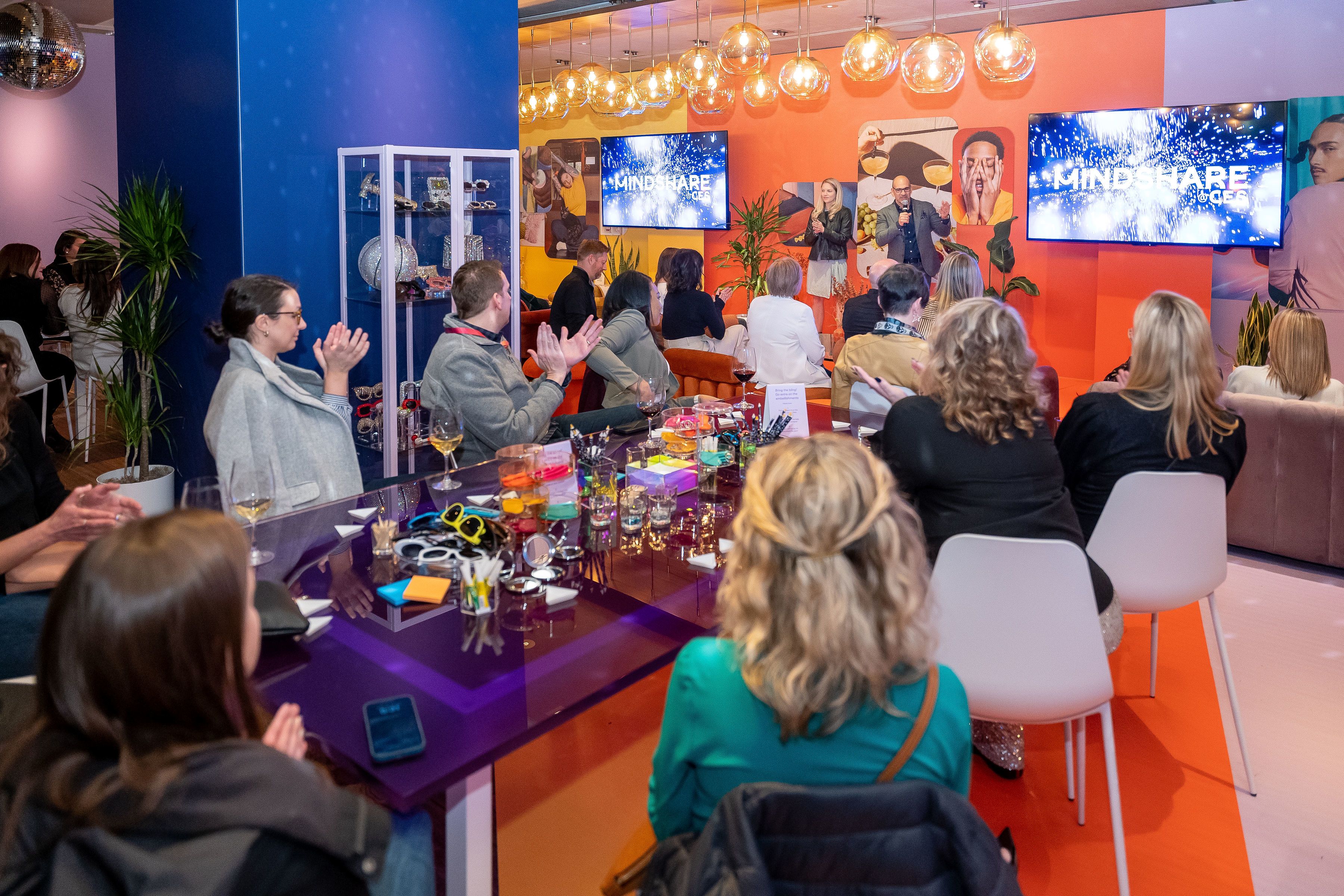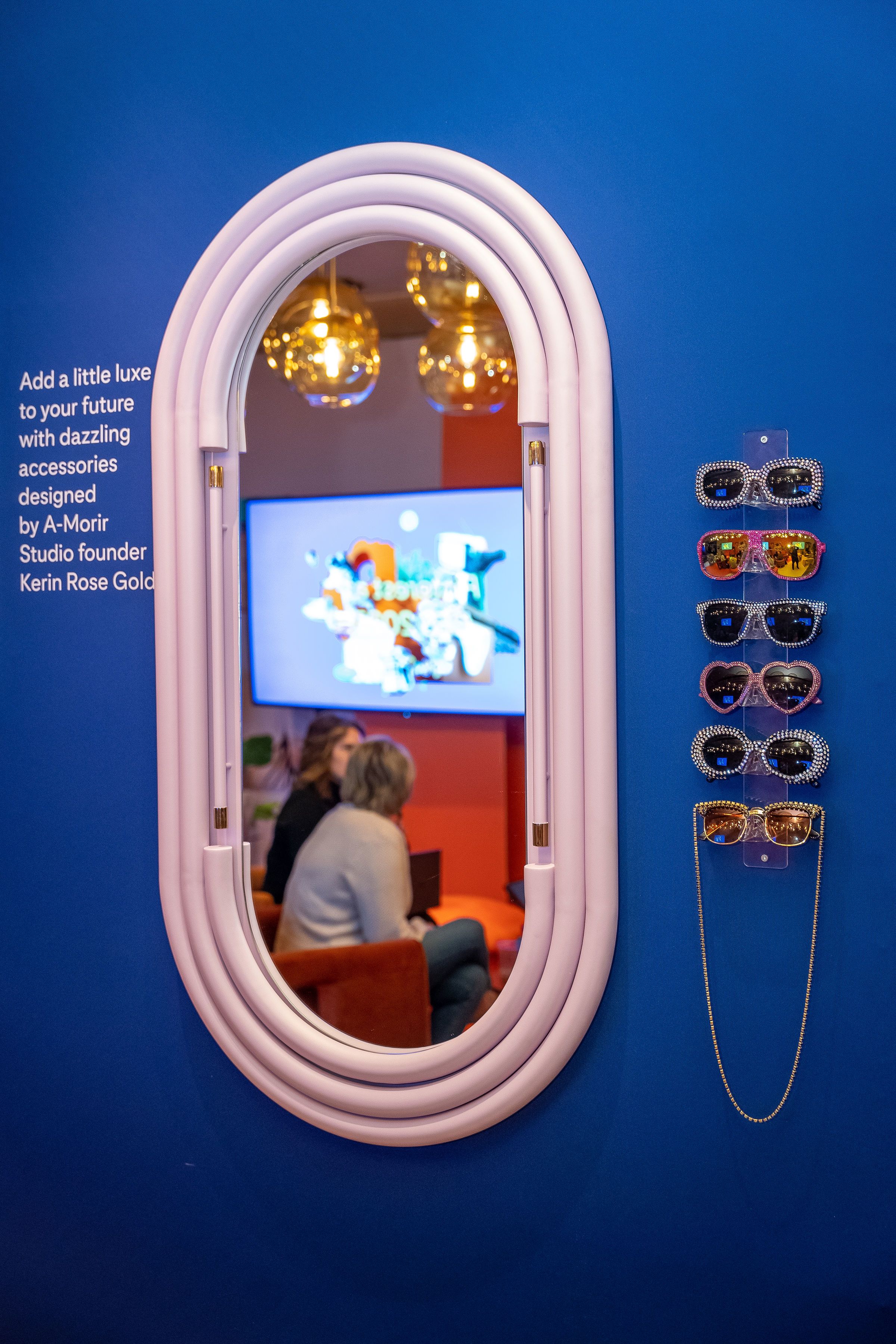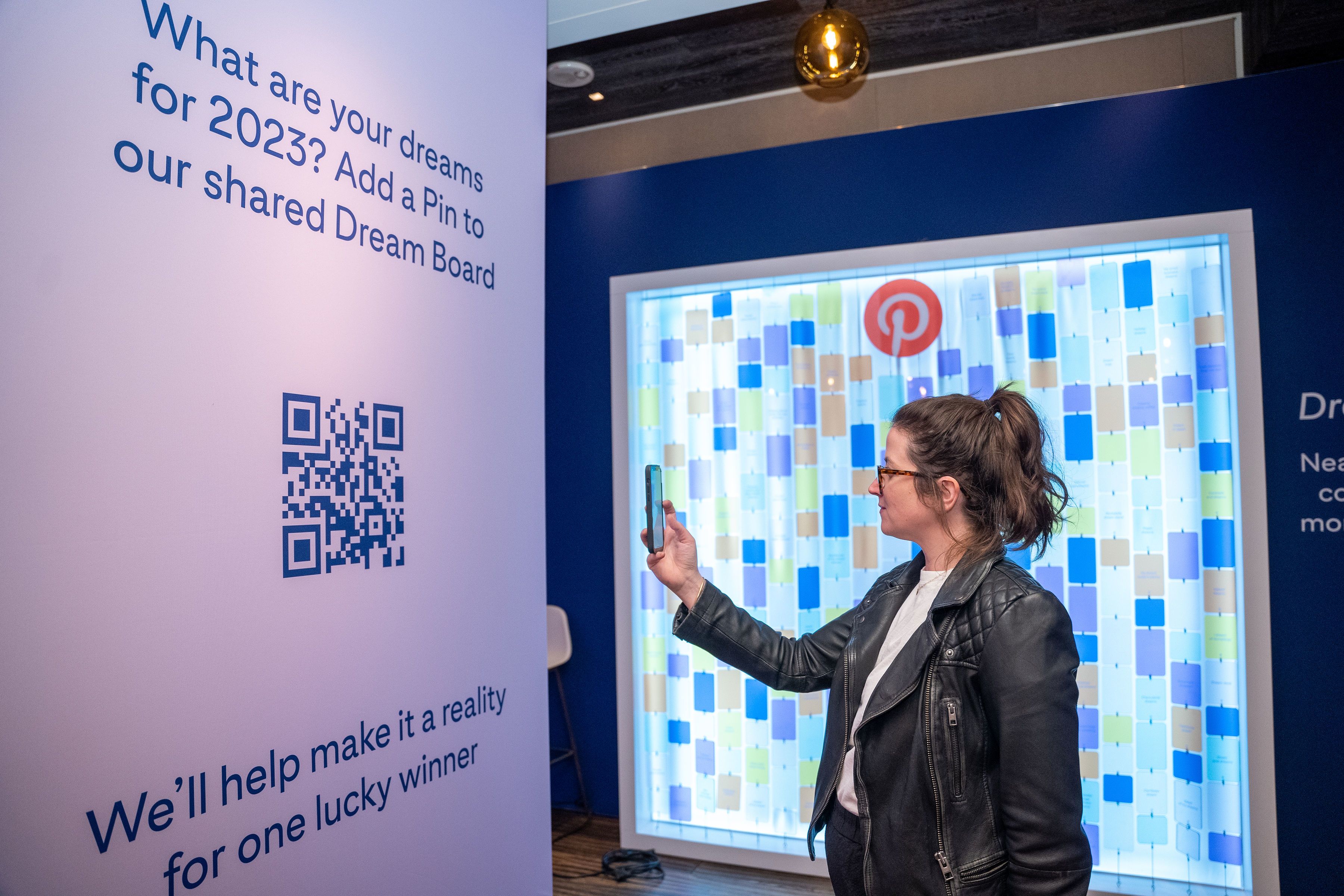 Item 1 of 6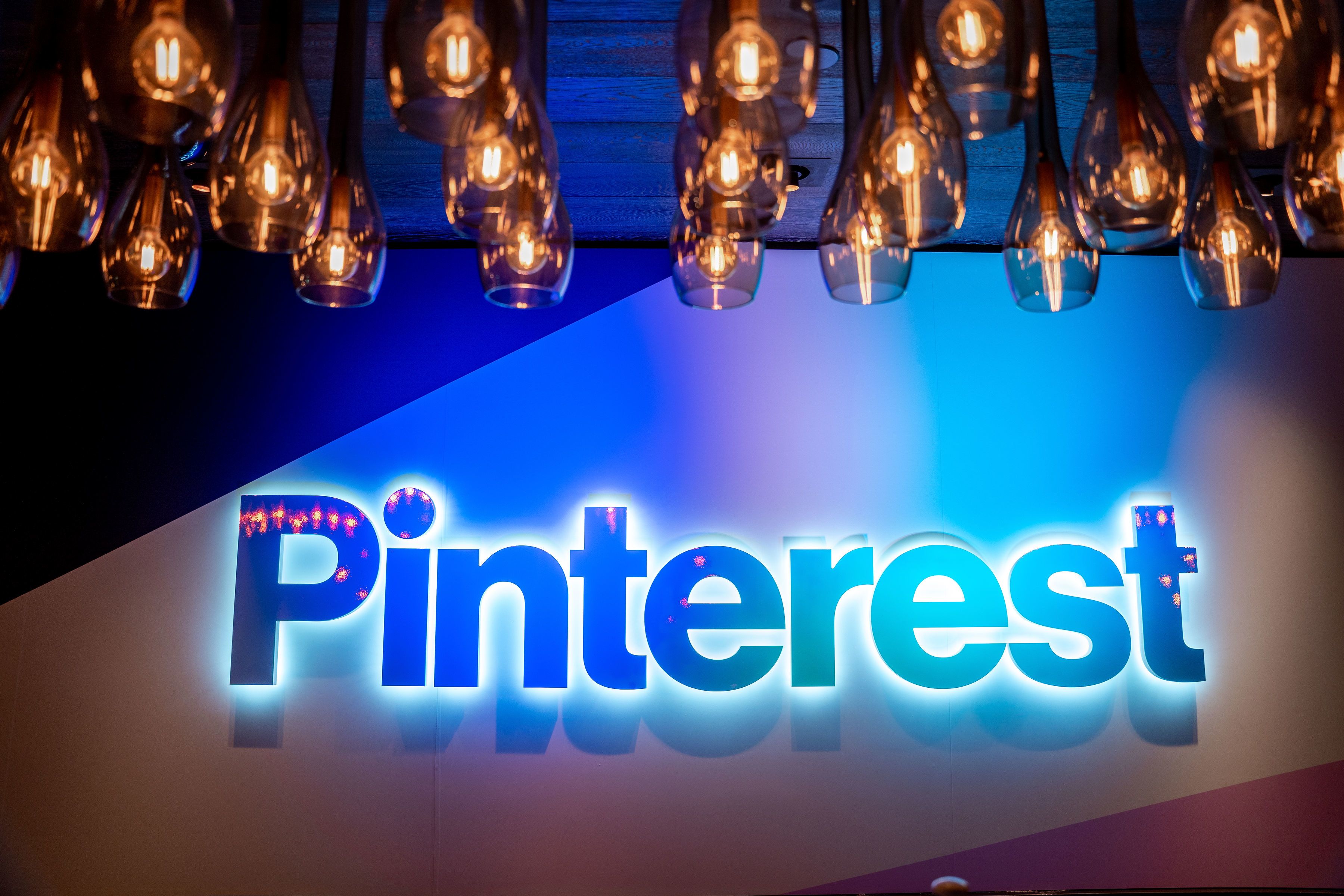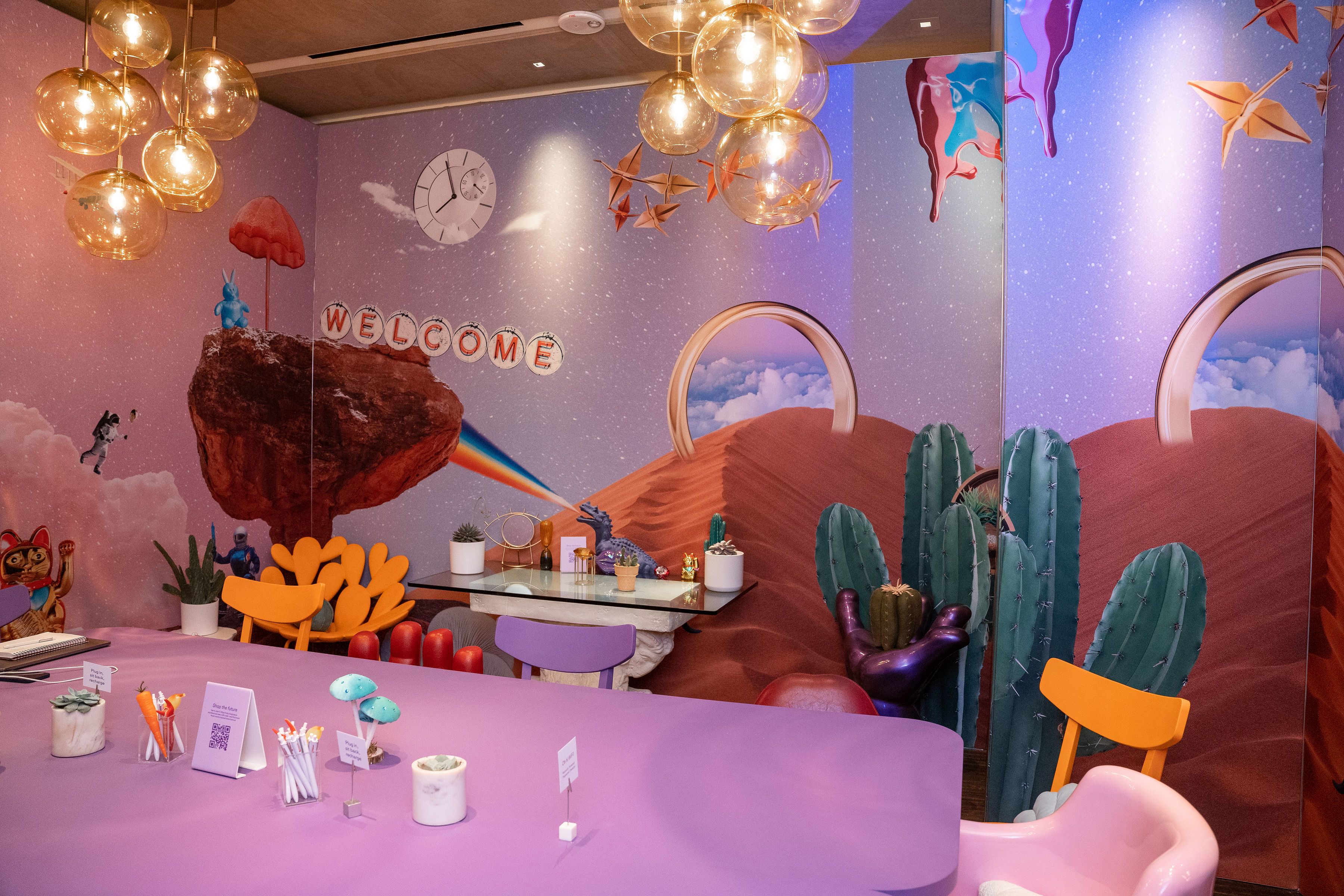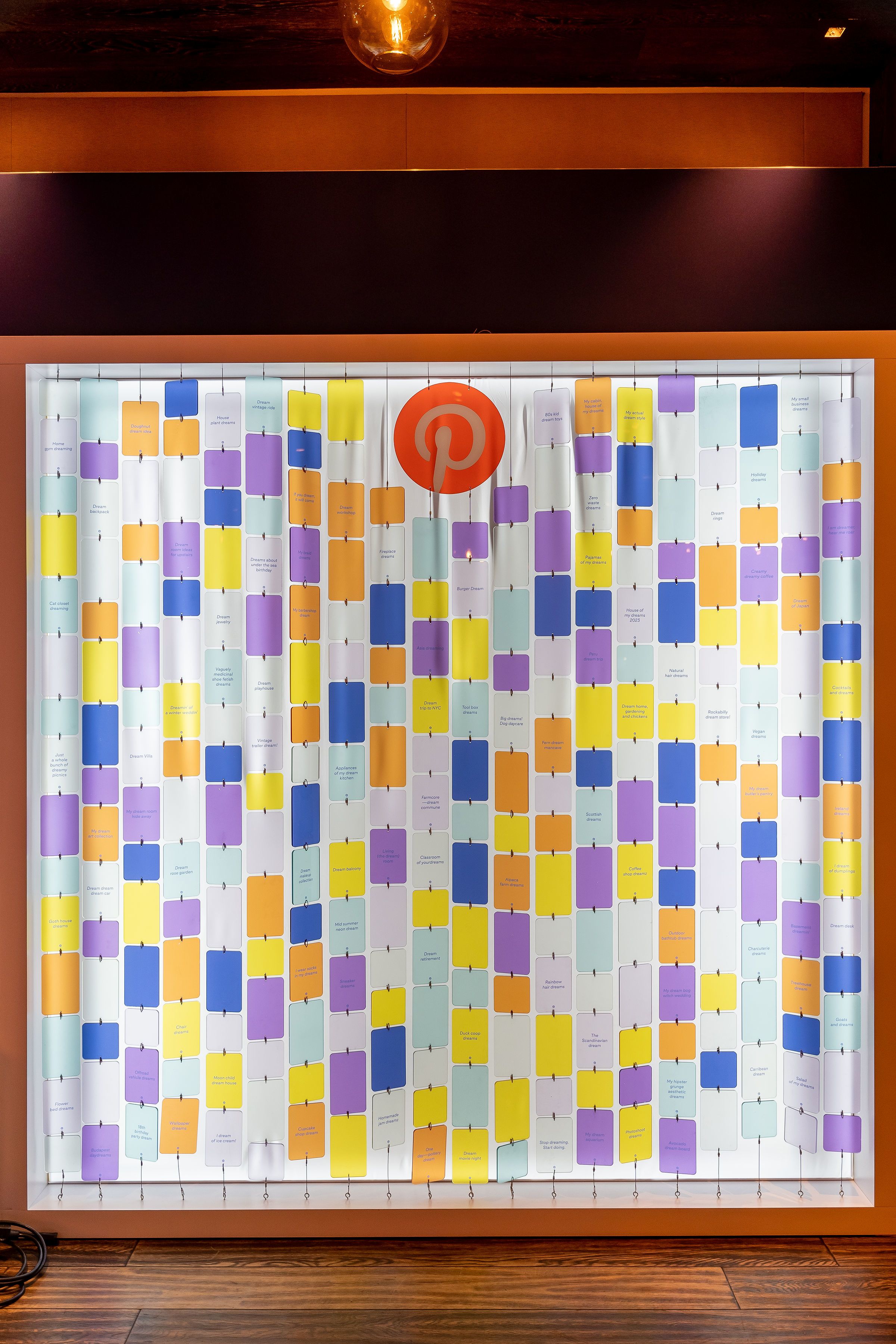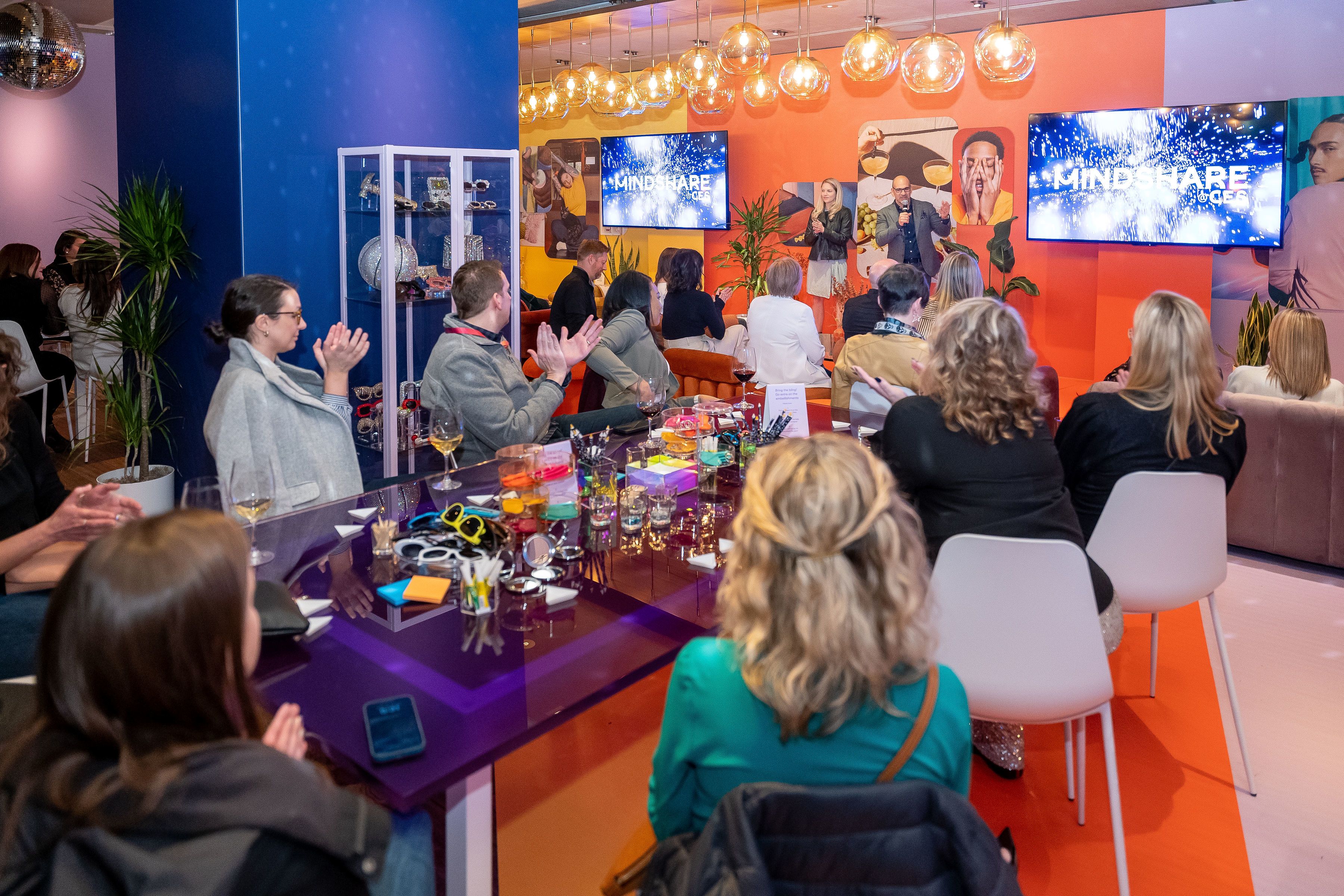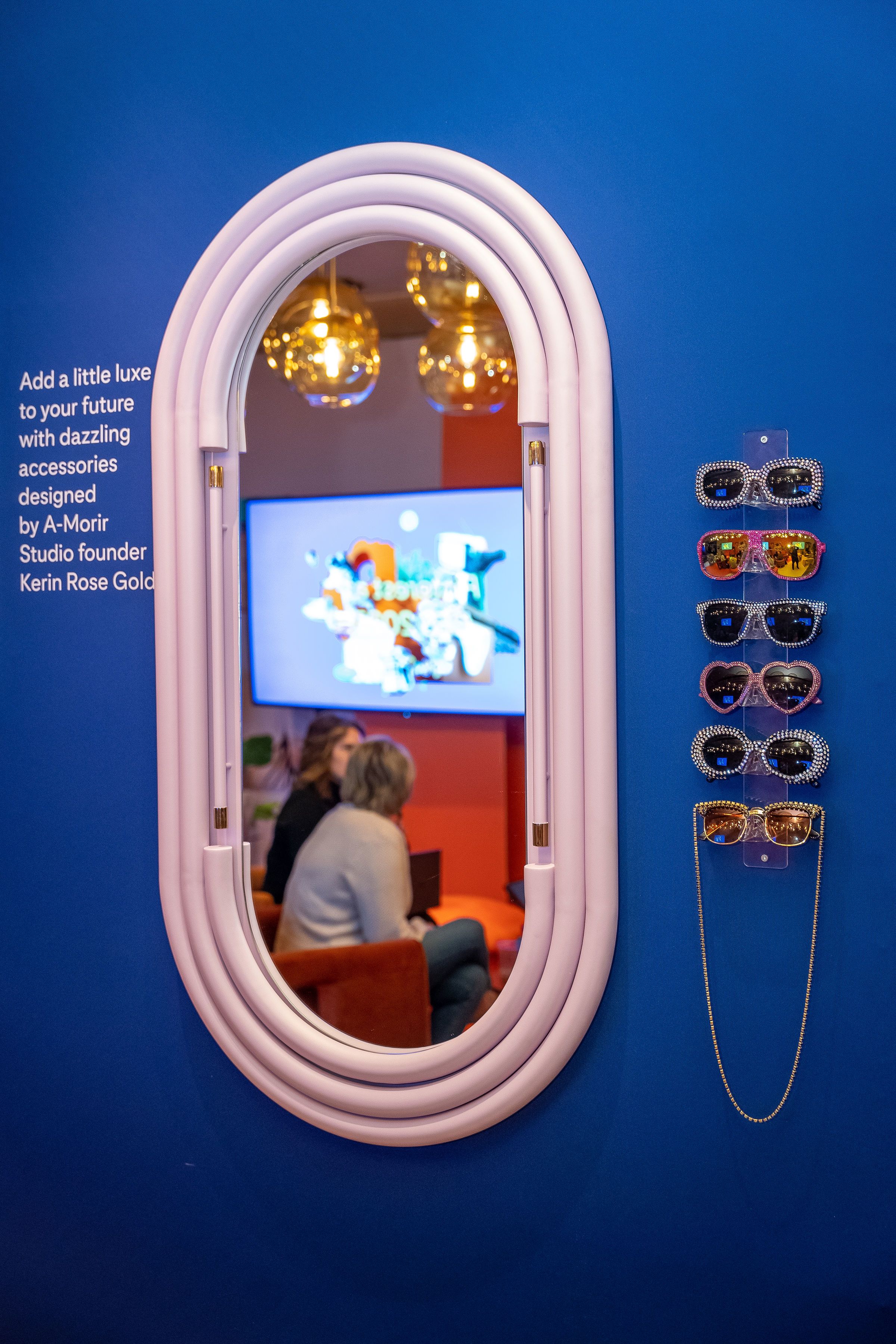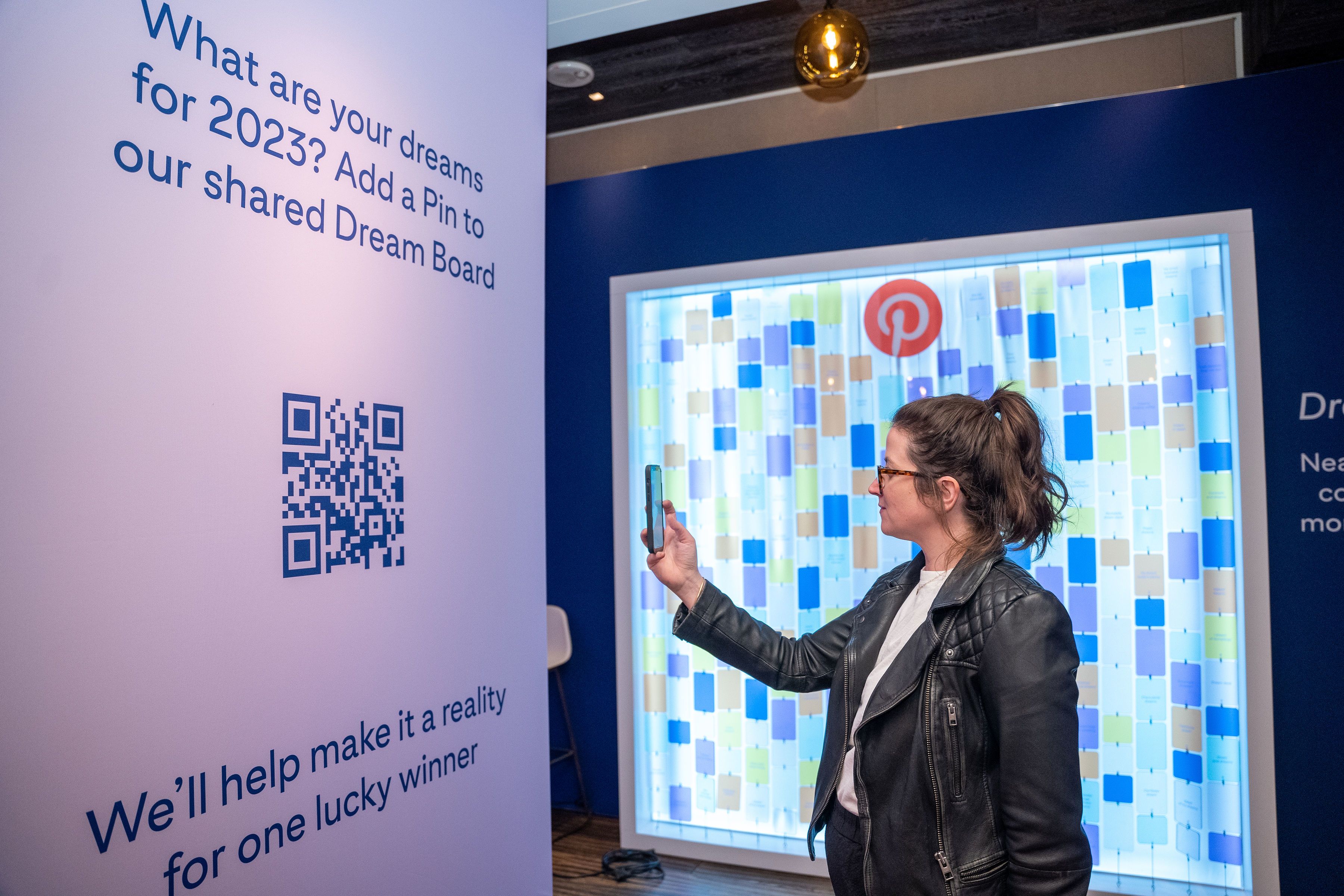 REDDIT
For its first activation at CES, Reddit brought its communities and conversations to life through an interactive "Future Tellers" house of clairvoyance, decorated in the brand's signature orange, at the Wynn Las Vegas over two days. Welcomed by Reddit's manifesto to "Find Your People" and guided by future-facing phrases on the floor, attendees encountered games that brought popular Reddit acronyms to life, a digital art installation that allowed attendees to explore future-forward subreddits and communities, a tea bar that leveraged Reddit threads and a "true-or-false" touch-screen game. Builder: Giant Spoon. (Learn more about Reddit's exhibit and its sustainable practices here.)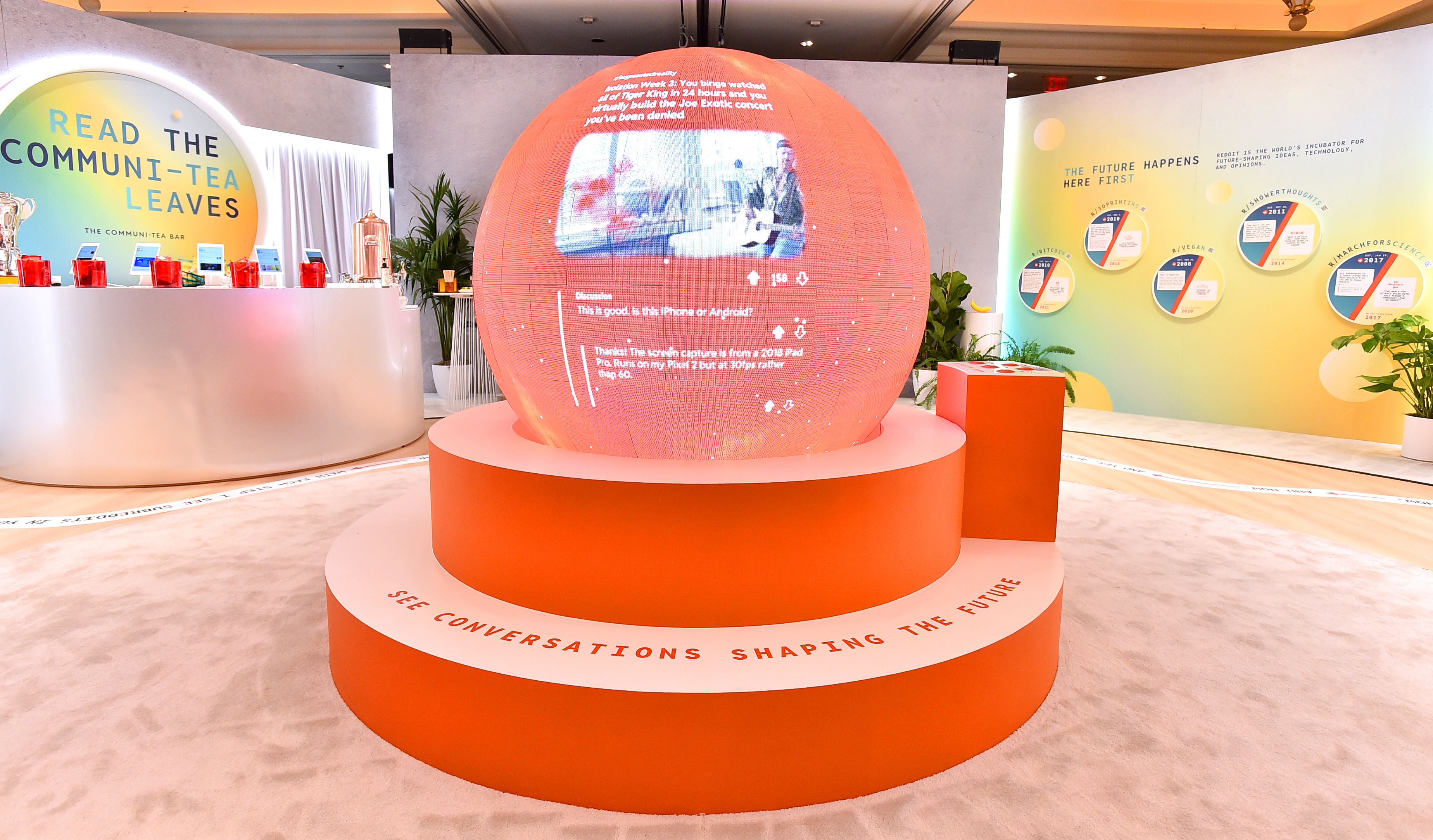 Photo credit: Reddit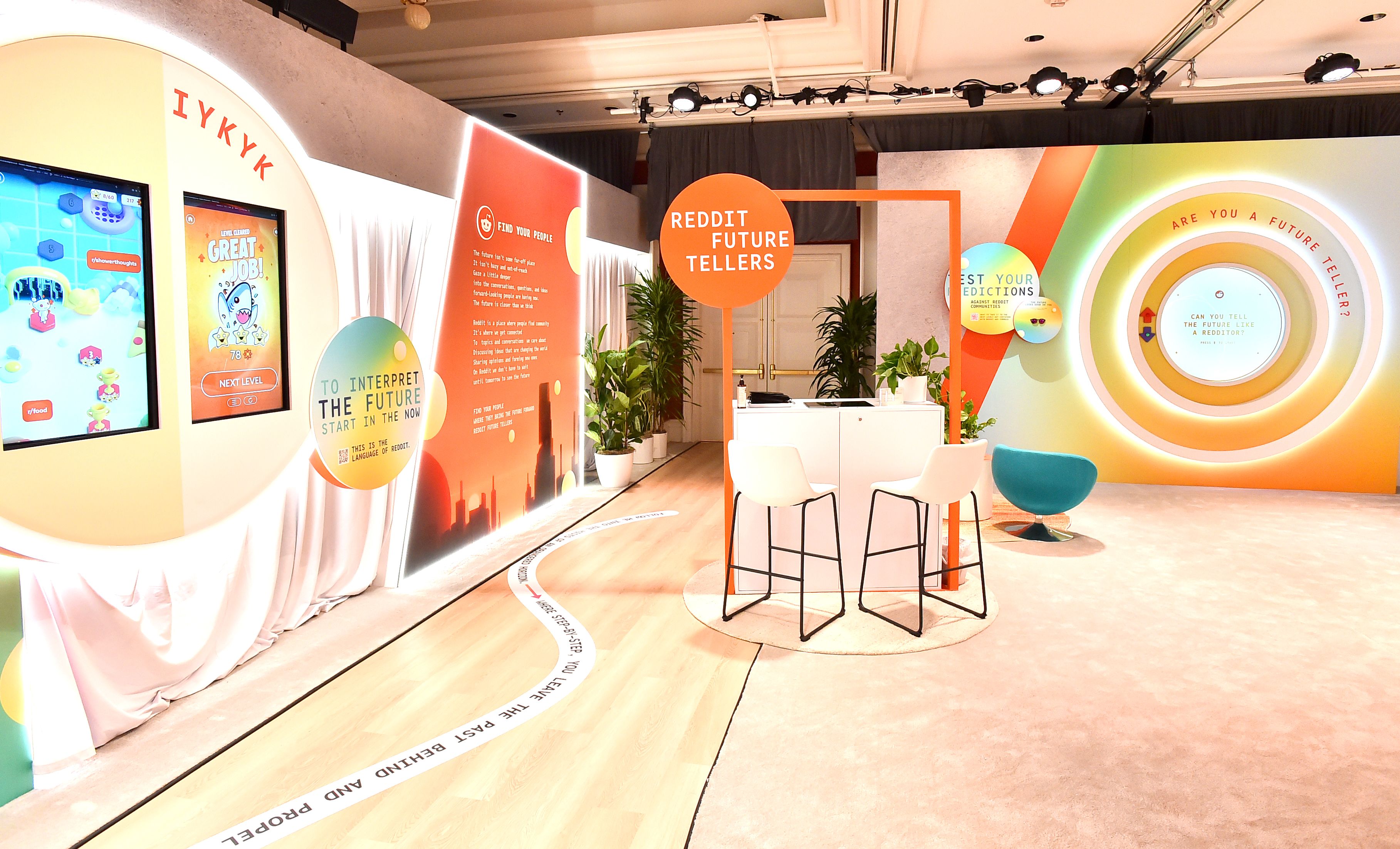 SAMSUNG
Samsung's booth created an air of mystery with tall white walls that blocked off any potential peeks into what was inside. Other than five large screens of varying sizes positioned along the entrance's exterior, attendees had to make their way through a long queue to get in. Eight areas awaited attendees: Everyday Sustainability, Connecting with SmartThings, Home Security, Family Care, Health and Wellness, Entertainment, Smart Work and SmartThings Ecosystem. Each section tied into Samsung's theme of "Bringing Calm to our Connected World" and showed how connected products extend experiences across key touchpoints in the car, at home and at work.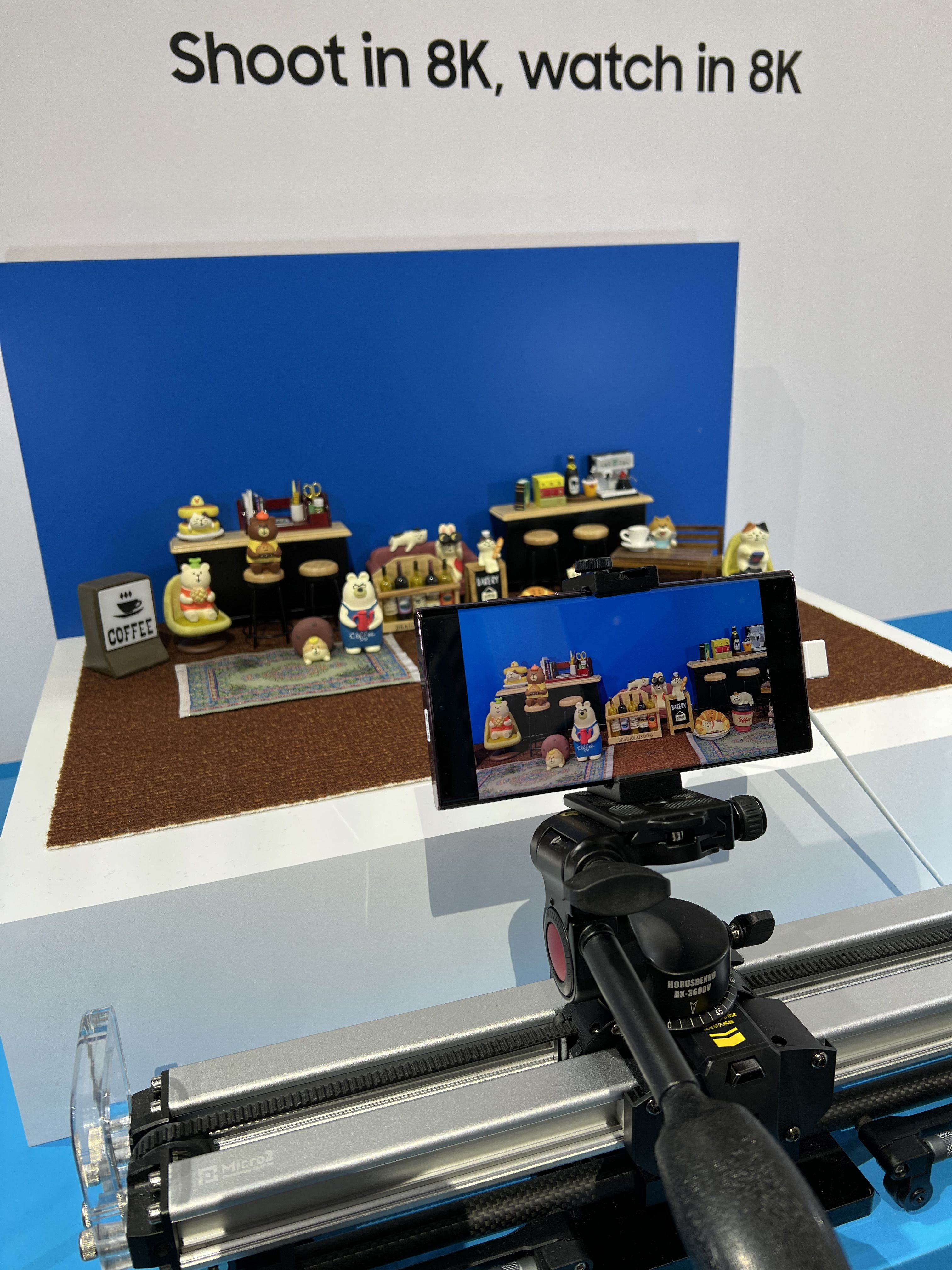 A secondary theme to Samsung's booth, Everyday Sustainability kicked off the exhibit by spotlighting the brand's eco-conscious initiatives, product features for energy-saving and accessibility, and Net Zero Home. A Calm Onboarding station helped attendees learn how to pair devices with the SmartThings app that connects home appliances, and brand ambassadors were on hand to walk them through SmartThings Home Monitoring's security features.
Moving out of the home, participants could sit inside a connected vehicle and test out Samsung's new Ready Care system, which uses a machine learning algorithm to gather and process data from the car's sensors to measure driver drowsiness and distraction, providing tailored interventions to mitigate risks. Partners: MC2; NMR Events; Fine Design Associates.