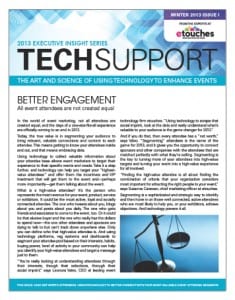 In the world of event marketing, not all attendees are created equal.And smart marketers are now honing in on high-value attendees: the attendee who represents the most revenue for your event, product, service or exhibitors. It could be the most active, loyal and socially connected attendee. The one who tweets about you, blogs about you and posts about you daily. The one who gets friends and associates to come to the event, too. Or it could be that elusive buyer, the one who really has the dollars to spend—the one other attendees and sponsors are dying to talk to. Powering it all? Technology. Download this first edition of Tech Support and you'll learn:
• Why you need to start segmenting your event attendees in 2013
• Using social media to attract more attendees
• The science of calibrating live experiences around high net-worth attendees
• How to treat different attendees at the same events in unique ways
• Creating richer engagements with the high-value attendee
• How technology is powering it all
• And more!