Friends of Public Radio (FPR) Launches Multipurpose Food Truck
Specialty trucks and trailers can be built for a variety of uses – from food service to mobile retail and experiential. APEX recently had the opportunity to partner with FPR for the customization of a custom truck that doubles as a food truck and a mobile broadcast studio. Let's check out some insight into how FPR launches Multipurpose Food Truck!
As a leading builder of high-end food and marketing trucks for national restaurants and brands, APEX welcomes a challenge. The NPR offered a great way for our entire company to push the envelope, everyone from engineering and sales to production and fabrication. Each department truly became an innovative source for ideas to bring this vision to fruition. The truck incorporates many features that are unique to custom food trucks, and truly haven't been done before. One feature is the baggage compartment that opens as a single piece, which offers a sleek and innovative design element. In addition, custom lighting is mounted below the truck and a purple LED glow can be seen underneath. Another very cool design feature is the stairs and door way into the mobile broadcasting studio. When the door is opened, the stairs automatically come out and down for easy accessibility and efficient functionality. Unlike most custom builders, we have a full time staff of four engineers that ensure your project is moved along from a vision to fruition.
The fully-equipped industrial style kitchen in the rear of the custom truck is ideal for the famous Short Leash Hot Dogs to grill their gourmet hot dogs to be served from the mobile Soundbite Production Food truck. This truly offers a very cool experience that visitors will remember.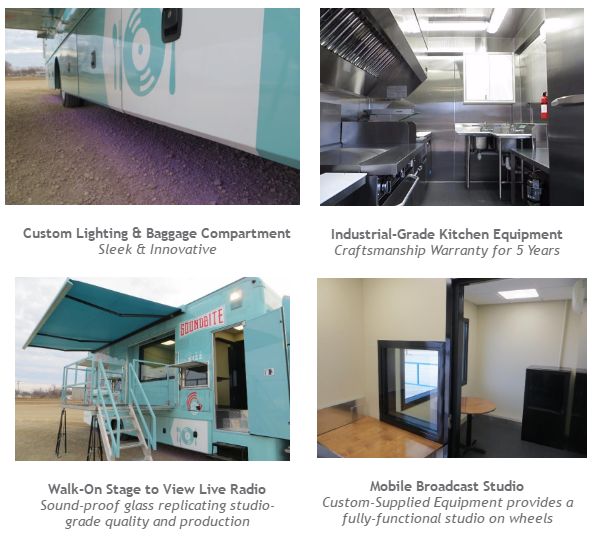 The coolest part for me was physically designing the entire truck and working with our team to see it come to life. This project is just another example of APEX doing things on a daily basis that have never been done before. ~ Randy Fields, APEX Director of Production & Engineering
Friends of Public Radio (FPR) Launches Multipurpose Food Truck in January 2017
This custom truck left APEX's facility in the Kansas City, MO area and was delivered just in time for their January 19, 2017 launch. The KJZZ 91.5 FM Soundbite Truck debuted at the grand opening for SPOT 127 East, and had the NPR President Jarl Mohn onsite to speak to donors and honored guests. The truck will be traveling around the Phoenix area, so be sure to look for the truck at local festivals and events!
Click to view the truck in action!
Are you ready to check out our design, engineering and experiential capabilities? Give us a call (816.853.3360) or visit our online portfolio!