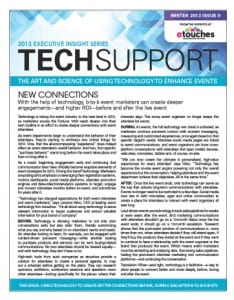 Technology is taking the event industry to the next level in 2013, as marketers across the Fortune 1000 reach deeper into their tech tool kits in an effort to create deeper connections with event attendees.With the help of technology, b-to-b event marketers can create deeper engagements—and higher ROI—before and after the live event.
As a result, beginning engagement early and continuing that communication later have officially become requisite elements of event strategies for 2013. Driving the trend? Technology. Marketers are putting extra emphasis on leveraging their registration systems, metrics dashboards, social media platforms, attendee promotion engines and data-collection/analytics systems to target, engage and convert attendees.Download this first edition of Tech Support and you'll learn:
• Using technology to create better connections before, during and after b-to-b events
• Converting to all-digital attendee communications
• Using technology to enhance the on-site experience
• Post-event: the experience never ends
• Stats that matter: 10 simple stats every marketer should collect
• 5 keys to getting the most out of event technology platforms
• And more!